News > Spokane
Warren Heylman's architectural vision 'all over' Spokane
Sun., July 10, 2016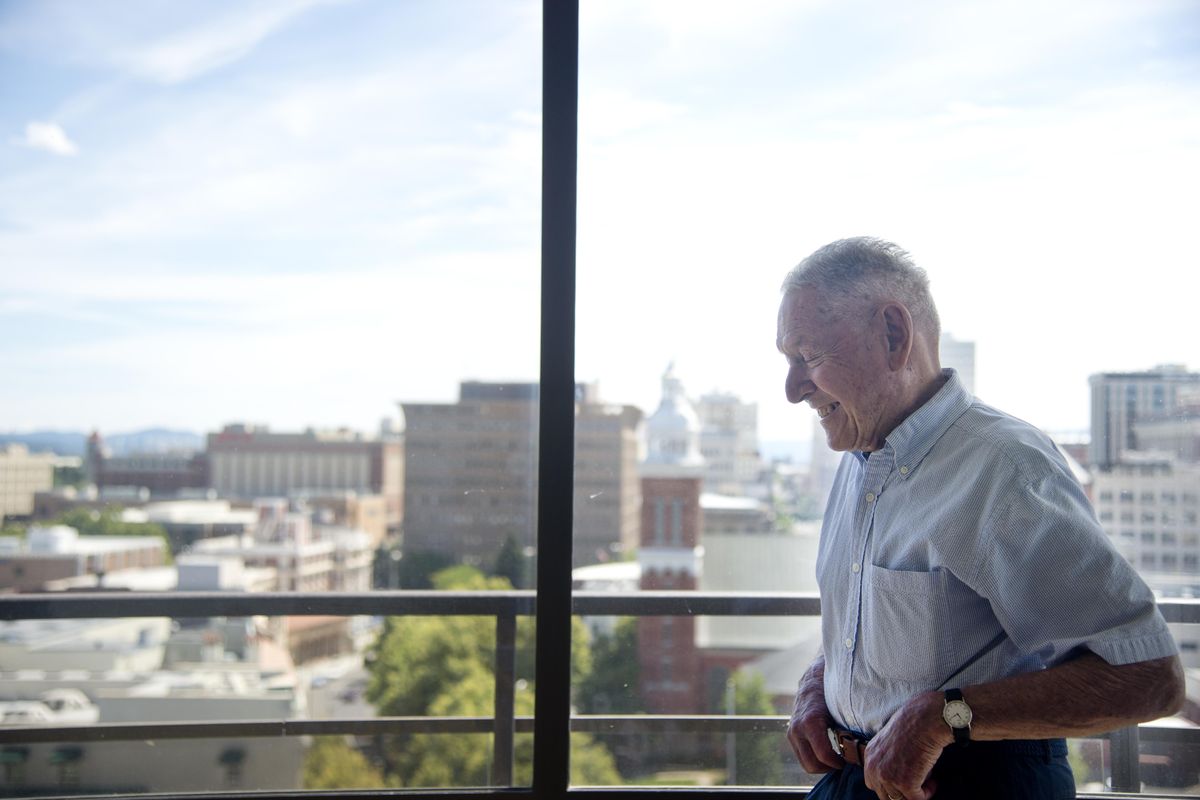 Standing before the skyline of Spokane, Architect Warren Heylman, now 92, laughs as he talks about his philosophy of design from the apartment he shares with his wife in the Riverside Falls apartment tower, which he also designed. Heylman left his modernist stamp on Spokane as he designed several important Spokane buildings, a handful of houses and some businesses in his career, which spanned from World War II to the present. (Jesse Tinsley / The Spokesman-Review)
The walls are made of windows, and Warren Heylman can see himself across Spokane.
The Parkade. Skywalks. The jetliners heading to his airport, and trains rumbling over his Latah Creek Viaduct. Cathedral Plaza Apartments. The Bennett Block, which he helped restore. Cliff Park's peak on the South Hill, near where he grew up.
As Heylman draws the curtains farther back in his 10th-story apartment and the morning sun pours onto the white carpet of his home in Riverfalls Tower – another building he designed – the rounded turrets of the Spokane Regional Health Building emerge.
"As far as I'm concerned, the health building is one of the best things I've done," he said, without prompt but not without pride.
Heylman, 92, has been drawing since he was a child and designing buildings since he trawled distant waters as a young naval officer aboard the USS Warrick during the Korean War. As an architect, he was most active in the 1960s and '70s, but his work spans from the close of World War II to the present day.
With such a vintage, talk of preservation begins. Last month, the city of Spokane received a grant from the state Department of Archaeology and Historic Preservation to survey and inventory the city's midcentury modern architecture, a style that is defined by its break from the highly ornate past, clean simplicity and, at times, flamboyance.
Heylman defined Spokane's postwar-built environment with a handful of other designers, a class of architects that included Royal McClure, Bill Trogdon, Thomas Adkison, Bruce Walker and Ken Brooks.
"While Ken Brooks goes out and gets a national AIA (American Institute of Architects) award, three of them in three decades, which is a remarkable feat, people in Spokane can't tell you a Brooks building. Or if you showed them a Brooks building, they wouldn't care," said Aaron Bragg, a copywriter with the design firm helveticka who helped curate the exhibition SPOMa: Spokane Modern Architecture, 1948-73, at the Northwest Museum of Arts and Culture in 2013.
"You look at Heylman, and everyone can tell you, 'That's a Heylman building,' " Bragg said. "To me, Heylman is one of those guys: You can't imagine Spokane without him."
Megan Duvall, the city's historic preservation officer who is managing the state grant's work, agreed.
"You can see his fingerprints all over town," she said. "His work is absolutely emblematic of his time."
Heylman disavows grand themes or being part of an architectural movement, but acknowledges he was a bit different from his peers.
"It's my own," he said of his style. "I was a little more flamboyant. I was the outlandish one."
Father was an early Spokane businessman
On Dec. 1, 1952, Heylman opened his one-man firm in the American Legion Building on Washington Street and Riverside Avenue. He was 29.
"I made Fridays the day I would go out to look for work," Heylman said. "Monday, Tuesday, Wednesday and Thursday, I would draw. But on Friday I was a salesman for myself."
His career was just beginning, but his roots in Spokane were well-secured.
His father, Harry Heylman, arrived in Spokane on Christmas Eve 1899 at the age of 18 from Eau Claire, Wisconsin, to work in the mines of North Idaho.
"He went up to the Coeur d'Alenes and he just decided that was not the place he wanted to be," Heylman said. "He turned around and came back to Spokane."
The elder Heylman soon made a name for himself. One of his first appearances in the newspaper came June 18, 1916, when he worked for the John Doran Co. selling "Hudson and Packard lines." The brief article described Heylman's road trip pitching automobiles to residents of the Palouse. He went south on the Palouse Highway, and returned on the Inland Empire Highway, dirt roads that had been authorized and named as official vehicle routes just three years before.
"Mr. Heylman says the roads are just beginning to show the effect of hauling, but still are in good condition, being free from ruts and chuck-holes," the article states.
The following year, the country joined the allies of World War I, and Heylman went to war as part of the motor transport section in France, where he was in "charge of 4,000 men in the shops of Dijon," according to a Spokane Chronicle article.
"He was the last man out of France, disposing of all the U.S. vehicles," Heylman says now. "He didn't come back until 1920."
When the elder Heylman returned, he married a Minnesotan named Jane Cummings and started his own Packard dealership at the intersection of First Avenue and Jefferson Street.
A month later, on Sept. 12, 1923, their only son, Warren Cummings Heylman, was born.
'I just wanted to draw'
Heylman grew up on Sound Avenue, a street that extends for just a block near Cliff Park on the South Hill.
He went to Roosevelt Elementary School and Lewis and Clark High School, where he ran track.
"I saw Carl Maxey's back all the time," Heylman said, referring to the Spokane legend in civil rights, law, sports and politics. Maxey ran for then-Gonzaga High School and, as Heylman suggests, was a better athlete, despite Heylman's later achievement of finishing every one of the 40 Bloomsdays.
Heylman didn't grow up with aspirations to be an architect, but looking back he could have guessed.
"I just wanted to draw," he said. "Ever since I was a little boy, that's all I wanted to do."
When he was a high school senior, Japan attacked Pearl Harbor.
"I remember being downtown, walking around with a lot of other people and with a bunch of Lewis and Clark kids my age," Heylman said. "Some signed up right away, some very good friends, and some didn't come back."
Though Heylman was eventually stationed in the Philippines, he first went off to the University of Kansas as a student in the V-12 Navy College Training Program, which trained officers. In a three-year span, the national program enrolled 125,000 students in 131 colleges.
The military wanted engineers, but Heylman wanted to study architecture, so he majored in architectural engineering. Kansas also led him to Kathryn Zimmerman, whom he married on Treasure Island in California's Bay Area more than 70 years ago. He calls her Zeek.
War ended the year he graduated, and back home Heylman got a job at the firm of Gustav Pehrson, the Swedish-born architect who came to Spokane in 1913, worked closely with Kirtland Cutter and designed hundreds of buildings, including the Paulsen Center and Centennial Flour Mill on East Trent Avenue, before his death in 1968 at the age of 85.
Pehrson was a hardworking boss.
"Vee vill die vith our boots on," a story from The Spokesman-Review quotes Pehrson, with his enduring Swedish accent, telling one of his draftsmen.
"He was a tough guy," Heylman says now. "As a matter of fact, there was one draftsman who kept a brick and told him if he came to his desk he was going to get it."
After a year, Heylman moved to the firm Whitehouse and Price before joining John P. O'Neill's office. Another war started and Heylman was off again, this time as a gunnery officer aboard the attack transport USS Warrick in Korean waters.
"I loved standing on the bridge," he said. "I couldn't think of anything nicer than standing on the bridge in nasty weather."
In the distant waters, he drew up plans for a home that he and his wife would end up living in for almost 65 years. There they raised their two children, Ann and William, and only just moved out this April.
Heylman said his seamanship inspired the house.
"I did the plans while I was going back and forth on the Warrick," Heylman said of the house in western Spokane. The home's distinctive windows were inspired by the ship's portholes, he said, but the rest of the angular home came from limitations of money and space, challenges Heylman faced again and again in his career.
"That's always a good thing to have: confines," Heylman said.
In an article Heylman wrote for The Spokesman-Review in 1953, he described the project's limits as fodder for his imagination, a problem to crack with a "solution in glass, metal and wood."
The A-frame roof points down the sloping lot, where three floors of living space pour down the hill. The red, port-holed wall acts as the other leg of the roof, facing the road and offering privacy.
Though its form is unique, Heylman wrote that its function was primary.
"The home reflects a philosophy of design, for each line on the plans and each nail in the house there is a reason," he wrote. "It is logical."
By the time the article appeared, Heylman had been in business for just five months, having struck out on his own with a firm located in the American Legion Building. His door was wide open.
"I would do anything. If somebody wanted a doghouse, I would be happy to design it," he said. "I went out onto the pavement and got enough jobs. Well, got a job."
His first week in business, he put an ad in the newspaper and J. William Hollister called him right away. He owned a sloping lot near the intersection of West Glass Avenue and North Driscoll Boulevard, and he had a limited budget.
"He just came to me because my picture was in the paper," Heylman said. "I was delighted to have that job. That was my first commission."
The result was a split-level home, its western wall a bank of windows. Though many don't know of this early Heylman work, it heralded the small-scale work he would produce throughout the following decade.
In 1953, Heylman designed the John G.F. Hieber home near Manito Golf Course.
Glenn Davis, a local architect and amateur historian, praised Heylman's early residential work as his finest.
"The Hieber residence was always a favorite of mine," Davis said. "The horizontality of it, the way it hugged close to the earth. … Warren seemed to be pretty sensitive to what he was trying to achieve."
The home was so distinct that the Los Angeles Times Home magazine featured it in a photo spread in 1956.
Davis also pointed to the Norman Wells house, built on 18th Avenue just off Southeast Boulevard in 1954, as another "pretty impressive" example of Heylman's work. Davis said these two houses show Frank Lloyd Wright's influence on Heylman.
"With these homes, he was exploring different architectural vocabularies," Davis said. "The Wells house was an example of Warren responding pretty sensitively to Wright. And I don't think he was mimicking. He was taking it as a point of departure for his own stuff."
When Bragg, at helveticka, describes what elements generally define a midcentury modern home, he could be describing Heylman's work in the 1950s.
"It has to be understood as a reaction against and a rejection of these ornate styles that came immediately before: the ornamentation and filigree that was predominant before then in the 1920s and 1930s," Bragg said. "I don't think it's overdone, but the Paulsen Center would have been seen as too much and overdone. People were designing banks to look like Greek temples, not banks."
The modernists reacted by trying to "get to the pure essential" of a building and not hiding the structure behind an ornate facade.
"You're not hiding beams anymore because there's beauty in wood, glass, steel," Bragg said. "There's an inherent beauty in the supporting structure."
Heylman estimates he designed more than 20 houses in all. Open floor plans, clean lines, simplicity, big windows blurring the line between inside and outside.
In 1959, Heylman's success led to a business profile in The Spokesman-Review, which said he had "very definite ideas about his art and obviously enjoys what he's doing."
Heylman's comments in the article suggested he knew what the 1960s would bring him: a shift from designing small homes to big commercial projects that would show his work to a larger audience. It also portended a change to come later in his career, when he had to defend some of his designs.
"It's not necessary for a building to look commercial to do the job," he told the paper. "I've been criticized for some of the things I've done. Doing what you think is right is not always popular."
Airport, Parkade projects done back to back
When the calendar flipped to 1960, Heylman was approaching 40. His firm was established, his name known, he had a young family and money wasn't an issue.
"I didn't take a job just to make a living. I didn't need it," he said.
He could have just kept drawing homes. Instead, he embarked on ambitious project after project, beginning with Spokane International Airport and ending, in 1977, with the O'Malley Apartments near Gonzaga University. Between those bookends, he raised the Parkade, the health building and what's estimated to be more than 1,000 living units for seniors, much of it subsidized, affordable housing. He designed the Whitman County Library in Colfax, hotels and the Hangman Valley Golf Course clubhouse. He pushed Burlington Northern Railroad to scrap its designs for a mediocre rail bridge spanning Hangman Valley for one of elegant simplicity – a project that helped him become a fellow of the American Institute of Architects.
Though it was easily the most productive time in his career and saw the construction of his best-known buildings, Heylman said there was never a breakthrough, or a time that he felt he had reached a new level in his profession.
"I don't think of things like that. I just kept going," he said. "I work and work. If I thought of something, I tried to do it and go on to something else."
In March 1960, an advisory committee to the state Public Utilities Commission issued a report urging the city and county to join forces to build a new airport.
Big numbers were attached to the project: $1.6 million for the terminal, $4.6 million altogether.
The Spokane City Council hired two architects to do the job: Heylman and Bill Trogdon, another notable modernist architect who was a partner at a big league firm with Bruce Walker and John McGough. The firm designed the Ridpath Hotel, the Opera House and the marbled Farm Credit Bank.
For research, Heylman and Trogdon crammed into the small plane owned and piloted by Spokane Chamber of Commerce President Will Alton at Felts Field. They visited 15 airports, including New Orleans; Wichita, Kansas; and Memphis, Tennessee.
Article after article was written about the deliberations and decisions that led to the airport's construction. A photo of Heylman and Trogdon's small-scale model of their design dominated the Aug. 15, 1963, front page of The Spokesman-Review.
The final design varied from that model, but Heylman's stamp is clear. Swooping roof lines, outsized windows and a spacious rotunda defined the facility. The rotunda, which housed two sleeper "roomettes" and a cocktail lounge, peaked in a symmetrical collection of circular skylights.
"It looks like a boomerang," Heylman says now. "I had seen too many cubbyholes and I didn't want it low. No. I wanted a big space."
On April 1, 1965, the airport opened and at 7:54 a.m. a stockbroker from Seattle was the terminal's first passenger. President Lyndon Johnson sent a telegram lauding the airport and Spokanites, saying it was "visible evidence of a forward-looking people keeping pace with the jet age."
But Heylman wasn't one to rest on his laurels. Seventeen days after the airport opened, on April 17, 1965, news of a 10-story parking structure hit the paper. And it already had a name: Parkade.
A parking garage designed for people
John Hieber and Heylman shared a homeroom in high school. Heylman designed Hieber's home. In the middle of 1965, the two partnered once again to build what is surely one of Spokane's most recognizable buildings.
Five firms invested in the Parkade, including the Bon Marché and a handful of banks, but the project was led by Hieber, who had inherited the nearby Bennett Block from his father, a pre-Prohibition beer brewer.
"We didn't even have a contract," Heylman said. "He wouldn't have thought of having anybody but myself. John gave me a free hand. He trusted me."
Before it could be built, six buildings had to be demolished. The two largest to come down were the Hotel Grand, a structure dating back to 1890, and the Stevens Hotel, from 1895.
In a month, the Chronicle reported an "exodus" of businesses from these buildings, including long-standing businesses such as Star Jewelers and Neslin's Men's Furnishings, as well as Dollar Steak House, four taverns and eight other businesses. That summer, the buildings were razed.
The old buildings torn down for the Parkade are little remembered now. There was no effort to preserve them, and downtown merchants had long been clamoring for better parking downtown.
Still, as Heylman's own buildings enter an era of preservation, it's appropriate to ask when a building deserves protection, and when it should be demolished to make way for something new. Especially when Heylman has proposed demolishing historic buildings, as was the case 25 years ago when he suggested tearing down the Peyton Block for a subterranean bus plaza. Or when his work led to actual demolition, as when the historic Desert Hotel was destroyed to make way for Heylman's Saharan Motor Lodge, which was torn down in 1978. The Davenport Hotel's parking garage now sits on the property.
Duvall, the city's preservation officer, said Heylman's legacy is one of renovation, not demolition. He restored the Bennett Block and joined three historic buildings into one. He transformed the Smith Funeral Home from a dour brick building lived in by squatters to a many-windowed headquarters of the North Coast Life Insurance Co. on Riverside Avenue. His designs transformed the Montgomery Ward building into Spokane City Hall.
Heylman supports preservation.
"I'm all for it. It's an individual case," he said. "I think before anything is demolished there could and should be a review, to see if it could be recycled. I'm not for tearing something down that's good and use it for a parking lot. That's an inefficient use of land."
He lamented the loss of many buildings along Main and Riverside, but said the "Parkade is different."
Davis, the architect, said the Parkade showed Heylman's acumen as a businessman.
"One of the things that Warren was really good at was his planning. He had a pretty good handle on urban planning. In that particular regard, he was growing into an area that desperately needed parking," Davis said. "If you look at newspaper articles from that period, over and over again, the downtown merchants and architects were looking at the lack of parking."
In 1965, The Spokesman-Review said the business community welcomed the project as a way to "attract, please and serve shoppers."
On Feb. 3, 1966, construction began. Thirteen months later, the garage opened.
On the heels of his success with the airport, the Parkade further solidified Heylman's reputation. The structure was praised as "futuristic," a favorite word in early accounts of the garage, and stories noted his six awards from the American Institute of Architects and his "striking" design of the library in Colfax. Another article described the Parkade as "graceful and gleaming," and praised Heylman and others for "creating beauty which gladdens our hearts and lightens our spirits."
One article was simple, if not direct, in its headline: "Parkade Is Attractive Structure."
In "Spokane's Building Blocks," a dense 1983 reference book about downtown Spokane's buildings, architect William Hyslop said with the "lightening of a difficult architectural subject," Heylman had made a parking garage pleasant to behold and tied it, if in name alone, to the city's past.
"It is almost exactly on the site of the 'Penny Arcade' of 1918," Hyslop wrote. "How much unconscious influence can location have in name selection?"
Heylman describes how he wanted the building to be "feminine," the reason for its decidedly nonparking structure look.
"I figured most of the parkers would be women, and it should be something that appeals to them," he said. He's particularly proud of the tower, which houses the mechanism for the central elevators. But really it's just design, and in 1967 Heylman called the tower "a beacon for motorists."
"I just wanted a sign," he says now. "I wanted a landmark so everybody knew where they were going to park."
Overall, though, Heylman said then that the Parkade, especially the plaza on its northside, was meant to be "people oriented."
"The environment is designed for people – not things," he said.
Davis, the architect, said the Parkade plaza "made the downtown Spokane environment a little more humane. That was the real achievement of the Parkade."
Next year, the Parkade will mark its 50th year in operation, making it eligible for local and national historic preservation. Duvall, with the city's preservation office, said the Parkade should "absolutely" be preserved.
"I love the Parkade," she said. "It's just such an iconic part of downtown – maybe not as much as the clocktower, but pretty close. It absolutely should be a candidate for preservation."
Health building one of his finest designs, he says
If the '60s saw Heylman's star rise, the 1970s kept it high in the sky.
Where Heylman's work on the airport and Parkade was nearly universally praised, his later projects were more controversial, notably his design of the health building.
The decade began with the Lincoln Garden Apartments in Lincoln Heights on the South Hill, a project that sent Heylman on a spate of apartment building. He would help erect all kinds of multifamily housing, including upscale apartments, like Riverfalls Tower, as well as housing for low-income seniors, notably the Cathedral Plaza and The O'Malley buildings.
According to a 1990 Spokesman-Review story, Heylman helped build more than 1,000 units for seniors, though he says now he has lost count.
Also at the decade's dawn, Heylman gave what he describes as free and unsolicited advice to Burlington Northern Railroad when it was considering what type of bridge to build over Hangman Valley to replace the downtown line it removed ahead of Expo '74.
Heylman said he saw plans for a heavily trellised span obscuring the historic arches of Latah Creek Bridge, and knew he had to act. He sketched out ideas for a different, simpler bridge and sent them to the rail company. He said he never heard back, but the bridge that was built – long concrete legs that complement those of the I-90 bridge – was his.
"Well, I shamed them. You should've seen what they were going to build. It was all of this crossed steel," he said. "It was so bad. I didn't ask anybody anything. I just did it. I just plain tried to embarrass them, and it worked."
In 1990, David Scott, a professor of architecture and engineering at Washington State University at the time, told the paper that the bridge was Heylman's best work.
"It was through Warren's personal efforts that you now have in your community one of the finest examples what a railroad bridge can look like or be," Scott said then. "If he didn't do anything else in a lifetime, he ought to be rewarded by the community and respected by the community for that."
But a lifetime's a long time, and Heylman's most consequential project of the decade is the one that still elicits strong reactions from people, even as he considers it one of his finest designs.
In 1975, Heylman won the contract to design an annex to the Spokane County Courthouse, a building that ranks as one of the best in town in Heylman's estimation.
The original plans Heylman had was for a bigger, more open county campus, and the health building was to be the first of a pair of buildings flanking a courtyard that was to stretch from the courthouse to the river. Instead, county officials scrapped the whole plan except the health building.
"I didn't want to compete with the courthouse," Heylman said about his designs for the health building. "I was trying to complement the curves, not compete. If the other building was ever built, it would've done that."
Duvall, with the city, said the health building grows in stature for her when considered as part of Heylman's larger plan.
"When you get into the designs he had with the larger plan, it was very thought out," Duvall said. "It's very complementary. It certainly lets the courthouse shine."
The silo-like turrets and unique design have drawn critics from the very beginning. If the sharp comments hurt, Heylman doesn't show it. Instead, he chalks it up to "bad press."
Even before construction was complete, The Spokesman-Review printed anonymous letters from people lambasting the building. One person likened it to the Bastille. Another called it "narcissistic."
Heylman said that everyone, including himself, can be "critical of a new form, shape, color or sound with which we are not familiar." He urged patience.
Nearly 10 years later, The Spokesman-Review solicited anonymous comments from local architects, who were even less kind to Heylman's building. They called it "incredibly strange" and the "one you love to hate."
Five years later, the paper quoted Scott, the former WSU architecture professor, ridiculing the building, albeit with caveats.
"But I have to admire him for his courage in using brick in that complex set of forms," Scott said. "I don't know anyone else who'd have the guts to try it even."
Finally, in 2002, Heylman again was called by a reporter to defend the building. After being read a litany of reader criticisms, Heylman said he believed future generations would be kinder.
"In the long run," he said, "it will be recognized as good design."
Duvall agrees.
"It's a different style. One that we're not used to," she said. "He was never afraid to take a risk and play with new forms. Sometimes they didn't work. Sometimes they were successful. But I do think people are coming around to it."
No Heylman buildings listed on historic registries
None of Heylman's buildings has been listed on the local or national historic registries.
And despite the contention that Spokane was turning out better midcentury architecture than both Seattle and Portland for a time – an argument made by Davis, Bragg and the state's architectural historian, Michael Houser – just five structures are on the national or local registry.
Those are the Kenneth and Edna Brooks House, the Joel E. Ferris House, the Walter and Barbara Foltz House, the First National Bank Building and the Ridpath Hotel.
Davis, the architect, said it's time for Spokane's midcentury architectural era to be recognized.
"That was the last time that Spokane architecture achieved that kind of quality. We haven't got to the level since then," Davis said of the midcentury. "Spokane is really fortunate in that there's not just one or two. There are several dozen really outstanding structures that are on a par with anything in the country in terms of design quality. It's something that Spokane should be proud of and it's something that Spokane can achieve again."
Though none of Heylman's designs ranks among Davis' favorite midcentury buildings, Bragg acknowledged that not everyone's perfect.
"Everyone has a clunker, or two or three or four. Something that just doesn't work," he said. "But the guy could do some great work."
Instead of criticizing Heylman, Bragg said, people should be more displeased with the current quality of architecture in Spokane.
"There are cities that still place emphasis on design. Spokane isn't there anymore. It doesn't seem like a priority to design something iconic or that sets Spokane apart," Bragg said. "It's frustrating. I don't know if it's possible to have another architectural renaissance like we did. I hope we can."
Still owns stairs to Peaceful Valley
With his shirt pocket stuffed with sketches, notes and a small calendar, it's easy to imagine Heylman as he was in his heyday: busy, thinking, ready to sketch out a quick rendering to illustrate a point or idea.
He used to wear a bowtie, a signature element of his style, and French blue painter's smock with a shiny left cuff, where he would habitually wipe his pencil point. He's more casual now, but for his stuffed pocket.
Talking to him, it's clear he's far from done working. Though he officially retired from his firm in 1984 and handed the reins to his daughter, Ann Martin, he's kept up with things.
Displeased with the early renderings he's seen for the new Looff Carrousel building in Riverfront Park, he took some measurements and drew up his own plans. He sent them to Mayor David Condon and Leroy Eadie, the city's parks director, but hasn't heard anything yet.
He also has an idea for the downtown bus plaza involving an underground boarding area, and recently sat down with officials from Spokane Transit Authority to talk it over.
Heylman owns the land and stairs that connect Peaceful Valley to Riverside Avenue. He said he's prepared to donate the land and stairs to the city, but only if it rebuilds them to designs he's drawn of a wide stairway with many terraces. Something like the Spanish Steps in Rome.
"I'm not looking for a job. I'm looking to give something. I'm not looking for anything," Heylman said, before adding, with a laugh, "I just like to stick my nose into things."
Local journalism is essential.
Give directly to The Spokesman-Review's Northwest Passages community forums series -- which helps to offset the costs of several reporter and editor positions at the newspaper -- by using the easy options below. Gifts processed in this system are not tax deductible, but are predominately used to help meet the local financial requirements needed to receive national matching-grant funds.
Subscribe now to get breaking news alerts in your email inbox
Get breaking news delivered to your inbox as it happens.
---