News > Spokane
Report: City officials intentionally withheld information about Straub ouster until after election
July 27, 2016 Updated Wed., July 27, 2016 at 1:10 p.m.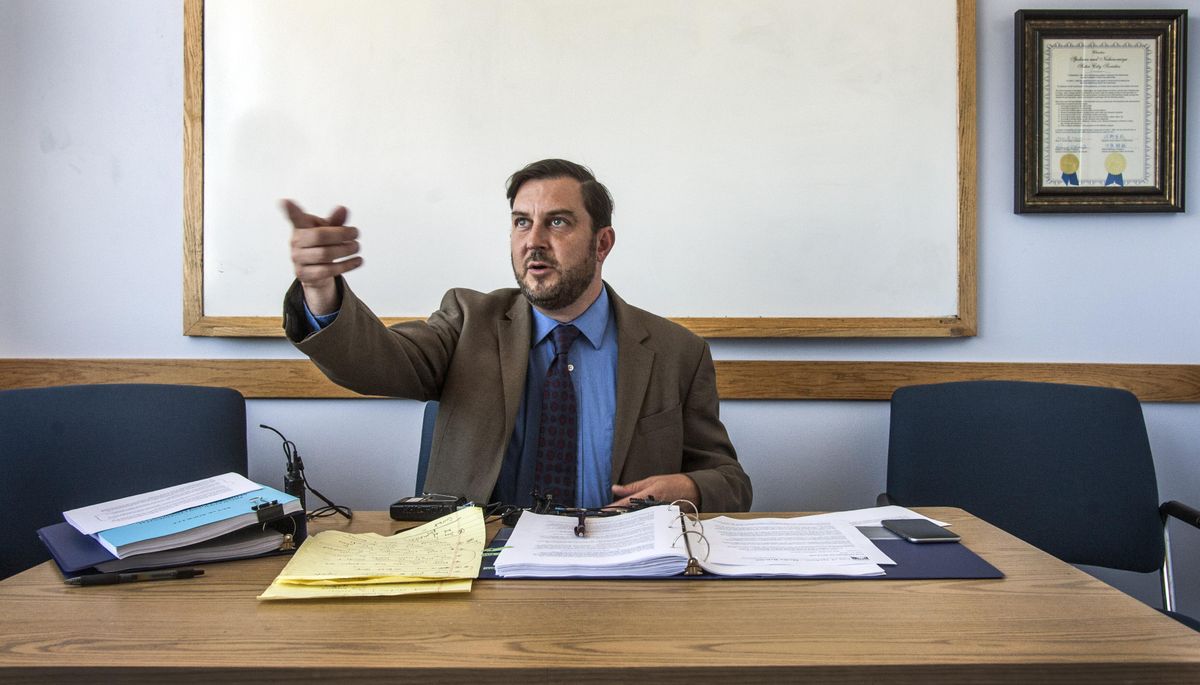 Spokane City Council President Ben Stuckart calls for the resignation of city officials Wednesday afternoon after the long-awaited report on former police chief Frank Straub was released. (Dan Pelle / The Spokesman-Review)
Spokane's mayor and three members of his staff "intentionally withheld" damaging information about the city's ex-police chief from the media and the public until after he won re-election, a report by an independent investigator concluded.
But the day after an initial version of that report was reviewed by city officials, key passages were changed to remove the names of Mayor David Condon and his spokesman Brian Coddington from the final version. The changes were made by investigator Kris Cappel.
The final version still concluded that City Administrator Theresa Sanders and former City Attorney Nancy Isserlis delayed the release of records that had been requested by The Spokesman-Review with the "intent and purpose of delaying the production of those records until after the Mayor's election."
City Council President Ben Stuckart called the report "disturbing" and said officials named should resign immediately.
"If this report came out about me, and my place of work, and I was in charge of 2,000 employees and this came out, I would resign," Stuckart said at a news conference Wednesday, referring to Sanders.
Condon called the release of the first report politically motivated. He also disputed the final report's conclusion that his staff intended to conceal information for political purposes.
But he said the investigator's findings will change the way the city handles harassment complaints.
Sexual harassment allegations concealed
The city's handling of former police Chief Frank Straub's forced resignation last September has sparked legal claims and ethics complaints.
At the time, Condon indicated Straub was fired for his abusive leadership style, presenting letters from police brass criticizing Straub at a news conference announcing the chief's departure.
But Straub also had been accused by the police department's former spokeswoman, Monique Cotton, of sexually harassing her. City officials denied that there were any troubles between Straub and Cotton, though the mayor knew of the allegations months before Straub's ouster.
After she complained, Cotton negotiated a transfer to the city parks department with a raise, but also demanded that officials keep her complaint confidential.
"This investigation confirmed what has been reported many times over," the report said. "Mayor Condon and certain members of his executive staff deliberately concealed Ms. Cotton's sexual harassment allegations against the Chief, and affirmatively misrepresented the circumstances of her transfer to Parks. This was done with the knowledge and apparent counsel of the Mayor's City Attorney."
The public records supporting the findings of the report were all released, but many didn't begin trickling out of City Hall until a full month after Condon's historic re-election, when he became the first mayor to earn a second term in Spokane since 1973.
Stuckart called the incident in the report of city staff working against efforts to release documents related to the Straub ouster a clear violation of Washington public records laws. There are no criminal penalties laid out in the law for such violations, but those affected can file civil claims for damages.
Confidentiality promised to Cotton
Cappel's report says Condon, City Administrator Sanders and Coddington, the mayor's spokesman, each promised Cotton they would keep her allegations confidential. Witnesses told the investigator that the city attorney and an assistant attorney in that office knew of those promises but didn't express concerns, the report says.
Condon said Wednesday he would no longer afford city employees the confidentiality given Cotton in making her complaint.
"Now, going forward, that would be something I couldn't honor," Condon said.
Both Sanders and Assistant City Attorney Pat Dalton, also named in the report as delaying records related to the sexual harassment complaint, released statements condemning Cappel's findings and denying that they acted on political direction.
While Cappel's investigation makes it clear that the release of records was delayed until after the election, it does not present proof of the motive of city officials for delaying the documents' release.
Dalton told the city clerk to delay release because the documents needed further legal review, according to emails, but Cappel could find no legitimate reason the records should be withheld beyond Oct. 29. The election was Nov. 3.
Attorney contract signed day initial report released
In a letter dated Tuesday, Cappel defended the deletions of Condon's and Coddington's names from certain passages of the final report, saying she decided to remove them because it was "based entirely from circumstantial evidence."
She stressed that the decision to amend the report was hers alone.
Cappel was hired in December in a joint agreement between Condon and Stuckart, the city council president. She was asked to investigate the city's handling of Straub's ouster and compliance with public records laws in releasing information related to the departure.
Monday, the same day the initial report was released to city officials that named Condon and Coddington as partly responsible for withholding information, the mayor hired lawyer Laura McAloon on a contract basis. Cappell spoke with both McAloon and City Councilman Breean Beggs, and a day later, a final version of the report was released without Condon and Coddington's names.
McAloon is Condon's pick for city attorney to replace Isserlis, who resigned July 1. But if she's confirmed by the city council, she wouldn't start that job until Aug. 31. The contract issued by Condon Monday authorizes payment of city funds of up to $48,700 for six weeks of work. All expenses of less than $50,000 do not need city council's approval.
Both versions of the report were released to the public by City Hall on Wednesday morning, with a letter from Cappel saying McAloon had called her but the decision was not influenced by anyone.
Stuckart said the revision appeared questionable at best.
"You don't work the ref," Stuckart said. "We don't know what was said in that conversation" between McAloon and Cappel.
Straub 'managed by fear and intimidation'
Cappel found that Straub "managed by fear and intimidation" during his three-year tenure leading the Spokane Police Department, according to the 126-page report, which was based on more than a thousand pages of records and 50 interviews. Cappel also concluded that the police spokeswoman's claims of sexual harassment against the chief had no bearing on Condon's decision to ask for Straub's resignation.
"Monique Cotton was a non-factor in this process," Cappel wrote in the report.
Cappel also concluded her investigation, which did not include an interview with Cotton, "revealed no evidence in support of (Cotton's) claims and no evidence that Chief Straub sexually harassed any other female employed with the City."
Bob Dunn, a Spokane attorney who represented Cotton when she asked for a transfer out of the police department, called the report a waste of time and taxpayer money. He disputed the sexual harassment finding, citing the report's limited scope.
"Does that come as any surprise, when she didn't get to interview Straub?" Dunn said. "She didn't interview all of the police department. She didn't have access to my client."
Straub's attorney, Mary Schultz, said the report vindicates Straub's longstanding claim that he did not sexually harass Cotton.
"The city's best evidence is that Frank Straub didn't sexually harass anyone, and we've said that all along," Schultz said.
Schultz also said the report proves that Straub was fired. A federal judge dismissed Straub's wrongful termination suit in June, saying the former chief resigned voluntarily. Schultz has appealed that ruling.
Also among the other findings in the report:
Members of the Condon administration showed no concern about increasing turnover in the police department with Straub as chief, viewing it as "a natural consequence of new leadership."
Isserlis and Assistant City Attorney Erin Jacobson ignored statements from Tim Schwering, then the police department's director of the office of professional accountability, about leadership concerns with Straub;
Isserlis and Jacobson avoided keeping written notes of their interviews into Cotton's complaint, an act that "was intentional to avoid creating a public record of Chief Straub's inappropriate behavior."
Staff writer Rachel Alexander contributed to this report.
Documents
Local journalism is essential.
Give directly to The Spokesman-Review's Northwest Passages community forums series -- which helps to offset the costs of several reporter and editor positions at the newspaper -- by using the easy options below. Gifts processed in this system are not tax deductible, but are predominately used to help meet the local financial requirements needed to receive national matching-grant funds.
Subscribe now to get breaking news alerts in your email inbox
Get breaking news delivered to your inbox as it happens.
---