Spokane City Council asks Union Pacific to halt oil train traffic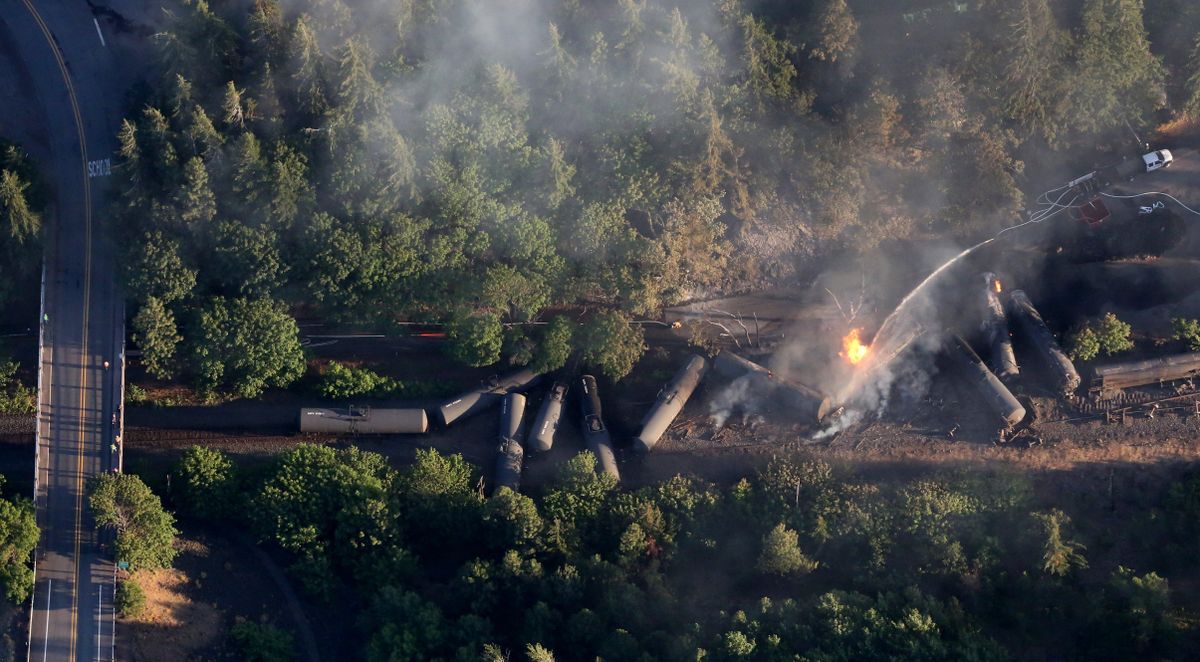 The Spokane City Council is calling on Union Pacific to halt train shipments of oil through the Columbia River town of Mosier, Oregon, until the oil tankers from Friday's derailment are removed from the accident site.
"Every time we open up a new port, with oil, we are playing Russian roulette with our citizens," said Spokane City Council President Ben Stuckart.
The council made the nonbinding request in a 5-1 vote Monday night. Councilman Mike Fagan cast the lone vote against the resolution. Councilwoman Karen Stratton was absent from the meeting.
Leaders and residents in Mosier reacted with shock and anger as Union Pacific began running trains through the Columbia River Gorge town just three days after a fiery derailment forced residents to evacuate and water and sewage systems to shut down.
Residents shot video from an overpass of trains sliding past crumpled and burnt oil tankers, some of them still dripping oil onto the tracks. The town's mayor and fire chief expressed deep concern about the trains running again before a full investigation was complete and before the damaged tankers were cleared.
Trains began running Sunday through the town of about 400 people, carrying mixed goods – but no crude oil.
The Spokane City Council's resolution backs the city of Mosier's request for a temporary halt in rail traffic until hazardous debris has been removed and the site has been inspected and declared safe. If Union Pacific doesn't comply with the request, the U.S. Department of Transportation should act, Stuckart said.
"I think we need to be taking every action that we possibly can at this point," he said.
Conservation advocates, elected officials and members of the Spokane Tribe of Indians gave testimony Monday night almost exclusively in favor of the resolution.
Spokane Riverkeeper Jerry White called the resolution "the most sane and reasonable response in the short-term to an industry that appears to be out of control."
State Sen. Andy Billig, D-Spokane, said train-carried oil posed an "imminent threat" to the region.
"This is simply a dangerous product, being transported in a dangerous way," Billig said. "Are we going to wait for a train disaster in Spokane before we take action?"
David Brown Eagle, vice chairman of the Spokane Tribal Business Council, applauded the council for taking action that he said would protect future generations.
"Whatever happens to the land happens to us," Brown Eagle said. "Whatever happens to the water happens to us."
Fagan said his vote against the resolution should not be seen as minimizing what he called a tragedy in Mosier, or any of the other recent oil train derailments. But he called the resolution "a political statement" and criticized its strong language.
"I couldn't help but feel, as the old adage goes, 'you can't let a good tragedy go to waste,' " Fagan said. "The policy statement was issued for the wrong reason."
The city should wait for an investigation into the cause of the derailment, and defer to the opinions of federal regulatory experts on the safety of running trains through Mosier, before passing "a vague resolution," Fagan added.
"Rail transports a lot of nasty stuff," Fagan said. "Why are we just excluding oil trains?"
Stuckart said the city also will ask Washington Gov. Jay Inslee and U.S. Sens. Patty Murray and Maria Cantwell to work to halt shipments of Bakken crude oil through Spokane and the Columbia River Gorge until North Dakota and the railroads can assure the product is safe.
He and council members Lori Kinnear and Breean Beggs are co-sponsoring a ballot initiative to that effect, which will be voted on by residents in November if it receives council support.
Language for the proposed ballot initiative will be discussed at a forum at 7 p.m. June 29 at the Unitarian Universalist Church, 4340 W. Fort George Wright Drive.
The derailment in the small Oregon town highlights Spokane's vulnerability in the event of a similar accident here, Stuckart said, noting risks to the Spokane Valley-Rathdrum Prairie Aquifer, which provides most of the region's drinking water, and to Spokane's downtown corridor.
Because railroads are federally regulated, "it seems like we can't do much except implore the federal government," Stuckart said.
But a ballot measure noting the risks to public safety and public health, and backed by citizens, could make a difference," he said.
"Maybe it would carry some weight. That's what I'm hoping," he said.
The derailment occurred on a stretch of track that passes within 300 feet of the edge of the K-8 campus in Mosier, 70 miles east of Portland. Sandwiched between the tracks and forested cliffs at a bend in the river, Mosier is part of a scenic area that's world famous for the summer winds that blow through the Columbia River Gorge and attract wind surfers and kite sailors.
Union Pacific defended its actions Monday, saying it was safe to run other trains while crews continued to drain oil from the crashed tankers. Thirteen tankers remained and 10 still contained crude, said Raquel Espinoza, a spokeswoman for the railroad. Trains are moving at about 10 mph.
"We will not run any crude oil trains through this area any time soon," Union Pacific spokesman Justin Jacobs said Monday morning. "The community is at the forefront of our efforts, and we're absolutely aware of their concerns."
Sixteen tank cars went off the tracks Friday. Fire started in four of the cars. An estimated 42,000 gallons of crude oil was released, said Don Hamilton, a spokesman for the state, federal and tribal agencies responding. About 10,000 gallons were recovered in wastewater systems, while the rest was burned off, captured by booms or absorbed into soil, he said.
No injuries have been reported. Dozens of residents have been cleared to return home.
The federal government regulates interstate railroad commerce, so cities and towns have no regulatory power over the movement of oil trains.
Eric de Place, policy director with Sightline Institute, a progressive think tank, said states and cities can deny projects in other ways, such as through zoning or permit restrictions. Hoquiam, Washington, last year approved a ban on bulk crude oil storage facilities. Vancouver is considering a similar ban.
Mosier is among dozens of communities that have officially called for stronger federal safety measures and other actions because of increasing oil train shipments through the Northwest.
"The federal government, the railroad and oil companies need to protect us," said Paul Blackburn, mayor of Hood River, a city about 7 miles west of Mosier.
Mosier Fire Chief Jim Appleton said he had been a supporter of Union Pacific's right to move oil through his town until the derailment.
Appleton, who operates with a full-time volunteer firefighting crew of six and has 30-year-old firetrucks, said the derailment terrified him. Firefighters poured 1,000 gallons of Columbia River water per minute on the blaze for eight hours straight to bring it under control, he said.
"The media has been saying this incident is 'near Mosier,' " he said. "No. It went end-to-end through our entire town."
---