News > Spokane
Then and Now: Pay'n Takit stores
Mon., June 6, 2016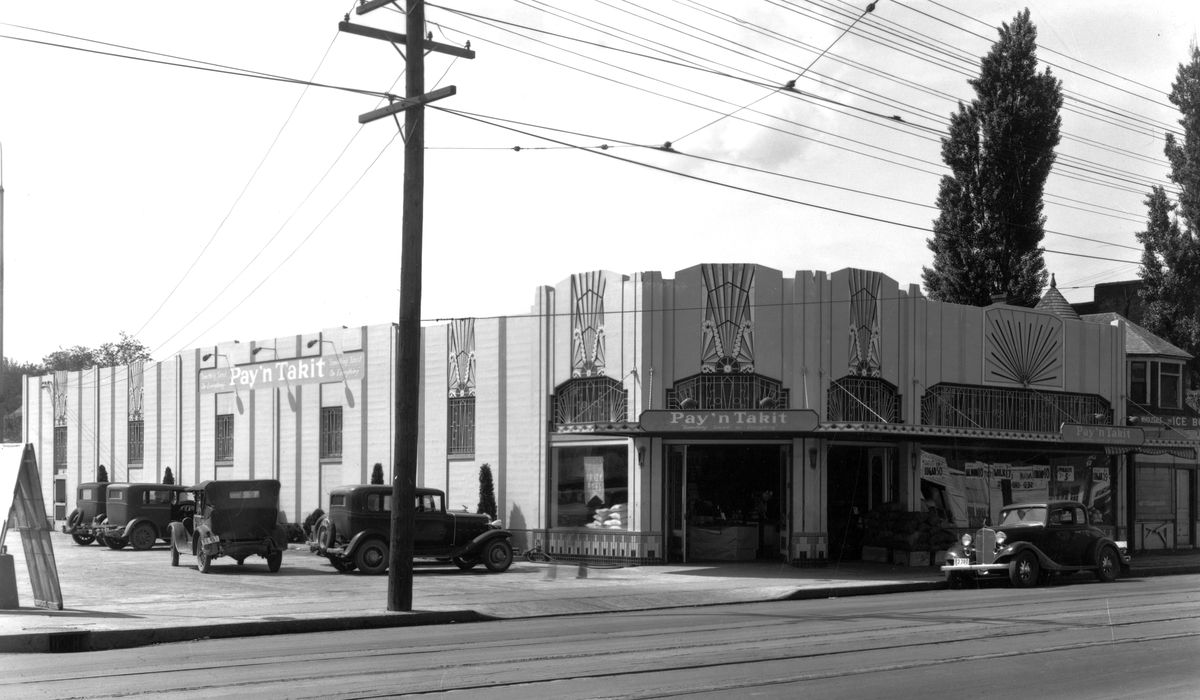 1933: The Pay'n Takit store, sometimes spelled Pay 'n' Take It, at 2020 E. Sprague Ave. in Spokane was part of a chain of grocery stores that L.J. Skaggs and his wife, Mary Dee, founded in the 1920s. (Libby Collection/Eastern Washington Historical Society)
It's hard to overstate the impact the Skaggs family had on retail business in 20th-century America.
Around 1915, the Rev. Samuel and Nancy Skaggs opened Skaggs Cash Store dry goods store in American Falls, Idaho. The Skaggs had come west from Missouri with nine children and needed to supplement the meager income of a Baptist minister living on the windswept eastern plains of the Idaho territory.
The Skaggs' store took only cash, which limited their potential customers. Farmers' and ranchers' income was sporadic, and most other stores offered credit accounts. Rev. Skaggs knew that to attract the customers, low prices and merchandising were critical. The family children learned about sourcing and buying in bulk and how to make the store attractive for shoppers.
Marion Barton Skaggs, 29, bought the store from his father in 1916. With some of his brothers, M.B. expanded to Blackfoot, Burley and Rupert, Idaho. Another brother, O.P. Skaggs, opened similar stores in Idaho Falls and Elko, Nevada, and continued as far as California. Rev. Skaggs had taught his business-minded offspring to focus on very narrow profit margins to keep customers coming back.
Another brother, L.J. Skaggs, and his wife built a chain of grocery stores called Pay'n Takit, also spelled Pay 'n' Take It, the name emphasizing the self-service, cash-up-front style of business. L.J.'s stores in Spokane had art deco exterior design.
In 1919, many of the brothers' wide-ranging businesses came together to be called Skaggs United Stores, which would become a case study in large business planning.
Meanwhile, in Southern California, businessman Sam Seelig began a chain of grocery stores that grew to more than 300. Seelig held a naming contest and the winning entry, Safeway, became the new corporate moniker in 1925. Safeway was one of the first grocery stores to incorporate large parking lots.
Charles Merrill, of Merrill Lynch, held investments in Seelig/Safeway and in 1926 engineered the merger of Skaggs United and Safeway into the largest grocery chain in the West. M.B. Skaggs was chosen as the new chief executive officer of the giant company. Through the late 1920s, the new company absorbed many well-known grocery names, including Pay'n Takit and Piggly Wiggly. The Pay'n Takit stores, which were spread as far as Kansas City, Denver, and Phoenix, didn't take the Safeway name until the 1930s.
Merrill, though known as an investor and business genius, also founded Family Circle magazine, which he specifically designed for impulse purchases at grocery checkout lines.
Through all these changes, the various Skaggs siblings managed, held and grew their own companies, or subsidiaries of the family company. Among those companies were Alpha Beta stores, Osco Drugs, Payless Drug Stores, Lucky Stores, Sav-on Drugs and many others. Leonard Skaggs, a grandson of Rev. Skaggs, partnered with Joe Albertson to start Albertson's Grocery stores in 1939. M.B.'s son-in-law, Joseph Long, started Longs Drugs with his brother Thomas.
The Skaggs' business empire has largely been diffused through changing corporate ownership, but elements of the company and M.B. Skaggs' business values are still in the Safeway chain, Rite Aid and CVS drugstores, among others.
– Jesse Tinsley
Local journalism is essential.
Give directly to The Spokesman-Review's Northwest Passages community forums series -- which helps to offset the costs of several reporter and editor positions at the newspaper -- by using the easy options below. Gifts processed in this system are not tax deductible, but are predominately used to help meet the local financial requirements needed to receive national matching-grant funds.
Subscribe now to get breaking news alerts in your email inbox
Get breaking news delivered to your inbox as it happens.
---