News > Voices
10-year-old boy teaches knitting class
Wed., June 8, 2016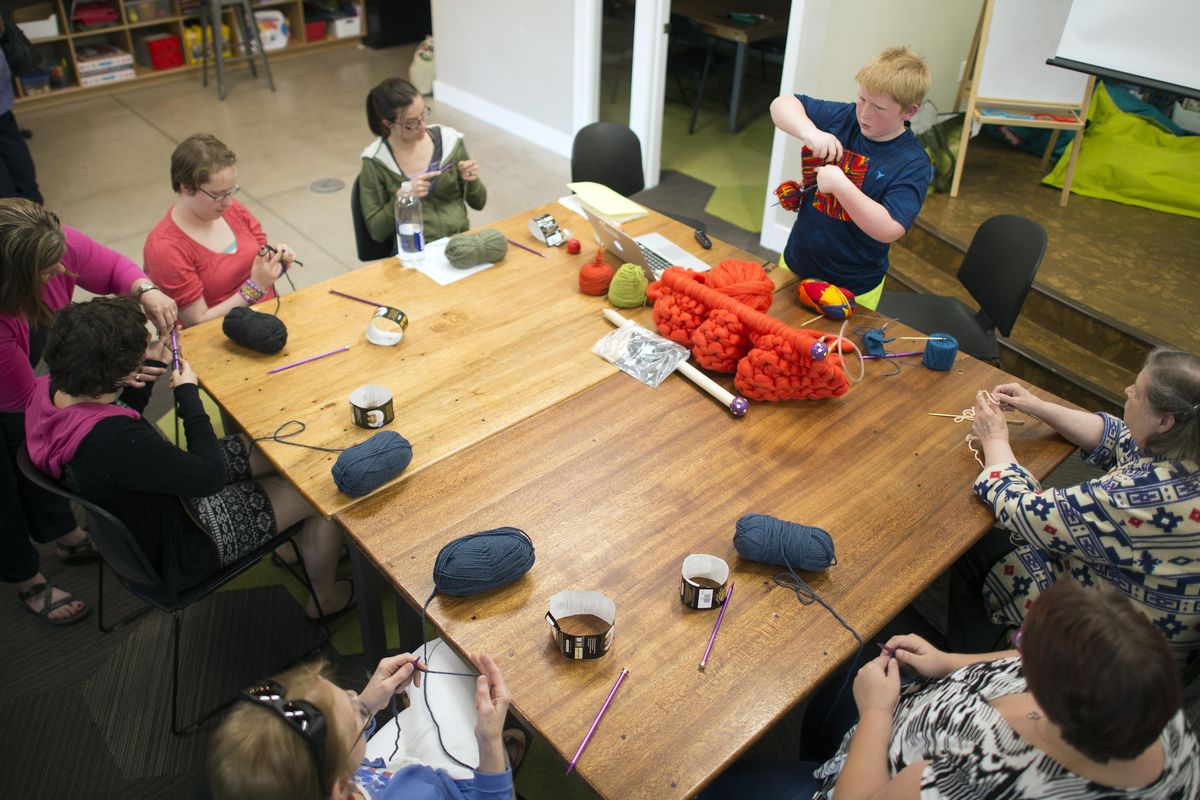 Jack Kashork, 10, teaches a knitting class at the Spark Center, Thursday, May 26, 2016. (Colin Mulvany / The Spokesman-Review)
Jack Kashork started the Knack for Knitting class by introducing himself.
His grandmother taught him to knit when he was about 5, he told the six students seated at the table, as he showed them some of the projects he's working on.
He's 10 now. His students are all older, some by decades – you must be at least 13 to take Jack's knitting class.
Teaching adults is, Jack said during an interview, "a lot easier than teaching kids."
And as for knitting, "Most people think it's a lot harder than it actually is," he said.
Jack is a fourth-grader at Cataldo Catholic School on the South Hill. As he described his knitting, he seemed to have a lot of the same afflictions as many adult knitters: He starts projects and doesn't finish them (the ones he does finish are usually gifts). He buys more yarn than he has time to use.
"He's like a kid in a candy shop" when at the yarn store, said his mother, Catherine Kashork.
Knitting isn't his only hobby. He plays lacrosse, does origami, and likes to ride his bike and cook. He's reading Lemony Snicket's "A Series of Unfortunate Events" books. His favorite subject in school? Math or science, or maybe PE.
His mom was Jack's first knitting student, and she served as his assistant at the class on a recent Thursday night at Spark Center in Kendall Yards.
Students started a scarf that night. Jack began with a slip knot, using a video tutorial and demonstrating the maneuver himself, then he moved from student to student to make sure everyone understood. Then the backward loop cast on, and on to the knit stitch.
After each step, Jack and his mom made the rounds. One student, a left-hander, was struggling.
"Mom, you were knitting backwards," Jack called out after checking on the lefty.
"Sorry, that's why you're the teacher and I'm the helper," Kashork replied.
As most of the students became more comfortable with the knit stitch and even started helping each other, Jack searched the internet for clues on how to teach left-handed knitting.
"He's a much better teacher than I am," Kashork said. He's much more patient, she added.
As the students chuckled about mistakes they were making, Jack assured them it would get easier and they just needed practice.
"Your first one is never going to be perfect," he said. "I should have brought my first one. It has holes, dropped stitches."
Patty Bluett, one of the students, said she didn't figure Jack's age mattered when she signed up for the class.
"I thought he was really clear and explained things really well," she said as the class finished.
Jack said he hopes to teach more knitting classes at Spark.
"It's always different because there's different people, and they have different learning styles," he said.
"I hope to keep doing it, I think it's fun," he added. "I think it'd be easier if I was older, but I'm still going to keep (teaching) knitting classes."
Local journalism is essential.
Give directly to The Spokesman-Review's Northwest Passages community forums series -- which helps to offset the costs of several reporter and editor positions at the newspaper -- by using the easy options below. Gifts processed in this system are not tax deductible, but are predominately used to help meet the local financial requirements needed to receive national matching-grant funds.
Subscribe now to get breaking news alerts in your email inbox
Get breaking news delivered to your inbox as it happens.
---