Oscar Pistorius is a depressed, 'broken man,' psychologist says at sentencing hearing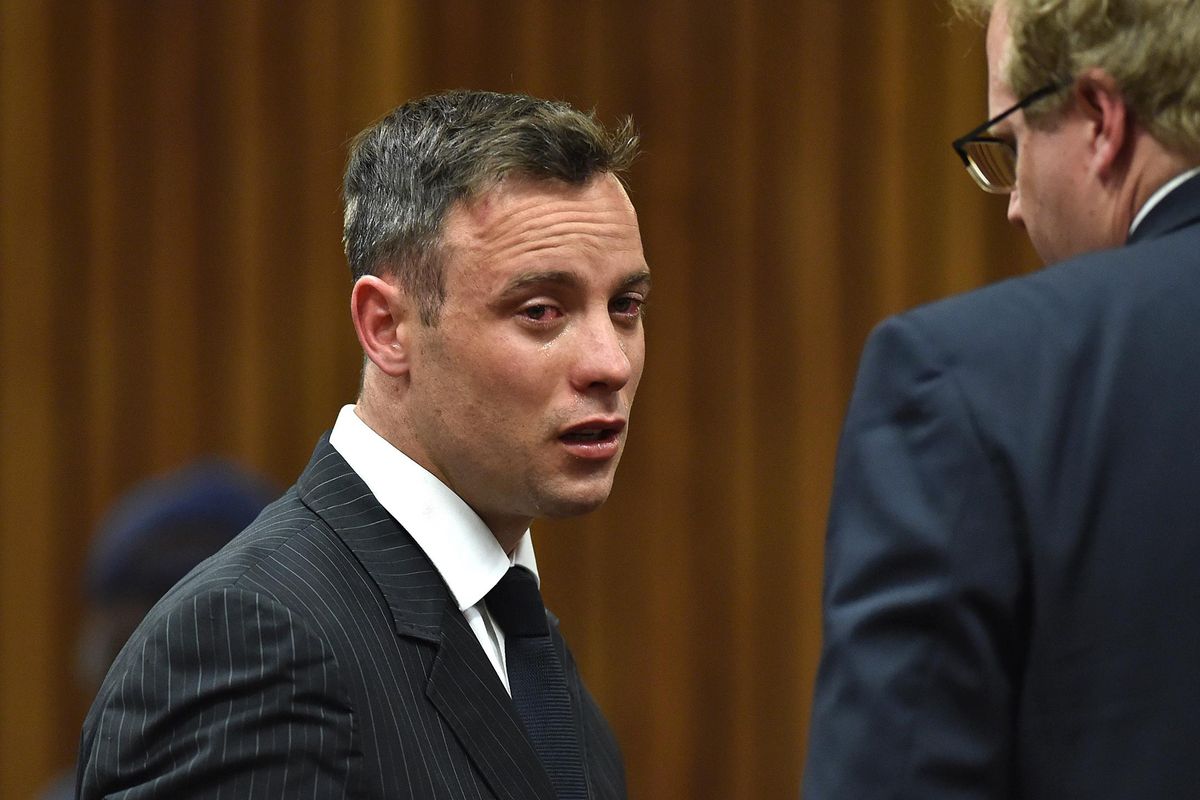 JOHANNESBURG – Oscar Pistorius is a depressed, "broken man" who shouldn't go back to prison for the murder of his girlfriend, a psychologist told Pretoria's High Court on Monday at a sentencing hearing for the athlete, who is a double amputee.
Jonathan Scholtz, appearing for the defense, said the athlete told him he had overheard the sound of a young inmate being raped in prison, and later found out the victim killed himself. He had seen the inmate's body hanging from his doorway.
Prosecutor Gerrie Nel, who is seeking a sentence of at least 15 years, told the court the incident never happened.
Pistorius spent a year in the hospital wing of a Pretoria prison after being convicted of culpable homicide, South Africa's term for a reckless but unintentional killing, for shooting his girlfriend, Reeva Steenkamp, through the toilet cubicle door in his bathroom in 2013. Sentenced to five years, he was released in October and ordered to spend the remaining four years under house arrest at his uncle's mansion.
But the verdict was overturned last year and the athlete was convicted of murder. The trial prosecution and defense were sparring in court Monday on the first day of a sentencing hearing that is expected to last five days.
Scholtz argued that Pistorius' psychological condition had deteriorated sharply since 2014. He said the athlete was suffering from worsened depression, anxiety, post-traumatic stress disorder and agoraphobia, a condition that can include a fear of enclosed spaces. Instead of being sent back to prison, he should be in a hospital, the psychologist testified.
He added that Pistorius wasn't psychologically fit to testify at the hearing, but that he was remorseful and guilty about taking Steenkamp's life.
"Unfortunately, I feel his condition has worsened. He's almost given up. One has to prompt him to get some semblance of hope for the future," said Scholtz, adding that Pistorius was forgetful, would not remember things he had just said, and fell asleep during his interviews with the athlete.
Nel countered that Pistorius had never expressed an appreciation of the fact that he had committed murder, not culpable homicide.
"It can never be true remorse. It's feeling sorry for himself," Nel said.
He questioned why it was too stressful for Pistorius to testify in court, when he had recently appeared on a television network making comments about the trial.
Pistorius' story was that he fired in the belief an intruder was in the bathroom. The appeals court found that Pistorius must have known that firing four high-powered bullets would kill anyone in the cubicle and he was therefore guilty of murder.
Pistorius won global admiration as the first double amputee athlete to compete in the Olympic Games in London in 2012.
"His fall from grace was enormous. Although he received support from many quarters, he was vilified by many," Scholtz said.
---