News > Business
Rain doesn't dampen the mood of opening day at Shanghai Disney
Thu., June 16, 2016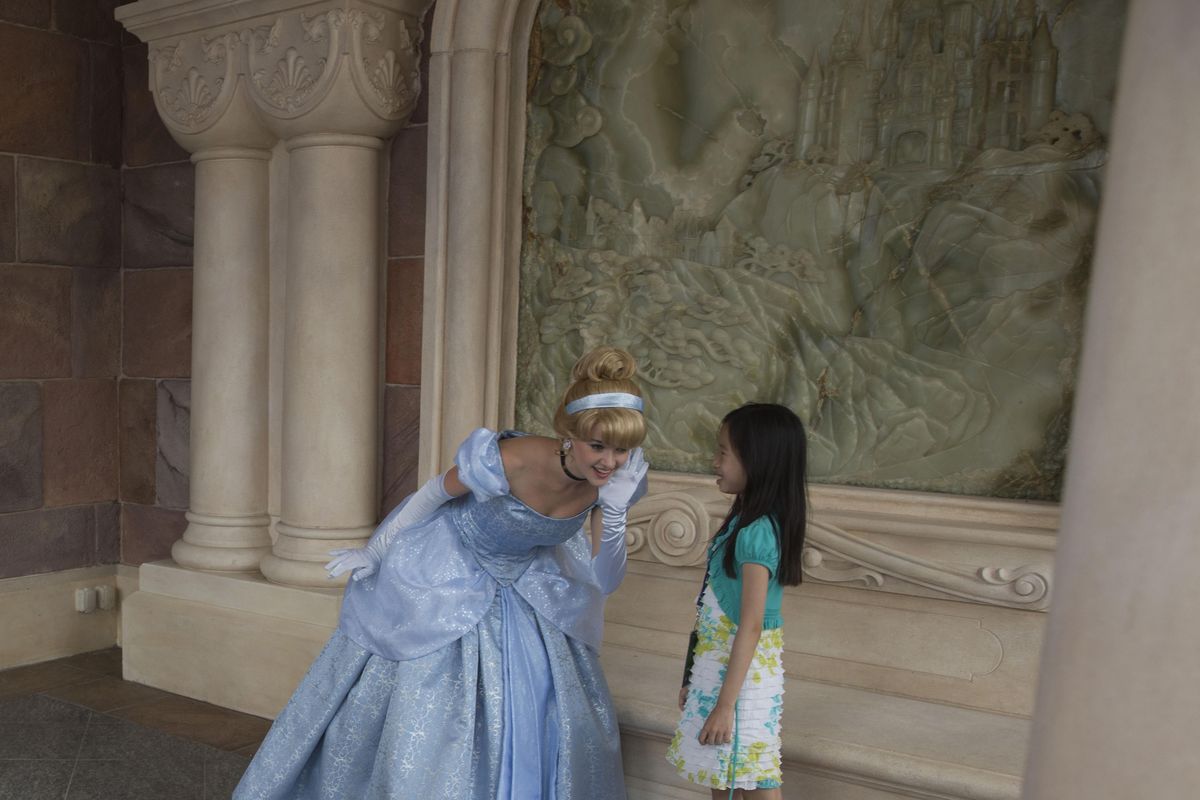 A woman dressed as a Disney character listens to a young Chinese girl during a tour on the eve of the opening of the Disney Resort in Shanghai, China, Wednesday, June 15, 2016. (Ng Han Guan / Associated Press)
SHANGHAI – Under dark skies and intermittent showers, Walt Disney Co. officially threw wide the gates of its most expensive international resort to mostly orderly crowds on Thursday, creating a beachhead for the popular entertainment company in the most populous nation.
During a colorful opening ceremony attended by Chinese dignitaries, Disney Chairman and Chief Executive Bob Iger called the opening of the nearly 1,000-acre, $5.5 billion Shanghai Disney Resort "one of the proudest and most exciting moments in the history of the Walt Disney Company."
Iger also read a letter from President Barack Obama, who said the park "captures the promise" of the bilateral relationship between the U.S. and China.
To shine some sunlight on the day, Chinese Vice Premier Wang Yang told Iger that the rain is an auspicious sign of dollars and renminbi to come. Wang read a brief message of congratulations from Chinese President Xi Jinping, who said: "By adding to the classic Disney style a stroke of Chinese characteristics, and by blending international standards with best local practices, the resort demonstrates our commitment to cross-cultural cooperation."
After a brief burst of fireworks above the Enchanted Storybook Castle, the first wave of park visitors hurried through the gates around 11:30 a.m., toting umbrellas or wearing rain slickers. As they rushed through the slippery streets of Shanghai Disneyland, clutching maps and cameras, rows of Disney staff smiled and waved.
The resort is a joint venture, with Disney holding a 43 percent stake and the state-owned Shanghai Shendi Group owning the rest. Disney's goal is not only to draw revenue from theme park visitors but to boost the exposure of China's 1.4 billion residents to Disney merchandise, television shows and movies.
Still, many visitors at the opening day of Shanghai Disney were already Disney superfans.
Claudia Wu, 30, an employee at an American law firm in Shanghai, came to the opening with three other fans that she met via Weibo, China's version of Twitter. All four were decked out in Disney outfits and squeezing Disney stuffed animals.
"When we watch Disney movies it makes us really happy," Wu said.
Already, Iger has suggested that the park could expand "sooner rather than later," noting that there are more than 2.5 square miles of land adjacent to the resort that could be built upon.
As it is, the resort has access to more than 330 million people within a three-hour car ride or train trip. Disney's main target is the country's upper middle class, which is forecast to double to 100 million by 2020, according to the Boston Consulting Group.
In the first year, Disney's partners, Shanghai Shendi, have projected 10 million to 12 million people will visit Shanghai Disneyland's six themed lands encircling the Enchanted Storybook Castle. The resort also includes two hotels, a shopping district and 99 acres of gardens, lakes and parkland.
Shanghai's opening day events were somewhat tarnished by news from Florida. Authorities there say the shooter in the mass killing at an Orlando nightclub was first spotted at the Walt Disney Resort, and investigators were trying to determine if he was planning an attack at the Florida theme park.
Also, a toddler who was playing near a lake at a Disney resort hotel near the Orlando theme park was dragged away and killed by an alligator.
"Everyone at Disney joins me in offering our deepest sympathies," Iger said in a statement about the toddler's death.
Back in Shanghai, Disney has taken great pains to ensure its brand of entertainment translates well for the Chinese people. Disney hired Chinese architects and designers to create a resort that tries to keep the iconic Disney character but downplays some of the most direct Americanness and pays homage to the Chinese culture.
For example, the Main Street U.S.A. that is found at other Disney parks has been nixed. The park's entry still has an American vibe with facades including a city hall, a post office, and a hardware store, but it's called Mickey Avenue.
Near the castle, a pathway that Disney calls the Garden of the 12 Friends features a dozen mosaics of characters such as Hamm the pig from "Toy Story" and Tigger from "Winnie the Pooh" representing the 12 Chinese zodiac animals. A restaurant called Wandering Moon Teahouse injects some Chinese architectural flavor between Mickey Avenue and the castle.
Designers have added more seating at restaurants after finding that Chinese guests linger longer over meals, and incorporated more live entertainment to appeal to those Chinese patrons who prefer shows and spectacles to thrill rides. Grassy picnic grounds have been built into the park for guests who want to bring their own meals into the resort.
But the resort still has the earmarks of its American cousins, including a Starbucks coffee outlet as well as a Cheesecake Factory and a Wolfgang Puck restaurant. Inside the park, guests queued up for more than half an hour to await the opening of a turkey leg kiosk; some said they were eager to try the dish for the first time as turkey is not generally consumed in China.
Shortly after the official opening, waits for some rides were already hitting the two-hour mark, though most attractions – including the stunningly high-tech Pirates of the Caribbean Battle for the Sunken Treasure – could be boarded with waits of less than 20 minutes. At Pirates, guests received certificates designating them as some of the first riders of the attraction.
Disney would not say how many guests it let into the park on Thursday afternoon, but the company appeared to be holding attendance below maximum capacity. For the first three days of operation, only those who had purchased tickets in advance could enter the park; no tickets were being sold on site.
A mobile phone app delivers updates on wait times and can warn prospective guests to stay away if the park is at capacity. But with rain falling with increasing intensity as the afternoon wore on, there seemed to be more traffic heading away from the park than to it; Baidu's online map service sent out an alert saying roads leaving the resort area were clogged around 5 p.m.
Jeffrey Towson, a professor of investment at Peking University and author of the "1 Hour China Consumer Book," said Disney couldn't have timed its entry into the market better because China's booming middle class is hungry for entertainment, particularly family entertainment. At the same time, local competitors are still fairly weak, and the government is welcoming of Disney's investment.
"They are in a race against time now, to get people to love them before local competitors have reasonably good parks and movies, and Shanghai doesn't need Disney's expertise like they do today," said Towson. "They have to run as fast as they can."
—-
(Los Angeles Times staff writer Hugo Martin, reporting from Los Angeles, contributed to this report. Special correspondents Nicole Liu and Yingzhi Yang, reporting from Shanghai, also contributed.)
—-
)2016 Los Angeles Times
Visit the Los Angeles Times at www.latimes.com
Distributed by Tribune Content Agency, LLC.
——-
GRAPHIC (for help with images, contact 312-222-4194):
–––––
Topics: t000178499,t000137896,t000131859,t000420288,t000030742,t000002705,t000035070,t000140171,c000213989,g000362667,g000224489,g000362690,g000217071,g000065577,g000362661,g000066164
AP-WF-06-16-16 1745GMT
Local journalism is essential.
Give directly to The Spokesman-Review's Northwest Passages community forums series -- which helps to offset the costs of several reporter and editor positions at the newspaper -- by using the easy options below. Gifts processed in this system are not tax deductible, but are predominately used to help meet the local financial requirements needed to receive national matching-grant funds.
Subscribe now to get breaking news alerts in your email inbox
Get breaking news delivered to your inbox as it happens.
---