News > Spokane
The Back 9: Things you might not know about Bing Crosby, Spokane's favorite son
Sun., June 19, 2016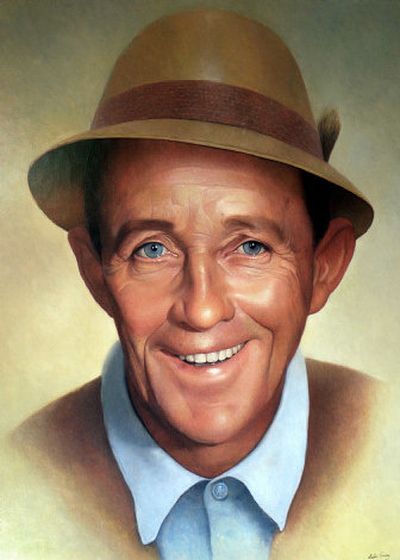 Nine things you might not know about legendary crooner Bing Crosby.
1. He got his name from a comic strip in The Spokesman-Review: Born Harry Lillis Crosby in Tacoma, Bing moved with his family to Spokane when he was 3 years old. The new name found him when he was 7. At the time, The Spokesman-Review ran a comics-page feature called "The Bingville Bugle," which was a parody of hillbilly newspapers. Little Harry thought it was a real hoot and laughed uproariously whenever he read it. A neighbor, 15-year-old Valentine Hobart, noticed the laughter and started calling him "Bingo from Bingville." The nickname was soon shortened to Bing and stuck with him for the rest of his life.
2. He might have been a lawyer if only it paid better: Before heading for Hollywood in 1925, Bing was a law student in his third year at Gonzaga University. In addition to his studies, he worked part-time in the office of Spokane attorney Col. Charles S. Albert and performed in a popular local dance band. "It began to dawn on me that I was making as much money on the side, singing and playing drums, as Col. Albert was paying his assistant attorney," Bing later recounted. "This gave me to think: what was I doing pursuing the law when singing offered fatter financial possibilities."
3. He scored 13 holes in one: Bing was no duffer on the golf course. He was a five-time club champion who was good enough to play in both the U.S. Amateur and the British Amateur championships. He was beset by throngs of fans when word got out that Bing Crosby was playing the U.S. Amateur, so he quietly entered the 1950 British tournament as Harry L. Crosby. Again, word leaked that it was Bing on the greens and record crowds filled the gallery. During his lifetime, he scored 13 holes in one, testament both to Bing's ability and how often he played the game.
4. He saved the seventh game of the 1960 World Series: Bing was an owner of the Pittsburgh Pirates baseball team from 1946 until his death in 1977. When his Pirates played the New York Yankees in the 1960 World Series, Bing decided to take his wife to Paris rather than attend the game and risk jinxing his beloved ballclub. With the Series tied at three games each, Bing hired a private crew to film the seventh and deciding game so he could watch it when he got home. It turned out to be one of the greatest games in World Series history, with the Pirates winning 10-9 on second baseman Bill Mazeroski's ninth-inning home run. Bing no doubt enjoyed watching the game upon his return, then quietly packed it away in the cool, dry basement of his California home. In 1960, baseball games were aired live but not typically recorded and it was long believed that dramatic game had been lost forever. But in 2009, a man cataloguing tapes of Crosby TV appearances for the crooner's estate discovered five dusty metal film canisters labeled "1960 World Series." The New York Times ran the story of the lost game found on its front page.
5. He also loved the hot ponies: When Bing and a few partners opened the Del Mar Racetrack just north of San Diego in 1937, he showed up to take tickets and shake hands at the entrance on opening day. For years, the track's Turf Club was a hot spot for Hollywood star sightings and the horse racing was pretty good, too. In 1938, Del Mar hosted the famous winner-take-all two-horse race between Seabiscuit and Ligaroti, which NBC aired as the first-ever national radio broadcast of a horse race.
6. He was dreaming of a white Christmas in the film "Holiday Inn": Bing's rendition of "White Christmas" is still the best-selling single of all time, nearly 40 years after his death. Irving Berlin wrote the song for the 1942 musical film "Holiday Inn," which starred Bing and Fred Astaire. Twelve years later, Bing starred with Danny Kaye in the film "White Christmas," which borrowed the name and reprised the Academy Award-winning song. In between, Bing won the Academy Award for best actor in the 1944 film "Going My Way," playing Father Chuck O'Malley, a character he based on a priest he had known at Gonzaga.
7. His last hit song was a duet with David Bowie: Bing's televised Christmas TV specials were an American holiday staple until he died in 1977. The programs always featured Bing and his family, along with popular musical stars of the day, singing seasonal songs and performing skits. Bing invited the British glam rocker David Bowie to appear on his 1977 program and the two performed a strangely successful duet called "Peace on Earth," complete with a corny intro sketch. The pre-recorded show actually aired two months after Bing died. In 1982, RCA released a single of the Bing-Bowie Christmas song, which has showed remarkable seasonal staying power over the years, climbing to No. 3 on the charts in December 2006.
8. He drove an Edsel to help Gonzaga: Bing built a new library for Gonzaga University back in the 1950s and raised some of the money for the project by starring in "The Edsel Show." The television special, which aired in place of Ed Sullivan on Sunday, Oct. 13, 1957, starred Bing and friends Frank Sinatra, Rosemary Clooney, Louis Armstrong and, of course, Bob Hope. Although Bing was the real driver behind the show, his alma mater was by contract the producer and as a result received a tidy $250,000 payday. The show was notable as the first CBS entertainment program recorded on videotape for rebroadcasting in the West after the show was performed live for the TV audience in the East. It was also a hit, earning Look Magazine's TV award for best musical show of the year. However, to the disappointment of sponsor Ford Motor Co., the show's success did not transfer to the popularity of the new-for-1958 Edsel brand of automobiles.
9. His childhood home is open to the public: Bing grew up at 508 E. Sharp Ave. in Spokane in a Craftsman-style house built in 1913 by his father and two uncles. The family lived there until they sold the home to a neighbor in 1936. The house still sits at the edge of the campus of Gonzaga University, which today owns the property. The well-preserved Crosby home contains displays that celebrate Bing's life and accomplishments – photographs, gold records, golf mementos, even the Oscar he won in 1944. It is open to the public 9 a.m.- 4:30 p.m. weekdays and 1-4 p.m. on Saturdays. There is no charge for admission.
Local journalism is essential.
Give directly to The Spokesman-Review's Northwest Passages community forums series -- which helps to offset the costs of several reporter and editor positions at the newspaper -- by using the easy options below. Gifts processed in this system are not tax deductible, but are predominately used to help meet the local financial requirements needed to receive national matching-grant funds.
Subscribe now to get breaking news alerts in your email inbox
Get breaking news delivered to your inbox as it happens.
---