News > Obituaries
Obituary: Leichner, Victor
Age 85
Wed., March 2, 2016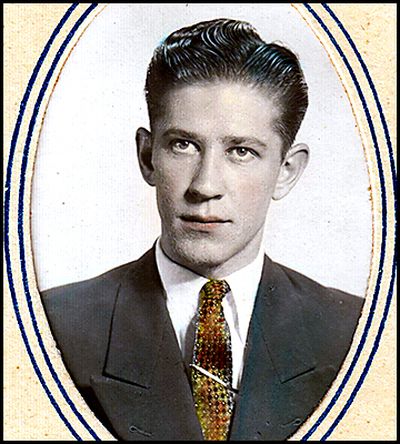 LEICHNER, Victor

Victor passed away February 24, 2016 after suffering a long illness.
Victor was born September 10, 1930 in Entre Rios, Argentina, to parents, Wilhelm and Amalia Leichner.
After serving in the Argentine military, he became a professional car- penter.
Victor then married his wife of 49 years, Emma.
Son, Victor E. was born August 5, 1957 in Vicente Lopez.
In 1960, the family immigrated to Livingston, Montana in order to reunite with relatives.
Daughter, Nancy M. was born on July 26, 1961.
Victor was employed by the Northern Pacific Railway and was a member of the American Lutheran Church.
Victor enjoyed fishing the Yellowstone River at his leisure.
His great claim to fame was winning a derby sponsored by the world famous Dan Bailey's Fly Shop by landing a huge trout and claiming the $100.00 prize.
In 1968, the family moved to Spokane and became members of Redeemer Lutheran Church.
Victor continued employment at the newly consolidated BNSF Railway.
Victor enjoyed lake fishing in the area, and he retired in 1992.
Victor was preceded in death by his parents, Wilhelm and Amalia.
Given to God's care were granddaughters, Katarina, Alexandra and Nastassja Leichner in 1995.
His brothers, Ricardo, Eduardo and Alfredo are deceased as well.
Loving wife, Emma passed away in 2004.
Victor is survived by his son, Victor E. Leichner (Kristine) residing in Liberty Lake; and daughter, Nancy M. Halverson (Kim) residing in Kirkland.
He is also survived by granddaughter, Victoria R. Leichner; and sister, Irma C. Goette of the Spokane Valley.
Service will be held Friday, March 4, 2016 at 1:00pm at Holy Cross Mausoleum Chapel, 7200 N. Wall, Spokane.
Interment will take place immediately following the service.
In lieu of flowers, the family requests that donations be made to the Greater Spokane Meals on Wheels to help seniors in need.
May God bless you and yours.

" For as the body without the spirit is dead, even so the faith without works is dead."
James 2:26 Geneva Bible 1560
Local journalism is essential.
Give directly to The Spokesman-Review's Northwest Passages community forums series -- which helps to offset the costs of several reporter and editor positions at the newspaper -- by using the easy options below. Gifts processed in this system are not tax deductible, but are predominately used to help meet the local financial requirements needed to receive national matching-grant funds.
Subscribe to the Coronavirus newsletter
Get the day's latest Coronavirus news delivered to your inbox by subscribing to our newsletter.
---