News > Obituaries
Obituary: King, Michael J.
Age 73
Thu., March 3, 2016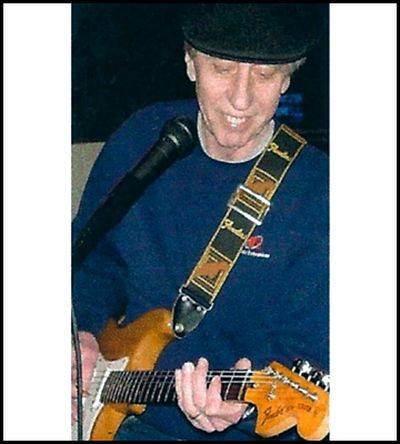 KING,

Michael J.
(Age 73)

Mike was born July 3, 1942.
He passed away February 29, 2016.
He is survived by his beloved wife Adrianne, his mother Anna May King, bothers Tim King, and Benny King and his sister Kathy Ward; children Tessie Crow, Trevor King, Tim King and Dolan King, Wayne Parton, Julie Ann Wilhite, and Bob Parton; along with six grandchildren and three great-grandchildren.
Mike was a wonderful father and loving soul mate to his wife Adrianne of 18 years.
His passion was playing music.
He most recently performed at VA post 1375 and 1434.
He performed at retirement centers and with the Hilyard Bells as lead guitarist.
He passed peacefully with family at his bedside.
A Celebration of Mike's life will be held at Heritage Chapel, at 2:00 PM on Saturday, March 5, 2016.



Local journalism is essential.
Give directly to The Spokesman-Review's Northwest Passages community forums series -- which helps to offset the costs of several reporter and editor positions at the newspaper -- by using the easy options below. Gifts processed in this system are not tax deductible, but are predominately used to help meet the local financial requirements needed to receive national matching-grant funds.
Subscribe to the Coronavirus newsletter
Get the day's latest Coronavirus news delivered to your inbox by subscribing to our newsletter.
---