News > Obituaries
Obituary: Malek, Jace David
Age 19
Thu., March 3, 2016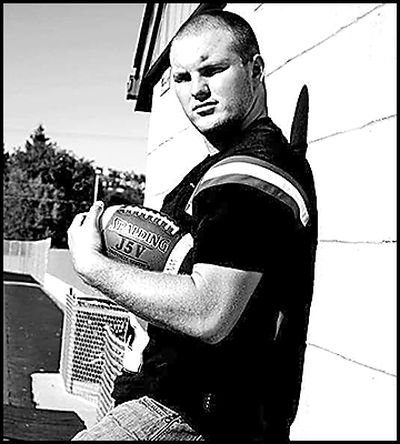 MALEK, Jace David

Jace David Malek was born February 17, 1997 in Roseburg, Oregon to Anna and Dan.
Jace was passion- ate from the start and grew up with a love of John Wayne and all things cow- boy, hunting, sports, and most especially his family.
Jace also loved music, particularly old country music, and was always quick to sing along or grab a partner and dance.
Quite the athlete, he was involved with sports almost his entire life.
He started out wrestling at a very young age and improved as much as he grew.
He placed 2nd in State his Freshman, Sophomore, and Junior years and was ranked 1st in 2A and 2nd All Class his Senior year.
His phenomenal high school wrestling record was 101 wins and 8 losses.
At the same time, Jace had an outstanding high school football career, a four year Varsity starter at offense and defense, as a fullback and defensive end.
Multiple colleges recognized and recruited Jace, but ultimately he chose the position of fullback with the University of Idaho, who signed him one week after a late stage cancer diagnosis for a full ride with the Vandals.
Jace was an avid fan of football and truly loved the game.
Jace enjoyed the outdoors, with a very special place in his heart for his Grandpa Fred's cabin in the mountains of Libby, Montana.
From the time he was able to hold and aim a rifle, Jace has been an avid hunter.
Over the years, he made many great hunts, with some of his best trophy's adorning his Grandpa's cabin walls.
Jace moved with his family to Spokane, Washington before he started the fifth grade.
Growing up in a farming community, and close to family, Jace spent a lot of time helping others, working on ranches and even doing some rodeoing with his mom, brother and cousins.
With almost the same stature as one of his hero's, John Wayne, Jace sat tall atop a horse, but was a natural.
Very charismatic, Jace made friends everywhere he went; from various class and teammates, to kids with disabilities, to other patients in the hospital.
He had a quick, easy smile and bright eyes that often sparkled with mischief and a great sense of humor.
Jace had an enormous heart and an innate sense of care and kindness for others.
One of the most important things to Jace was his family.
He was very close to them and always enjoyed having them all (numerous grandparents, aunts, uncles and cousins) around.
There was always some sort of competition, shenanigans, and definitely teasing going on amongst cousins.
In May of 2014, Jace started dating Libby Nunley and on October 25, 2015, they were married in a beautiful ceremony in Rockford, WA.
Libby and her family became part of Jace's ever-growing family.
He adored Libby and she was a devoted wife.
Though their marriage was cut short, it encompassed more than some marriages do in a lifetime.
Jace, Libby and his best friend and cousin, Waylen Anderson, spent the fall of 2015 living in Moscow, Idaho, where Jace was enrolled in college and working with his new football family, the Vandals, as a student coach.
The Vandals truly became a part of Jace's big family and filled him with drive and determination.
He was a dedicated member of the University of Idaho Vandal football team, and on October 24th, 2015, received the game ball after a win against Lousiana-Monroe.

Jace developed a strong faith over the years, which was very important to him.
He displayed this great faith through both the best and worst of times.
His love for his wife began with his admiration of her faith.
One of Jace's greatest accomplishments was touching so many lives with his faith.
On February 20th, Jace, was baptized in Libby, Montana in a ceremony made more special by sharing it with his Grandpa Fred and sister Kathryn.
Jace was diagnosed with late stage osteosarcoma in January of 2015.
Despite the prognosis, and everything that came with the illness and treatment, Jace remained courageous, determined, strong, and most importantly faithful.
He was optimistic, keeping his easy smile, upbeat demeanor.
The year 2015 brought some hard roads, but also showed some great blessings.
The outpouring of support Jace and his family received was tremendous.
He was given some great opportunities that involved hunting and meeting new people.
The generosity and support of the community was greatly appreciated by Jace and his family.
Jace passed away peacefully at home in his Grandpa Fred's cabin, surrounded by his immediate family, on Sunday, February 28th, 2016.
He is survived by his wife Libby Malek; mother Anna Ackerman; father Dan Malek; brother Tate Malek; sister Kathryn Malek; and many grandparents, aunts, uncles and cousins.
A Celebration of Life will be held for our beloved, Jace Malek, on Saturday, March 5th, at Reardan High School at 1:00 p.m.
Local journalism is essential.
Give directly to The Spokesman-Review's Northwest Passages community forums series -- which helps to offset the costs of several reporter and editor positions at the newspaper -- by using the easy options below. Gifts processed in this system are not tax deductible, but are predominately used to help meet the local financial requirements needed to receive national matching-grant funds.
Subscribe to the Coronavirus newsletter
Get the day's latest Coronavirus news delivered to your inbox by subscribing to our newsletter.
---