Obituary: Stirling, Konnor Thomas
Age 13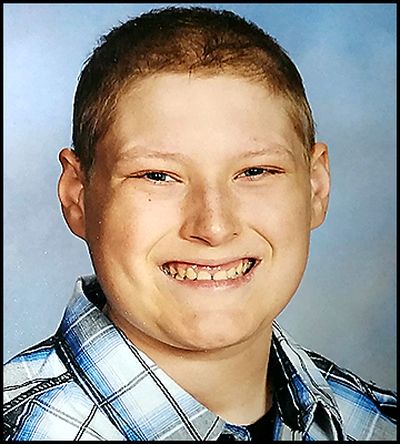 STIRLING, Konnor

Thomas
Konnor Thomas Stirling, Colfax student, lost his valiant and courageous battle with leukemia on Tuesday, March 1, 2016 in Spokane.
He was 13.
A Memorial Service will be held Saturday, March 12th, at 11:00 am at the Colfax High School Gymnasium followed by a potluck reception at the Colfax Golf Club.
Konnor will be laid to rest privately at the Colfax Cemetery.
Viewing for friends and family will be on Friday from 9 am to 5 pm at Bruning Funeral Home.
Konnor left this world in very much the same fashion he entered; as a fighter.
Complications at birth had him fighting to breathe and the last two years of his life had him fighting his leukemia.
He kept up the fight, never gave up, and remained strong throughout his life.
Konnor was born May 17, 2002 in Spokane to Thomas and Janel (Sims) Stirling.
He moved with his parents to Colfax when he was just two years old.
Konnor played sports from an early age.
He started with T-ball and by third grade; Konnor had discovered his love for football.
Even though he was athletic and played team sports, Konnor liked his quiet time too.
He was known as a quiet listener, loved to sit around a camp fire being mesmerized by the flames, and he had a special "soft spot", if you will, for babies too.
He was a good student, always respectful toward his teachers and others, and was well liked by many.
Konnor was an avid fan of the Green Bay Packers.
He was enthusiastic of his Colfax Bulldog team, liked playing Center and Nose Tackle and proudly wore the #54.
Konnor was a tall kid and excelled as Center for the basketball team as well.
His most favorite thing in the world was his family and hearing all of the stories and jokes being told.
Quality time spent at Clear Lake around a camp fire, or playing video games with his cousins are memories that will be forever cherished.
Those family times were his favorite.
He would laugh a lot, wrestle with his cousins, and stay up late; often outlasting most of the adults.
He loved animals and was extremely close to his dog, Pebbles.
Konnor's life made a huge impact and had a lasting impression on all who knew him.
He will be forever missed by his parents; Tom and Janel Stirling of Colfax; his two grandmas, Inge Stirling and Mary Jane Sims both of Spokane; his aunts and uncles; Ray (Erin) Stirling of Colfax, Karl (Tina) Stirling of Spokane, Sheila (Jesse) Espinoza also of Spokane, Bill (Mary) Sims of Mica, WA., and Paul (Vanessa) Sims of Florida; as well as his 12 cousins whom he dearly loved, Alec, Tyler, Jordan, Kurt, Kaitlynn, Jonathan, Brittany, Jessica, Billy, Joey, Tia and Shelby.
His two grandfathers, Stan Stirling and Gary Sims, were waiting in Heaven to welcome him.
Konnor's family would suggest memorial gifts to the Anna Schindler Foundation, 6700 S. Stateline Rd., Post Falls, ID 83854 or to the American Childhood Cancer Organization, P.O.
Box 8031, Spokane, WA 99203.
On-line guest book is at www.bruningfuneralhome.com
BRUNING FUNERAL HOME of Colfax is caring for the family.
---