News > Obituaries
Obituary: Bellotti, Nicholas Michael
Age 31
Sun., March 6, 2016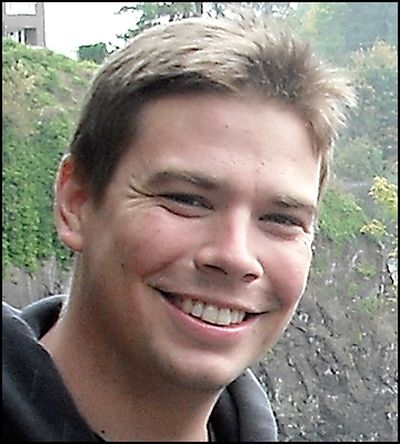 BELLOTTI, Nicholas Michael

October 26, 1984 to

January 5, 2016

When Nick was diagnosed with Amyotrophic Lateral Sclerosis (ALS), or Lou Gehrig's disease, in January 2011, he was on a cross country road trip with a group of friends traveling down the west coast.
From that point forward, he chose to use his body as a canvas, as he realized he would soon have difficulty communicating.
Two of his first post-diagnosis tattoos were done in script on the back of his hands - "Don't Worry" on the left, and "Be Happy" on the right.
This was his life's motto.

In the handful of years he lived with ALS, his magnetism only grew.
Nick reshaped the world by reuniting his nuclear family in Spokane, including his mother Patti and his father Robert; marrying his longtime sweetheart Stephani, whom he met in Phoenix and fell back in love with while living in Spokane; and seeing the birth of his amazing son, Nolan.
Nick influenced friends and family from Arizona, New Mexico, and Ohio to move to Spokane, and because of his spirit and attraction, we have a larger and more beautiful family.

Nick grew up in Phoenix with his younger brother Tony.
They played endless hours of basketball and shared in many trips to the family's cabin in Oak Creek Canyon.
He was accepted into the International Baccalaureate Program at North High School, and later transferred to Camelback High School, where he met many of the people that he began a lifelong friendship.
He was an excellent writer, a talented artist and cartoonist, drawing freehand Garfield cartoons from an early age.
He carried on both of these passions into his illness.


After he lost the use of his arms and hands, he would hold a brush between his teeth to paint, and was able to do some writing using Eye Gaze technology.
With every physical loss, he adapted, smiled, and kept on going.
Until his final days, he continued to attend concerts, comedy and punk rock shows.
He was dearly loved by his adopted family of mohawked, pierced, and tattooed friends.
Nick always made people feel comfortable and was a positive force that welcomed shy newcomers and interesting people from all walks of life.

Nick is survived by his wife Stephani; 33 month old son Nolan; mother Patti; father Robert; brother Tony; and many cousins, aunts, uncles, and grandmother in Arizona, Alaska, and New York.


The family would like to express our gratitude to the ALSSO; an all volunteer Support Organization that helps patients w/ ALS and their families stumble through the tragic progression of ALS.
If you'd like to make a donation in Nick's name to ALSSO, their address is P.O.
Box 48177, Spokane, WA 99228.
Many, many thanks to the Gleason Foundation who assisted with his van conversion and eye gaze computer.
Online Guestbook at: www.legacy.com
Local journalism is essential.
Give directly to The Spokesman-Review's Northwest Passages community forums series -- which helps to offset the costs of several reporter and editor positions at the newspaper -- by using the easy options below. Gifts processed in this system are not tax deductible, but are predominately used to help meet the local financial requirements needed to receive national matching-grant funds.
Subscribe to the Coronavirus newsletter
Get the day's latest Coronavirus news delivered to your inbox by subscribing to our newsletter.
---