News > Obituaries
Obituary: Bushnell, Warren Emery
Age 94
Sun., March 6, 2016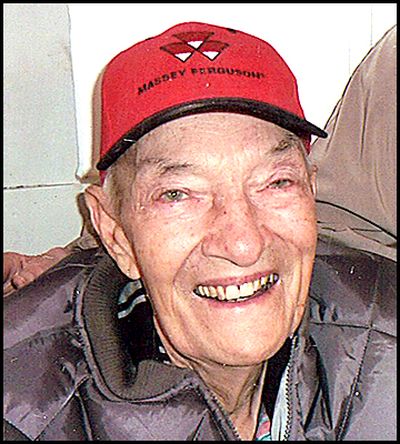 BUSHNELL, Warren Emery

(Age 94)

A lifelong resident of the Twin Mountain area passed away on February 25, 2016.
Warren was born on March 26, 1921, at the home of his grandparents in rural Deer Park, WA.
His parents were Walter and Ruby (Hillard) Bushnell.
Growing up on a farm, Warren could handle a team of horses by the time he was ten.
In his late teens he worked as a cowboy on ranches and at apple and wheat harvest.

He married Edith Jens on September 15, 1945 in her parent's home outside of Deer Park, WA.
They started raising a family and Herford cattle on 60 acres.
Together they bought two heifers that each had twins, and Warren always said, "We doubled our herd."
As the family and cattle herd grew, so did the acreage of timber and farmland when they moved a half-mile north to their lifelong home.
They called the farm the Lazy WB (after their cattle brand), which seemed ironic because it was never a place to be lazy!
Warren loved to spend time in the woods logging, cutting firewood, hunting, or just enjoying the peace and quiet of the land he and Edith had worked so hard to develop.
They enjoyed working together, and would often pack a lunch to spend the day fixing fence.
The family loved to take camping trips to the huckleberry patch, Blue Mountains, Alaska, Arizona, and South Dakota.
Warren also enjoyed hunting and pack trips in the Cascade Mountains with his family and friends; he loved riding his appaloosa "Popcorn" and packing his favorite mule "Brownie."
In his later years he could be found feeding the quail, turkey and deer in the winter months.
Warren was a man of his word and purchases were made with cash and a handshake.
He was always quietly helping a neighbor or family member in need.
Warren was an original volunteer of the Twin Mountain Fire Department, a lifetime member of the Williams Valley Grange, and a Washington State Tree Farmer for 52 years.

Warren is survived by his wife of 70 years, Edith Bushnell; his three children: Robert Bushnell and wife Sharol of Spokane, Patsy Bushnell of Ninilchick, Alaska and Al Bushnell and wife Helen of Colville.
He leaves behind six loving grandchildren, eight great-grandchildren, numerous extended family members, and many neighbor kids who will remember his generous supply of chocolate Malt Balls and the loose change from his pocket.
He is preceded in death by his parents, brother Vernon Bushnell, and sister Nellie Russell and her husband Leroy.
He leaves behind brother Dale Bushnell and wife Marion of St. John, and sister-in-law Jenny Bushnell of Spokane.
No service will be held at Warren's request.

Go Rest High On That Mountain Grandpa.
Local journalism is essential.
Give directly to The Spokesman-Review's Northwest Passages community forums series -- which helps to offset the costs of several reporter and editor positions at the newspaper -- by using the easy options below. Gifts processed in this system are not tax deductible, but are predominately used to help meet the local financial requirements needed to receive national matching-grant funds.
Subscribe to the Coronavirus newsletter
Get the day's latest Coronavirus news delivered to your inbox by subscribing to our newsletter.
---