News > Obituaries
Obituary: Harris, Dorothy Garner
Age 95
Sun., March 6, 2016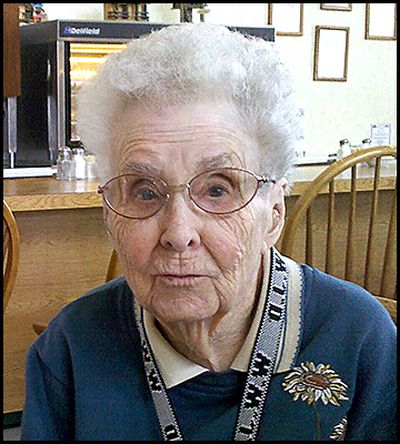 HARRIS, Dorothy Garner

December 13, 1920-

February 28, 2016

Dorothy died peacefully at her home for the past 12 years, Good Samaritan Society, Spokane Valley.
Dorothy was born in Chicago, IL.
She grew up in Devils Lake, ND.
Dorothy attended the U of ND and was a member of Gamma Phi Beta Sorority.
She eloped with Earl Harris, June 21, 1940.
They were together for 70 years.
Earl was recalled to active duty in the Air Force and the family moved to Spokane, where they raised their daughters.
Earl and Dorothy enjoyed many years at their float home on Lake Pend d' Oreille.
She taught her grandchildren how to fish and to love boating.
She was always up for a hike.
Dorothy knew the names of all wildflowers and every bird, sea shells, and cacti.
Her hobbies included gardening, woodworking, sharing recipes and baking cookies.
After retirement she and Earl traveled the US with their AirStream Travel Club, finally settling to their winter home in Yuma, AZ.

Dorothy was preceded in death by her husband, Earl and her daughter, Ellen Roxanne Linville.
She is survived by her daughter, Janna Harvey (Mike), and four grandchildren.
Tim Harvey (Christie), Randy Harvey (Joanne), Monica Harvey Lewallen, Janna Linville Lynch and eight great-grandchildren.
A private family memorial will be held at a later date.
Donations may be made to the Good Samaritan Society, Spokane Valley.
Local journalism is essential.
Give directly to The Spokesman-Review's Northwest Passages community forums series -- which helps to offset the costs of several reporter and editor positions at the newspaper -- by using the easy options below. Gifts processed in this system are not tax deductible, but are predominately used to help meet the local financial requirements needed to receive national matching-grant funds.
Subscribe to the Coronavirus newsletter
Get the day's latest Coronavirus news delivered to your inbox by subscribing to our newsletter.
---