Sports
Arena gets No. 1 seed in Oregon Ducks
Sun., March 13, 2016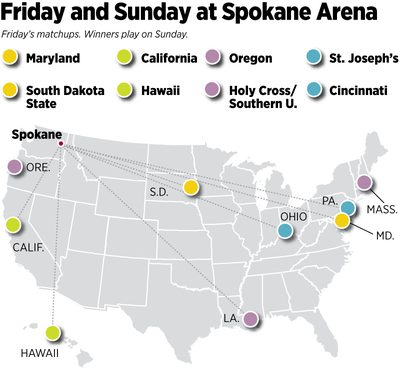 Come Friday, Spokane and the Oregon Ducks will be making a little history together.
That's when the Spokane Veterans Memorial Arena will host its first top-seeded team in the NCAA Tournament – namely the surprising Pac-12 Conference champion Ducks, who are flying pretty high these days.
"We've come so far. Now everybody is looking at us now," Oregon forward Dillon Brooks said Sunday after Oregon earned its first No. 1 seed in school history.
"We got to take what we have and put it on ourselves and run with it and and not be scared of it. We are a No. 1 seed," Brooks said.
Spokane has hosted four previous subregionals, only once with a team seeded higher than fourth. Coincidentally, that happened to be a third-seeded Oregon team that reached the Elite Eight in 2007 under current Washington State coach Ernie Kent.
Duck fans flocked here nine years ago; expect even more this time, thanks to Oregon's remarkable season.
The Ducks (28-6) will play Friday at 4:27 p.m. in a West Regional second-round game against Southern or Holy Cross, a pair of 16-seeds who will square of in a play-in game on Wednesday in Dayton, Ohio.
In the same bracket, eighth-seeded St. Joseph's (27-7) will play No. 9 Cincinnati (22-10) in the Friday nightcap, at 6:57 p.m. The winners will play on Sunday, with the survivor advancing to the regional in Anaheim, California.
The other four teams in Spokane will compete in the South Regional. Another Pac-12 team, No. 4 Cal (23-10) will play 13-seed Hawaii (27-5) in the opener at 11 a.m. Fifth-seeded Maryland (25-8), which won the national title in 2002, will play No. 12 South Dakota State (26-7) at 1:30 p.m.
One of the bigger surprises of the college season has been Oregon, which was picked to finish fourth in the Pac-12, but finished alone atop the conference at 14-4. Slotted as a No. 2 seed as late as Saturday, the Ducks vaulted to their first No.1 on the strength of an 88-57 throttling of Utah in the Pac-12 Tournament title game Saturday night.
The Ducks' ascendancy may have come at the expense of another familiar team in green. The Michigan State Spartans, who played in Spokane in 2010 and 2014, fell to a No. 2 on Sunday and will play in St. Louis.
The Ducks have many weapons – four players average in double figures – and they've won eight straight games while holding teams to 42 percent shooting.
Also in Oregon's bracket is a surging St. Joseph's team that's coming off a 13-point win over Virginia Commonwealth in the Atlantic 10 title game. The Hawks – also known for the unceasing wing-flapping of their mascot – are 12th in the nation in turnover margin.
Cincinnati has lost two of its last three games, but counters with a physical defense that holds opponents to 40.6 percent shooting – the lowest in the country.
Among the South Region teams, Maryland brings the cachet of the Big Ten Conference along with its lofty seed. The Terrapins are balanced with five players averaging double figures, but they've lost five of their last eight.
They also seemed disappointed about being sent to Spokane. "I feel bad for our fans, I really do. I feel bad for our families. It's a long ways away on Friday," coach Mark Turgeon said Sunday night.
"But it might be good for us and really lock in and concentrate.
South Dakota State appears to be the outsider, but only two years ago Summit League rival orth Dakota State came to the Arena and knocked off fifth-seeded Oklahoma. The Jackrabbits are experienced too, with a trio of senior guards.
Cal, which finished fourth in the Pac-12, also has a veteran backcourt with Jabari Bird, Tyrone Wallace and Jordan Matthews, and statistically has the best defense in the conference.
Hawaii has won 11 of its last 13, including a 64-60 decision over Long Beach State in the Big West title game.
Local journalism is essential.
Give directly to The Spokesman-Review's Northwest Passages community forums series -- which helps to offset the costs of several reporter and editor positions at the newspaper -- by using the easy options below. Gifts processed in this system are not tax deductible, but are predominately used to help meet the local financial requirements needed to receive national matching-grant funds.
Subscribe to the sports newsletter
Get the day's top sports headlines and breaking news delivered to your inbox by subscribing here.
---