News > Obituaries
Obituary: Emery, Elmer H. Jr.
Age 97
Sun., March 13, 2016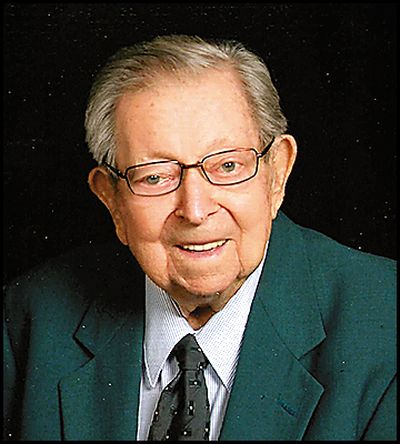 EMERY,

Elmer H. Jr.

(Age 96)

Passed on to meet his Lord and Savior on March 3, 2016, in Spokane, WA.
He was born on March 20, 1919, in Lamona, WA, the fourth of four children to Elmer Sr. and Christine (Stockman) Emery.
Most of his childhood was spent in Kendrick, Idaho.
He graduated from the University of Idaho with a bachelor's degree in accounting.
He served our country during World War II in the Finance Detachment of the Second Air Force at Large - Air Corp US Army, stationed at Geiger Field.
Following the war, he joined Jess Randall's accounting firm.
The firm eventually became one of the largest accounting firms in Spokane: Randall Emery Campbell Parker which through mergers is now known as PricewaterhouseCoopers.
After his retirement in 1978 he continued in private practice from his own home into 2015.

He met the love of his life Evelyn Quinn at the University of Idaho.
They were married on August 8, 1942.
They celebrated their 71st anniversary in 2013.
They had two children, Melvin and Duane.
The family resided in Spokane, WA.

He enjoyed his work, vacationing with family, boating, swimming, bowling, golfing, maintaining a beautiful yard, and serving the Lord through his church and service clubs.
He was a charter member of the Exchange Club of Downtown Spokane.

He was preceded in death by his son Melvin in 2008, and his wife Evelyn in 2013, as well as his parents, and his siblings, Doris Bennett, Karl Emery, and Katherine Hilton.
He is survived by his son Duane (and Janice) Emery; grandchildren, Kelly Emery; Joy (and Rick) Smawley; Reid Emery; and Christine (and Kenta) Shimizu, step-granddaughters, Marcy (and Chris) Wetzel; and Dawn Funk; and 13 great-grandchildren.

Visitation will be held at Heritage Funeral Home from 3:00 p.m. to 5:00 p.m. on Saturday, March 12, 2016.
A Funeral service will be held at the First Presbyterian Church, located at 318 S. Cedar Street, Spokane, WA 99201 on Monday, March 14, 2016 at 11:00 a.m.
Local journalism is essential.
Give directly to The Spokesman-Review's Northwest Passages community forums series -- which helps to offset the costs of several reporter and editor positions at the newspaper -- by using the easy options below. Gifts processed in this system are not tax deductible, but are predominately used to help meet the local financial requirements needed to receive national matching-grant funds.
Subscribe to the Coronavirus newsletter
Get the day's latest Coronavirus news delivered to your inbox by subscribing to our newsletter.
---