News > Obituaries
Obituary: Wisecarver, Dorothy Jean "Dot"
Sun., March 13, 2016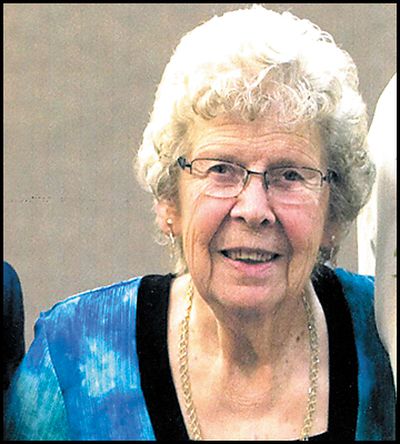 WISECARVER, Dorothy Jean "Dot"

(Age 89)

Born New Year's Eve in 1926 outside Harrison, ID, Dot and older sister, Gwen, were raised by their mother, Bertha Duell, grandparents from Denmark, Kirstine and Peter Jensen, and half a dozen aunts and uncles.
During Depression years, they were fortunate to have meat, dairy, vegetables and fruit from their farm.
The girls attended a one room schoolhouse on East Point, then in Harrison.
They later moved and Dot graduated from John Rogers High School in Spokane.
She met Roy Eugene 'Dick' Wisecarver on a double date with her friend, Edith Eliason and Dick's brother, Bill.
When Roy was discharged from the Navy after WWII, they were married May 5, 1946.
While he worked as an electrician at Kaiser Aluminum, Dorothy dedicated herself to home and family.
In younger years she was a bowler, a CampFire leader, active in PTA and always making cookies.
In later years, with her husband's early retirement, there was time for travel, tennis, and quilting.
In recent years she enjoyed playing bridge with Roy, games with family, cheering and jeering her Mariners, and working in her beloved garden.
She will be greatly missed by her husband of 70 years and children; Daniel (Griselle-RIP), Rick (Jean), and Laura (Tim) Wick; numerous grandchildren and great-grandchildren.
Memorial service at Advent Lutheran Church on Monday, March 14 at 11:00AM.
In lieu of flowers, donations may be made to the church's Happy Piecemakers quilters that contribute through Lutheran World Relief.
Local journalism is essential.
Give directly to The Spokesman-Review's Northwest Passages community forums series -- which helps to offset the costs of several reporter and editor positions at the newspaper -- by using the easy options below. Gifts processed in this system are not tax deductible, but are predominately used to help meet the local financial requirements needed to receive national matching-grant funds.
Subscribe to the Coronavirus newsletter
Get the day's latest Coronavirus news delivered to your inbox by subscribing to our newsletter.
---