Obituary: Smith, Donald Gordon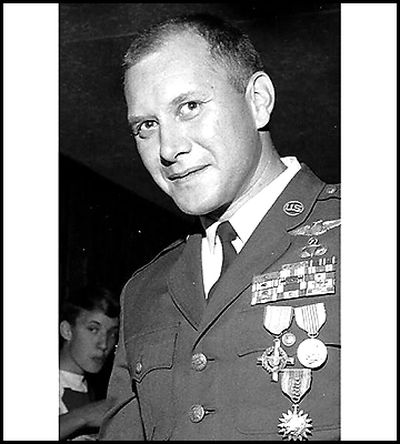 SMITH, Donald

Gordon "Smitty"

(Age 80)

Donald G. Smith of Medical Lake, WA passed away on March 12, 2016 at the age of 80.
Don was born on June 7, 1935 in Portland, OR.
At the age of 19, "Smitty" joined the USAF in which he served from 1954 - 1976 as a Pararescueman and ARRS Specialist.
He received multiple commendations including the Air Force Cross and the Airman's Medal for Valor.
From 1976 - 1984 Don worked for Eastern State Hospital and Pine Lodge Correctional Center.
1984 - 1997 Don served as a police officer for the City of Medical Lake.

As a graduate of Grant Union High School in Canyon City, OR, Don learned a love for the outdoors especially fishing.
Don was preceded in death by his loving wife of 56 years "Sweetpea" in 2011.
Surviving children are sons: Donald R. Smith of Elwood NE, Ronald G. Smith of Airway Heights, Michael A. Smith of Medical Lake and daughter, Susan M. Cook of San Diego, CA.
Don had 7 grandchildren and 13 great-grandchildren.

Many, who knew him, saw him as bigger than life; always willing to lend a helping hand.

A Memorial Service will be held at the Washington State Veteran's Memorial Cemetery in Medical LA, WA (on what would have been Don's 81st birthday) Tuesday, June 7, 2016 at 1:30 pm.
A reception will follow at the Smith Family home.
Loved ones and friends may reach out with condolences or inquiries.
Ron, 509-868-8054 or Mike at 509-209-3758.
---