Bernie Sanders calls for 'political revolution' at packed Spokane rally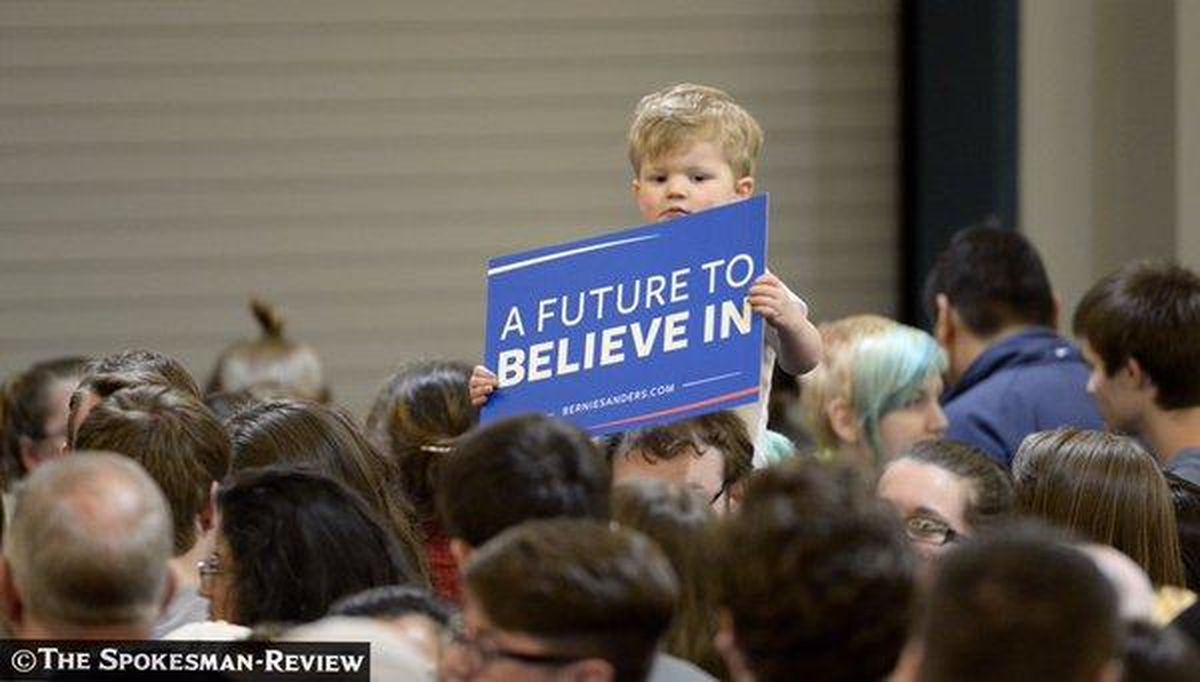 Democratic presidential candidate Bernie Sanders implored an enthusiastic Spokane crowd Sunday night to give his campaign a boost with "political revolution."
"When voter turnout is high, we win," he said near the end of his 45-minute speech at the Spokane Convention Center. "When voter turnout is low, we lose."
Thousands of people lined up Sunday in hopes of getting into the event. Campaign officials counted nearly 10,000. Only about 1,000 were allowed into the rally. The rest were diverted to overflow rooms, where they watched Sanders on screens.
The line of those who waited to see him stretched from the Convention Center to Canada Island in Riverfront Park and to Spokane City Hall.
Earlier in the day, Sanders spoke to rallies in Seattle and Vancouver. He told the Spokane crowd his earlier events attracted 30,000 people.
"It makes me think Washington is ready for a political revolution," he said.
Sanders focused on Republican front-runner Donald Trump. He said Americans don't want a president "who insults Mexicans, who insults Muslims, who insults veterans, who insults women."
Democracy is not about "billionaires buying elections," Sanders said.
"Together we are not going to allow this country to become an oligarchic society," he said.
But Sanders also focused on his usual themes. He said the United States has the most unequal distribution of wealth of any major country and that the middle class has disappeared in the past three decades.
He promised to create an economy that "works for all of us."
Sanders also said the criminal justice system is broken and puts too much emphasis on locking up offenders.
"Why is it we have more people in jail than any other country on Earth?"
Sanders made an array of promises. He praised Seattle's approval of a $15-an-hour minimum wage and said he would push for that nationwide. He also said he would work for equal pay for women and the end of marijuana possession as a federal crime. He pledged to expand Social Security and college financial aid programs.
"Why is it when young people do the right thing they end up $30 to $50,000 in debt?" Sanders said. "Why on God's Earth are we punishing people for getting an education?"
He said the Affordable Care Act doesn't go far enough, and he called for universal health coverage.
"I've been criticized for saying this all my life, so let me say it again," he said. "I believe health care is a right for all people."
He focused also on race relations, maintaining the Flint water crisis was at least partly the result of racism. He promised to improve relations with Native American communities. He called for immigration reform.
"Our Latino brothers and sisters are tired of living in the shadows, tired of living in fear," he said.
He criticized his Democratic opponent, former Secretary of State Hillary Clinton, for not releasing details about speeches to corporate groups.
"We are listening to the American people and not wealthy campaign contributors," he said.
Among those who waited to get inside the rally was Jeana Moore, 63, of Deer Park. She was first in line at 7:30 a.m.
"I believe he's the best candidate who's running," she said. "The American people are suffering. He'll do the job."
She said her husband worked as a grocery clerk, and in 1972 made $15 an hour and had medical benefits.
"Now look how we're living today," Moore said. "I believe he can turn this around."
Joe Pakootas, a Democratic candidate for Congress, introduced Sanders, though Pakootas said he hasn't endorsed either Sanders or Clinton.
"I do support some of his positions," he said before the rally, mentioning issues like economic inequality, veterans issues, education and climate change.
The crowd, notable for the number of young people, was easily excited and cheerful. They had a diverse mix of Sanders paraphernalia. Buttons, shirts, homemade signs. Still, the most prominent sign was handed out by the campaign. It read: "A future to believe in."
Cynthia Ledesma came from the Tri-Cities to the event.
"I like his opinions on Wall Street and how he wants to crack down on corporations."
She said other candidates "instill fear."
"Bernie instills hope," Ledesma said. "People need to vote. Voting counts and can make a difference."
Jordan Johnson, 22, of Moses Lake, came with his wife, Gabrielle Johnson, 4-year old son, Kayden, and 6-month-old daughter, Juli-Anna.
"He's very, very, very, very smart. He's been in the positive side since well before I was born," he said. "Anything to do with Bernie, I'm into."
Former President Bill Clinton will campaign for his wife in Spokane on Monday.
Idaho holds its Democratic caucuses Tuesday. Washington Democrats caucus on Saturday.
---