News > Obituaries
Obituary: Deshields, Elton Arthur "Al"
Age 96
Thu., March 24, 2016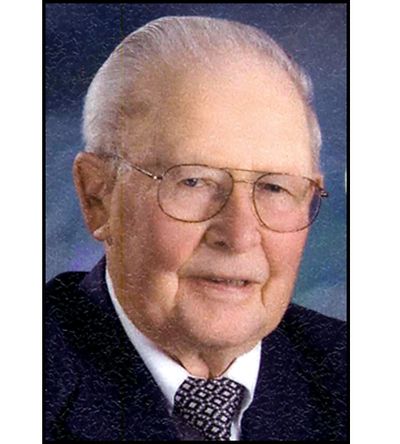 DeSHIELDS, Elton Arthur "Al"

Elton was born in Atwood, Oklahoma on December 30, 1919.
His parents farmed there, and to this day that farm is still in the family.


After Elton graduated from high school, he moved to California for one year with friends to work in the canneries.
He returned to Atwood and completed one year of agricultural college.
After being drafted #1 from Hughes County, Oklahoma, Elton served in the Army Air Corps building new aircraft runways in Japan.
Elton was stationed at Fairchild Air Force Base where he met his lifelong friend, Herman Schillinger.
It was during that time that he met Florence Dittberner, the love of his life.
Elton and Florence celebrated their 70th wedding anniversary earlier this month.

Elton and Florence farmed in the Tensed, Idaho area for 53 years.
During that time, he was active with the Plummer School Board, the Idaho Wheat League and an early grower of bluegrass seed in the Palouse.
In 2000, the couple sold the farm and retired to the Spokane Valley where they resided at the time of Elton's death on March 21, 2016.

Elton is survived by his wife Florence, their two daughters, Renee Strong and Marla Telin, (Brad) and four grandchildren, Meredith (Aaron), Kristin, Kendra and Cole.

Services will be held Saturday, March 26, 2016 at 2 pm at Redeemer Lutheran Church, 3606 S. Shafer Rd., Spokane Valley, WA.
Interment services will be held at WA State Veterans Cemetery, Medical Lake, WA, Monday, March 28, 2016 at 9:45 am.
Local journalism is essential.
Give directly to The Spokesman-Review's Northwest Passages community forums series -- which helps to offset the costs of several reporter and editor positions at the newspaper -- by using the easy options below. Gifts processed in this system are not tax deductible, but are predominately used to help meet the local financial requirements needed to receive national matching-grant funds.
Subscribe to the Coronavirus newsletter
Get the day's latest Coronavirus news delivered to your inbox by subscribing to our newsletter.
---