News > Spokane
South Hill slowdown: Road work on Monroe will turn Lincoln into a two-way street starting Monday
Thu., March 24, 2016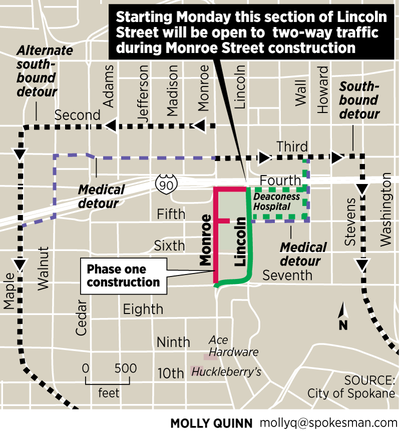 Traffic on part of the lower South Hill is likely to be a mess starting Monday.
That's when work resumes on a $4.5 million project to rebuild Monroe and Lincoln streets from Fourth to Eighth avenues. Workers will shut down the Monroe Street hill and Lincoln Street will be converted to two-way traffic from Fourth to Seventh avenues.
The closure is expected to begin at noon Monday once the detour is set.
Most drivers will be diverted to arterials such as Maple, Walnut, Stevens and Washington streets.
But local traffic to medical facilities, retail businesses on the lower South Hill and homes will be able to use the two-way detour on Lincoln.
City officials are concerned that drivers will be confused and disrupted by the closure.
Julie Happy, city spokeswoman, said the two-way detour on Lincoln is going to be difficult for drivers to negotiate since the street is fairly narrow.
"It will be very tight in that two-way," she said. "People will have to drive slowly and carefully."
She said that the first few days of a new detour often are the worst for traffic backups because it takes drivers time to adjust to the changes.
The project continues in June, with the city planning to rebuild Lincoln and Monroe downtown, from Main to Second avenues. Work will start at Main and move south. The construction will close two lanes at a time on each street.
City officials contacted hospitals, police, fire and ambulance services to let them know about the detour and its construction staging.
The detours that begin on Monday have a couple added wrinkles:
Fourth Avenue between Monroe and Lincoln will be closed for two weeks.
The eastbound on-ramp to Interstate 90 from Monroe will be closed for two weeks after the project gets under way.
Eastbound traffic exiting I-90 at Maple Street will be detoured from Fourth to Third Avenue at Jefferson Street.
After work finishes on Monroe in the next few months, the project will shift to Lincoln.
But Monroe Street will not be used as a two-way detour; instead, northbound traffic will have to use Washington and Walnut streets while Lincoln is closed.
All of the work should be finished by the middle of July. The street levy and utility funds are paying for the work.
Work last year was completed on Lincoln and Monroe from Second to Fourth avenues.
Local journalism is essential.
Give directly to The Spokesman-Review's Northwest Passages community forums series -- which helps to offset the costs of several reporter and editor positions at the newspaper -- by using the easy options below. Gifts processed in this system are not tax deductible, but are predominately used to help meet the local financial requirements needed to receive national matching-grant funds.
Subscribe to the Coronavirus newsletter
Get the day's latest Coronavirus news delivered to your inbox by subscribing to our newsletter.
---