Brussels police detain suspects in raids; others arrested in Germany, France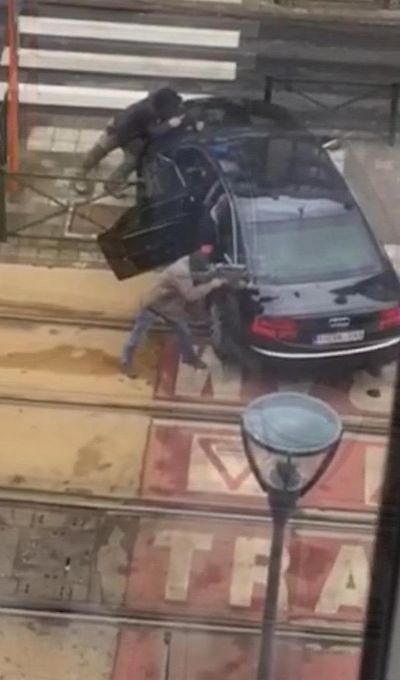 BRUSSELS – Punctuated with gunfire and explosions, a major police operation unfolded Friday in central Brussels as authorities detained three more people near an apartment that the attackers in Tuesday's airport bombings had used as a safe house and possibly a bomb-making hub.
Two of the people swept up in the raids were shot, both in the legs – one of whom was sitting on a tram bench with a suspicious bag and accompanied by a young girl.
The sprawling mostly middle-class Schaerbeek district has been the focus of police activity since the bombings at the city airport and a subway platform that left 31 dead and hundreds injured. Authorities confirmed Friday that at least two U.S. citizens were among those killed.
Striking a defiant tone as the raids were being conducted in the terror-stricken city, Secretary of State John Kerry vowed Friday that the United States and its allies would destroy Islamic State, the al-Qaida offshoot group that has taken responsibility for Tuesday's deadly bombings here and last November's rampage in Paris.
The top U.S. diplomat, who visited a memorial at the Brussels airport, asserted that the group's so-called caliphate was collapsing.
"We will not be intimidated, we will not be deterred," Kerry said. "And we will come back with greater resolve and greater strength, and we will not rest until we have eliminated your nihilistic beliefs and cowardice from the face of this earth."
Kerry's remarks came as U.S. officials reported that special operations forces had killed the second-in-command of Islamic State during a raid in Syria.
Meanwhile, in Germany two terror suspects were arrested in separate raids Thursday, one on suspicion of "planning a major act of violence against the state" and the other, Der Spiegel reported, who had received a text message minutes before the Brussels subway explosion that talked about Khalid El Bakraoui.
One of the German suspects, who was picked up in Dusseldorf, was identified as Samir E., a German national who had been deported last year from Turkey to Amsterdam, authorities said, confirming reports in Der Spiegel and ARD television. Dusseldorf is 120 miles east of Brussels.
Also Friday, French media reported that a man arrested outside Paris on Thursday and suspected of plotting an imminent terrorist attack had been convicted in Belgium of being part of a vast European recruitment network for Islamic State. Police had been hunting for Frenchman Reda Kriket, 34. Last year, Kriket was sentenced in absentia in Belgium to a 10-year prison term, according to media accounts in the French capital.
In Paris, Interior Minister Bernard Cazeneuve said the man was "suspected of being involved in this project at a high level and was at the heart of a terrorist network that was planning to hit France." The French press later identified the suspect as Kriket.
But the French interior minister told a news conference that there was "at this stage no tangible evidence" to link any planned attack with this week's bombings in Brussels and last November's strikes in Paris that left 130 dead.
While Belgian authorities have not yet released the nationalities or identities of those killed in the two blasts, two victims were identified as Dutch nationals who had been living in New York City for some time, Alexander and Sascha Pinczowski.
"This morning, New Yorkers were saddened to learn that two of our own, Sascha and Alexander Pinczowski, lost their lives in Tuesday's senseless terror attacks in Brussels," New York Gov. Andrew Cuomo said in a statement about the brother and sister.
"Their lives were cut short by cowards who have chosen extremism and hate instead of peace and unity," Cuomo added. "On behalf of all New Yorkers, I extend our deepest prayers and condolences to the Pinczowski family, as well as all those who lost loved ones in Tuesday's heartbreaking attacks."
On Thursday, Mark Toner, a State Department spokesman, had told reporters in Washington that an undetermined number of U.S. citizens remained unaccounted for after the attacks. About a dozen Americans suffered nonfatal injuries in the bombings, the spokesman said.
The connections between the arrests in Belgium, France and Germany remained fuzzy, as did the report that Belgium's nuclear agency had withdrawn the entry badges of nearly a dozen staffers.
A group of Belgian and French citizens of Moroccan origin are believed to have composed most of the cell that carried out the attacks in Brussels and Paris. Many had traveled to Syria and joined Islamic State, authorities said. Belgian police are still searching for other potential suspects.
In Belgium, authorities on Thursday arrested six people in a series of raids in Brussels and its outskirts in connection with Tuesday's bombings.
It was unclear if any of the six was suspected of being the fugitive accomplice of the two suicide bombers who struck the Brussels airport. The as-yet publicly unidentified fugitive wearing a hat and tan jacket was seen in closed-circuit footage at the airport before the explosions. He and two other men – both identified as suicide bombers who died at the scene – were seen pushing luggage carts at the airport.
Authorities have also not said whether any of the six arrested in Brussels on Thursday was a suspected accomplice in the metro train bombing. One suicide attacker was confirmed killed in the metro blast, but reports have suggested that a confederate may have also been involved.
---