Landmarks: Kaiser's 'architecturally daring' home came before big business moves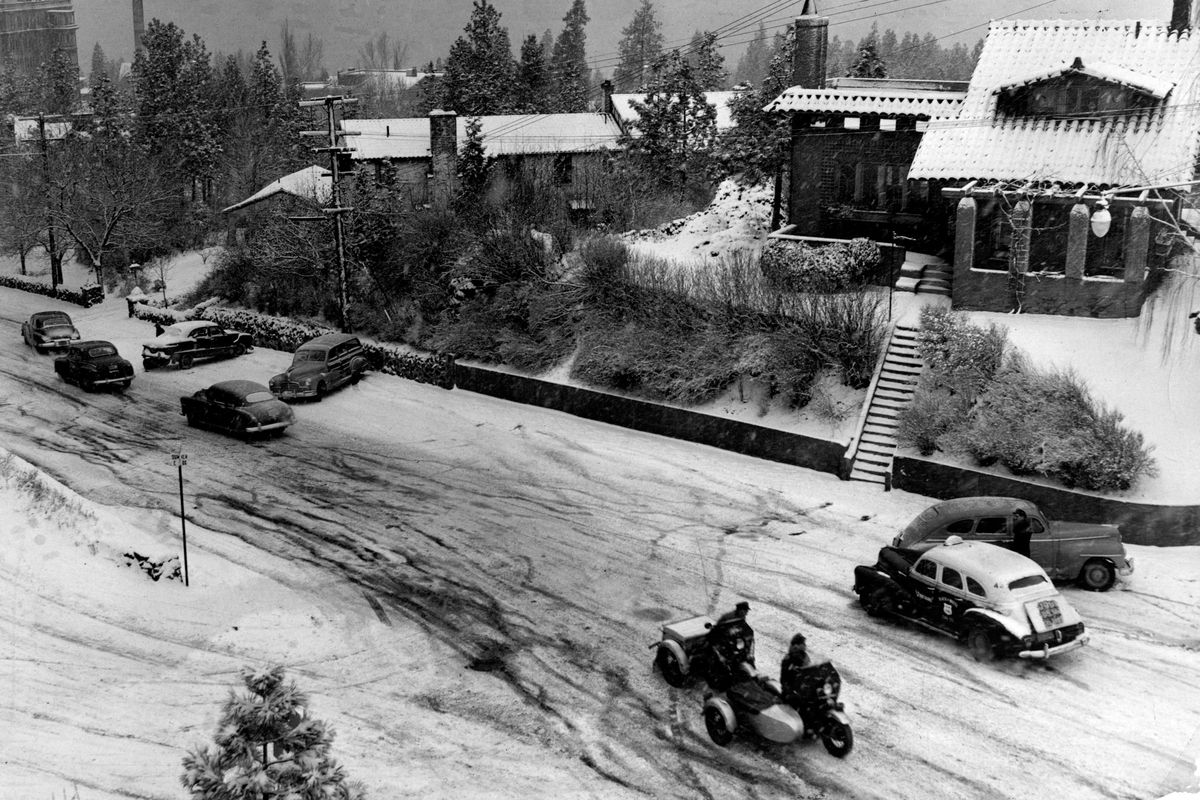 Before Henry J. Kaiser became the huge American industrialist known as the father of modern shipbuilding, prime contractor for Hoover and Grand Coulee dams and founder of more than 100 companies, he fell in love. And that brought him to Spokane.
Born in Sprout Brook, New York, in 1882, he left school at age 13 and worked at several jobs before taking ownership of a photo studio in Lake Placid when he was not yet 20. There he met Bess Fosburgh, the educated and cultured daughter of a wealthy wood merchant who was vacationing in the resort town. According to written reports, Kaiser's future father-in-law was not enamored by this poor but enterprising young son of immigrant parents who sought his daughter's hand in marriage.
Edgar Fosburgh struck a bargain with Kaiser, according to an account in "Henry J. Kaiser: Builder in the Modern American West" by Mark S. Foster, in which the couple could marry once the would-be groom had gone out West and established himself, saved $1,000, was earning at least $125 a month and had built a home for Bess.
Kaiser took a train to the booming town of Spokane, where he was employed by McGowan Brothers Hardware Co. He met the challenges set out before him – except for building a home – and went back to claim his bride in 1907. They married in Boston, and he brought her back to the small home he had purchased on Fourth Avenue.
In February 1908, according to Foster, Kaiser borrowed $8,000 at 8 percent interest to purchase land and build a home at the corner of Grand Boulevard and Sumner Avenue on Spokane's South Hill, a location offering a clear view of the downtown area. Noted architect W.W. Hyslop was hired to design the custom home, and Kaiser spent every available free moment supervising construction.
It was only a matter of a few months before the home was complete and the Kaisers, with Bess eight months pregnant with their first child, moved in. A newspaper story on June 14, 1908, printed the plans and showed photos, as well as offered an effusive description of the "architecturally daring and well planned" home built with solid cement walls at a total cost of $6,500.
With this house, the normally frugal 26-year-old hardware salesman may have, for the first time in his life, "been living beyond his means," Foster wrote. However, the hardworking Kaiser did not remain a salesman for long and was soon venturing into other profitable enterprises.
The house did not conform to any particular architectural type, though it had features of the Swiss and elements of Spanish mission style. And with no counterpart in Spokane, it had a roof garden that was also an open lounging room. It had a tile roof with gables and exposed rafter ends, the front slope of which ended on a pergola supported by massive, tapering cement piers forming a portico. The newspaper article stated the walls were yellow, the tile roof was red and the trim was painted green.
The interior of the home had oak flooring, and the north side of the living room contained an inglenook, the walls of which were clinker brick; the living room walls were finished in tapestry-covered panel effects. There were many custom effects in the home, including a massive pedestal basin and Roman bath in the bathroom, as well as leaded glass windows, French windows and many built-ins elsewhere in the house.
The house did not survive. Lee Pierce, archivist with the Washington State Archives in Cheney, noted that it sold in 1958 for $13,500. A demolition permit was granted in 1978, and when the next property assessment was made at the site in 1980, it was listed as vacant land. The Cathedral of St. John the Evangelist, which was consecrated in 1929, owns the property, which is just across the street from the cathedral.
Henry Kaiser went from being a salesman in his custom home on a rise overlooking the growing city of Spokane to become – among so many other things – founder of Kaiser Aluminum and Kaiser Steel, founder of more than 100 companies (including Kaiser Motors) and founder of Kaiser Permanente, the integrated managed health care consortium. He was even briefly considered as a vice presidential running mate for the fourth term of Franklin D. Roosevelt, who decided upon Harry Truman instead.
All that remains now of the home Kaiser built for his bride in Spokane is a concrete staircase that rises up from the sidewalk on Grand Boulevard to an empty lot above. The rest is just memory.
---