News > Spokane
Spokane County officials optimistic on Costco move, despite toxic chemicals near proposed site
Thu., May 12, 2016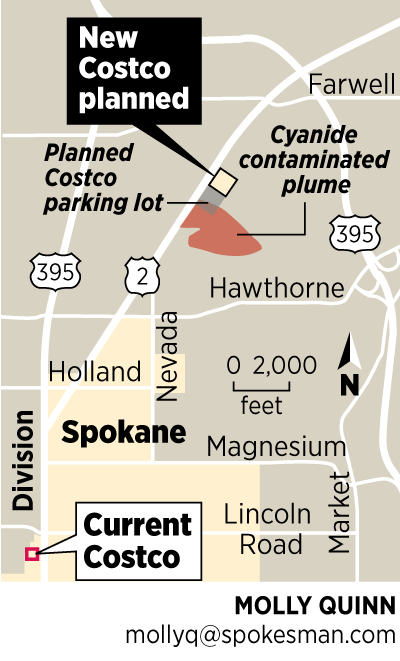 Spokane County officials remain optimistic that Costco will open a store along U.S. Highway 2, despite evidence that efforts to clean up toxic chemicals on the property – left over from decades of aluminum smelting nearby – have been unsuccessful.
The most recent water table sampling conducted by a contractor at the former Kaiser Aluminum plant in Mead showed cyanide levels nearly 500 times greater than a threshold mandated by an agreement between the company and environmental agencies in October 2004. Fluoride levels found in test wells, which run to a depth of at least 140 feet beneath the topsoil, were up to 18 times greater than outlined in the agreement.
Homes nearby are connected to a municipal water and sewer system, so there's no threat to residents in the area, environmental officials said.
"There's nobody drinking this water," said Guy Barrett, the Ecology Department's site manager for the property.
The proposed new home for Costco also would not draw its water from wells, but the plans filed in December with county planners would place the new warehouse adjacent to the groundwater plume tested for toxic contaminants.
Test results reported Feb. 29 showed one test well's water contained a cyanide concentration of 97.8 milligrams per liter, well above the 0.2 mg/L level mandated in the consent decree. In that same well, the fluoride concentration was 52.8 mg/L, roughly 13 times greater than the 4 mg/L threshold in the cleanup agreement.
Gerry Gemmill, the county's chief executive officer, said the company is doing its "due diligence" ahead of any plans to build on the land currently owned by Kaiser.
"That cleanup's been going on forever," Gemmill said. "The last time I talked to Costco's agent who is charge of building those Costcos, they're still very confident that they're going to move into that area."
A call to the corporate headquarters of the Issaquah-based wholesaler was not returned Thursday.
Spokane County said they, too, were optimistic the cleanup issues would not get in the way of the proposed move.
"We're their cheerleading section," said Commissioner Shelly O'Quinn, when asked by Rep. Cathy McMorris Rodgers at a meeting last week if the Costco project was moving forward.
"We're hoping, there's quite a bit of land around that site, that would be great for further development," Commissioner Nancy McLaughlin said.
Barrett said a cleanup strategy for the forested, 424-acre parcel bounded by Hawthorne and Farwell roads along the highway currently is being revised. The cyanide and fluoride contamination was first discovered in private wells near the property in 1978, according to the Environmental Protection Agency, and officials responded by piling up industrial waste in a 6-acre plot and constructing an asphalt cap, as well as repairing sewer and water lines in the area, Barrett said.
The cyanide and fluoride contaminants were produced in the aluminum smelting process, which took place for decades at the Kaiser plant on the property.
The site had been monitored for contaminants over a five-year period. The data show the decontamination efforts did not go far enough, Barrett said.
"They didn't even get close to reaching cleanup levels," he said.
Costco's initial plans call for a warehouse larger than the current location along Division Street near Cascade Way, a location annexed by the city of Spokane in 2006, prompting threats of legal action by Spokane County. An average Costco store brings in about $1 million in local sales tax annually, according to industry reports.
County officials said a move farther north on the former Kaiser parcel, to avoid the plume, was on the table, but nothing has been confirmed.
Costco's warehouse store near Division Street opened in 1992 and was remodeled in 2007.
Local journalism is essential.
Give directly to The Spokesman-Review's Northwest Passages community forums series -- which helps to offset the costs of several reporter and editor positions at the newspaper -- by using the easy options below. Gifts processed in this system are not tax deductible, but are predominately used to help meet the local financial requirements needed to receive national matching-grant funds.
Subscribe to the Coronavirus newsletter
Get the day's latest Coronavirus news delivered to your inbox by subscribing to our newsletter.
---