Sports
Baseball Notes: Odor suspended for 8 games and Bautista for 1 after brawl
Tue., May 17, 2016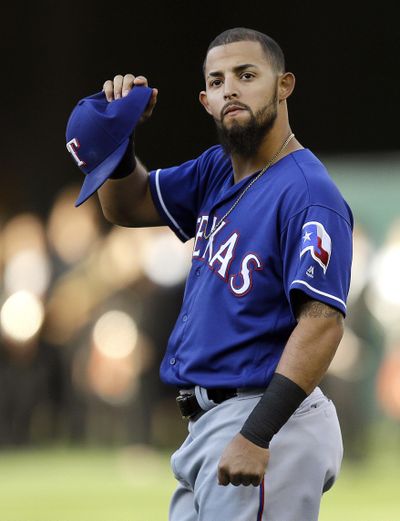 Texas second baseman Rougned Odor was suspended for eight games and fined $5,000 by Major League Baseball on Tuesday for punching Toronto's Jose Bautista on the jaw.
Major League Baseball disciplined 14 players and staff for their roles during Sunday's brawl at Arlington, Texas.
"I knew I was going to be suspended," Odor said before Texas' game at Oakland. "I have to follow the rules, and I'm just waiting for the appeal. I want to be with my team all year. I don't want to be out eight games."
Blue Jays pitcher Jesse Chavez was suspended three games for hitting Prince Fielder with a pitch. Manager John Gibbons, who returned to the field for the fight following his ejection five innings earlier, was penalized three games for inciting additional fighting.
Bautista, who made a hard takeout slide at second base on Odor, was suspended for one game by MLB senior vice president Joe Garagiola Jr. for his actions and postgame comments.
Rangers shortstop Elvis Andrus was suspended for one game for aggressive actions and Blue Jays first base coach Tim Leiper for one game for returning to the dugout following his ejection.
"The rules are fair for punishment," Rangers manager Jeff Banister said. "They are in place for a reason. We'll live by them and move on."
Tensions between the Blue Jays and Rangers stemmed from last season, when Bautista hit a tiebreaking three-run homer in Game 5 of the AL Division Series, admired the shot and then dramatically flipped his bat – a breach of baseball etiquette that requires batters to immediately and undemonstratively start running the bases after hitting a homer.
Rounding the bases
Catcher Francisco Cervelli and the Pirates have agreed to a $31 million, three-year contract that runs from 2017-19. …Yu Darvish struck out six while throwing 47 of 68 pitches for strikes in his fourth minor league injury rehabilitation start, and he could be back in the Rangers rotation by the end of the month. … The Indians optioned struggling right-hander, Cody Anderson to Triple-A Columbus, one day after he had another rough outing. … Mets left-hander Steven Matz is set to rejoin the rotation Friday night against Milwaukee. … Tigers manager Brad Ausmus has been suspended for one game and fined after his histrionic ejection from Monday night's game against Minnesota. … The Braves finally relieved the pressure on their embattled manager, firing Fredi Gonzalez and replacing him with Brian Snitker in hopes of trying to salvage something out of an already forgettable 2016. … The Cubs agreed to a one-year contract with Joe Nathan, a six-time All-Star reliever recovering from Tommy John surgery. …The struggling Astros retooled their roster for the second straight day, adding catcher Evan Gattis and third baseman Colin Moran.
Local journalism is essential.
Give directly to The Spokesman-Review's Northwest Passages community forums series -- which helps to offset the costs of several reporter and editor positions at the newspaper -- by using the easy options below. Gifts processed in this system are not tax deductible, but are predominately used to help meet the local financial requirements needed to receive national matching-grant funds.
Subscribe to the sports newsletter
Get the day's top sports headlines and breaking news delivered to your inbox by subscribing here.
---