Browne's Addition looking for extra historic protections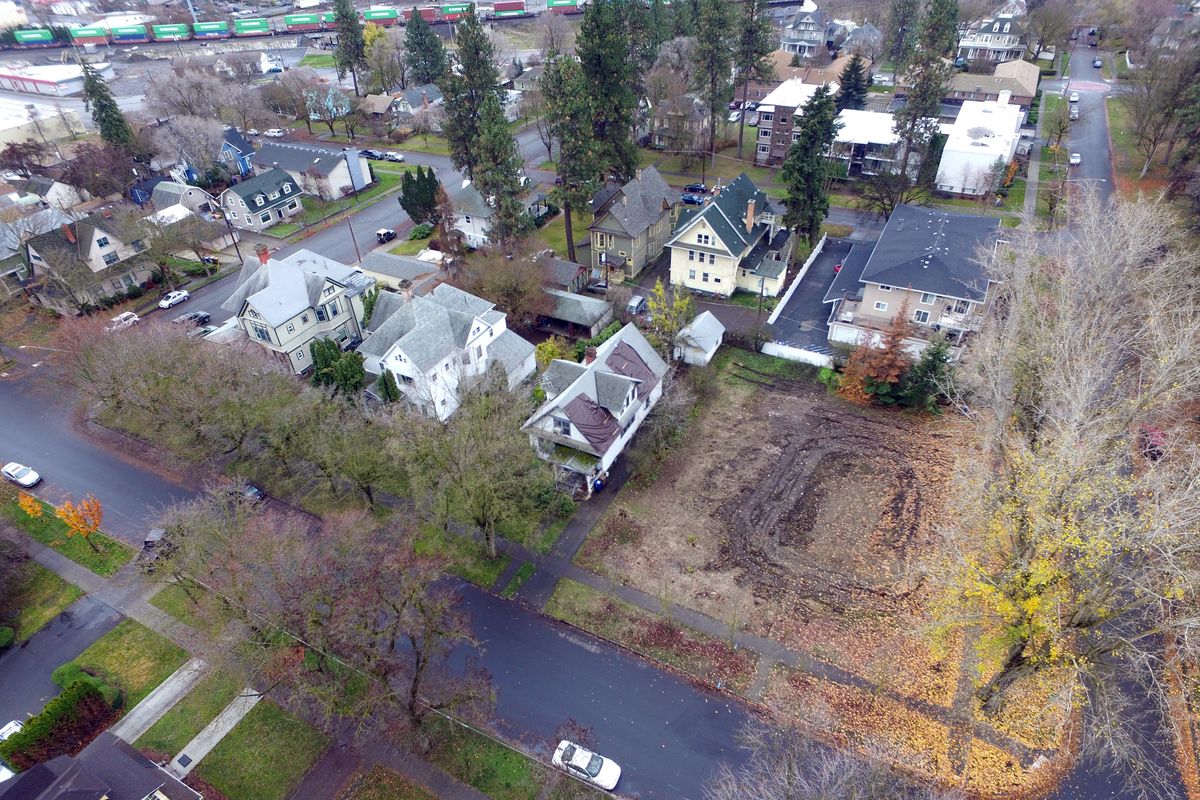 Browne's Addition residents want to protect their historic neighborhood from rampant redevelopment.
In the past few years, some historic homes have been demolished to make room for apartments.
The latest proposal would put two townhouses and 13 apartments across the street from Coeur d'Alene Park where an older home was razed at Second Avenue and Chestnut Street. The demolition has left behind a hole in the ground until the new project gets underway.
Residents are concerned that the historic flavor of their neighborhood west of downtown will be lost.
"As these big eyesores go up, they are going to stand out. It's not what Browne's Addition is," said MaryLou Sproul, a member of the Browne's Addition Neighborhood Council.
There may be help for her cause.
The Spokane City-County Historic Preservation Office is proposing creation of a local register historic district to provide tax incentives and design criteria for preserving historic homes and apartment buildings in Browne's Addition and requiring that new buildings are designed to be compatible with the historic surroundings.
"Our job is to protect the sense of place in that district," said Megan Duvall, the city-county historic preservation officer.
Browne's Addition is one of the oldest residential areas of the city and historically was a favorite locale for successful business tycoons near the turn of the last century.
Renowned architect Kirtland Cutter did some of this best residential work in Browne's Addition, including Patsy Clark's Mansion, the Finch Mansion and Campbell House, all of which are on the national historic register.
Patsy Clark's and the Campbell House, which is part of the Northwest Museum of Arts and Culture and open for tours, are listed individually on the local historic register.
A local Browne's Addition historic district would likely be aligned with the existing Browne's Addition National Historic District, which was formed in 1975. Duvall said that a local historic district might have a smaller footprint than the national district.
A local district has advantages for property owners wanting to do restoration, allowing a 10-year property tax break for the costs of restoration.
A local district also could require developers to submit their designs for new buildings through the Spokane City-County Landmarks Commission, and it also makes it easier for property owners to qualify for the tax breaks, because historically important properties would be made eligible as part of the creation of the local district, eliminating the need to undergo a detailed documentation of historic significance.
Currently, historic buildings cannot be demolished without a plan to replace them.
Duvall said that setting district boundaries and identifying historic properties will be time consuming, and she is counting on neighborhood residents to do part of the work.
Browne's Addition is a mix of architectural styles dating from Queen Anne Victorian mansions from the late 1800s to later apartment buildings of the 1960s and '70s.
The period of historical significance could be advanced from the turn of the last century to include mid-century designs through the 1950s, Duvall said.
The neighborhood will need a change in city rules to allow a majority of residents within the proposed local district to approve the district formation, she said.
City Councilwoman Lori Kinnear said that details of any new rules regarding historic protection are still being analyzed. She said she would like to strengthen the city's demolition ordinance to provide greater protection.
She said many cities would like to have as many historic buildings as Spokane. "Once they come down they are gone for good," she said.
Residents in the Cliff/Cannon Neighborhood are also interested in greater historic protection, she said.
Council President Ben Stuckart said he may not support changing the local historic district rules if they would put a burden on individual property owners and limit their options.
There are four local historic register districts in Spokane, all of which had approval from each property owner within them.
Asher Ernst, an investor in the corporation that is developing the apartments and townhouses at Second and Chestnut, said that Browne's Addition is destined to evolve with new housing, in large part because the historic large mansions are not marketable in today's society of smaller families and single residents.
Ernst said he has encountered hostility from neighborhood residents over his plans, but he believes that his project is compatible with a diverse residential area.
He said he plans to occupy one of the townhouses on the 12,700-square-foot parcel. His partner, David Sloan, also is going to live there, Ernst said.
The city's zoning law allows for three stories, which creates more square footage for apartment buildings, he said.
The changing character of Browne's Addition dates back at least 40 years when apartment redevelopment began, Ernst said.
His project, expected to start in the next few weeks, will employ compatible design and building materials, he said.
Asher said he is uncomfortable with the idea of requiring a design review by the landmarks commission on redevelopment projects.
A project in recent years at Second Avenue and Coeur d'Alene Street raised a similar controversy in the neighborhood.
Neighborhood council members said that property values are affordable and lots are large in size, making Browne's Addition ripe for apartment development.
They said that gentrification, where wealthy residents buy properties and redevelop them with larger homes, is not an issue in Browne's Addition even though it has been occurring in larger cities on the West Coast.
Julie Biggerstaff of the neighborhood council said that increasing apartment density may be driven in part by a new Central City Line bus route from Browne's Addition through downtown to Spokane Community College. Voters earlier this month approved a sales tax increase to finance the line and numerous other transit improvements.
"Browne's Addition has a clear personality," said Rick Biggerstaff, neighborhood council chair.
"Where's the tipping point?"
---