News > Spokane
Railroads keep most bridge inspection data secret
Sun., Sept. 4, 2016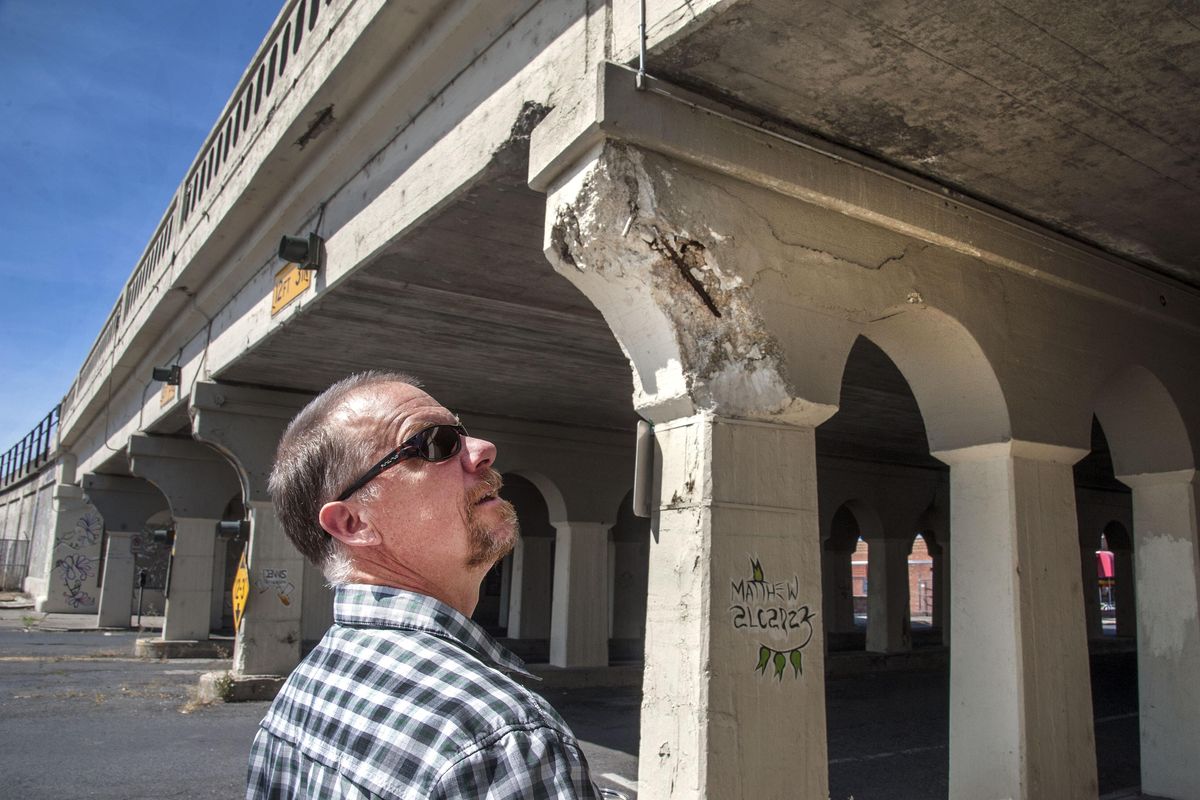 Spokane Riverkeeper Jerry White Jr. inspects the damage on a railroad bridge on Cedar Street near First Avenue in downtown Spokane. (Dan Pelle / The Spokesman-Review)
When the stack of inspection reports arrived from the Federal Railroad Administration, Spokane City Council President Ben Stuckart was perplexed.
He'd requested copies of Union Pacific and BNSF Railway bridge inspections for Spokane to get information about the condition of bridges that carry oil and other hazardous cargo through the city daily.
Many of Spokane's rail bridges – including the elevated tracks downtown – show signs of aging, such as cracks, crumbling concrete and exposed rebar. Others, like the rail bridge over Monroe Street, are regularly hit by trucks. Within the last two weeks, semis struck rail bridges over Division and Helena streets.
Stuckart was looking for an engineer's analysis of the structures, some of which have been in service for a century.
Instead, he got a one-page report for each bridge, with a check-marked box that the bridge had passed an inspection conducted by the railroad.
"There was zero detail," Stuckart said.
Oil train safety has been in the national spotlight following incidents such as the fiery derailment in 2013 that killed 47 people in Lac Megantic, Quebec, and the June derailment of a Union-Pacific train that spilled 42,000 gallons of oil near Mosier, Oregon.
Some of the scrutiny has focused on the condition of the rail bridges that carry oil trains through downtowns and over lakes and rivers. But railroads' bridge inspection reports are considered proprietary and aren't public documents.
Changes in federal law were supposed to make it easier for public officials to get information about rail bridges in their communities.
A federal transportation bill passed last year allows city and state officials to ask for "public versions" of rail bridge inspections. It was championed by civic leaders in Milwaukee, who sought changes in the law after Canadian Pacific initially refused to release inspection reports for a corroded bridge that carried oil trains through the city.
But the sparse information in the reports available to the public has disappointed rail safety advocates.
"My first thought was: Where are the rest of the pages?" said Alan Stankevitz, a member of Wisconsin-based Citizens Acting for Rail Safety, which lobbied for the change in the law.
Nationally, there are about 77,000 private rail bridges, and eight federal employees to inspect them.
That leaves railroads responsible for inspecting their own bridges and submitting annual reports to the Federal Railroad Administration, which conducts periodic audits.
Railroad representatives say they have strong financial incentives to keep bridges and other infrastructure in top condition. When a bridge goes out of service, freight shipments are interrupted.
BNSF, which is responsible for most of the oil train traffic through Spokane, has spent $420 million nationally on bridge repair and maintenance since 2012, including replacing 290 bridges, said Courtney Wallace, a company spokeswoman. The work included replacing a span over the Camas River in southwestern Washington.
Nationally, shipments of crude oil by rail have slowed as prices have dropped, but the shipments have remained steady through the Northwest, averaging two to three oil trains daily.
"We will not run trains over, on or through any infrastructure that we think is unsafe," Wallace said.
But the railroads' role in policing themselves, and the public's lack of access to full bridge inspection reports, frustrates rail safety advocates and oil train critics.
"It's tough when we simply have to take the industry's word," said Jerry White Jr., who leads the nonprofit Spokane Riverkeeper program, a citizen advocacy group for clean water.
Last fall, White took pictures of deteriorating concrete and corroded metal on rail bridges in Spokane County. The photos became part of a national report on rail bridges from the Waterkeeper Alliance, which called for more federal oversight.
If it passes the tests, looks don't matter
Signs of corrosion or wear on rail bridges don't necessarily indicate structural problems, according to the Federal Railroad Administration. Many of the older bridges were built for steam locomotives and were designed for heavy loads, according to the agency.
The FRA documented 58 bridge accidents related to structural problems between 1982 and 2008. Overall, they're rare, the agency said.
"People think, 'Oh, the bridge looks terrible. It's rusting or corroded,' but that doesn't mean it can't handle the load," said David Clarke, director of the Center for Transportation Research at the University of Tennessee, Knoxville.
As part of his job, he teaches rail professionals how to conduct inspections.
"I've seen bridges where there are holes in the steel from corrosion and places where the metal is thin," Clarke said. "We take all these measurements and calculate what the bridge can handle. … As long as we get everything to pass the test, there's no need to make the bridge look prettier."
Last year, the head of the FRA urged railroads to be more open with the public about how they inspect and repair bridges.
"When a local leader or elected official asks a railroad about the safety status of a railroad bridge, they deserve a timely and transparent response," FRA Administrator Sarah Feinberg wrote in a letter to the railroads.
In Milwaukee, the 99-year-old rail bridge that activists called "Old Rusty" became the poster child for the nation's aging rail infrastructure. The downtown bridge had visible corrosion in the steel supports and was adjacent to an apartment building.
Canadian Pacific's initial refusal to release the bridge's inspection reports to the Milwaukee City Council, or provide an engineer to discuss its condition, attracted extensive media coverage. Several months later, the railroad did send a four-person team to meet with the city's engineer and provided a full copy of the bridge inspection reports, said Andy Cummings, a Canadian Pacific spokesman.
However, the incident helped spur the federal legislation that allows municipalities to request a public version of rail bridge inspection reports.
U.S. Sen. Tammy Baldwin, D-Wis., included the provision in a 2015 transportation bill. Public officials can request the information through the Federal Railroad Administration's website. Railroads must supply the bridge's location, date of last inspection and a statement about the bridge's condition.
Through her press office, Baldwin said the reports are a good first step toward transparency. The legislation also allows public officials to request a follow-up meeting to discuss the report with railroad officials.
In a related effort, U.S. Sen. Chuck Schumer, D-N.Y., is lobbying for more federal bridge inspectors. The FRA's proposal to double the number of bridge inspectors from eight to 16 in 2017 is an encouraging sign, Schumer said earlier this year. Current staffing only allows 1 percent of bridge inspections to be audited, which means that safety issues may go unaddressed, he said.
"The railroads have very little oversight, and what oversight they have is underfunded," said Matt Krogh, who works for Stand, a Bellingham environmental group active in oil train issues.
Inspector walks downtown tracks daily
BNSF's government relations team met with Stuckart and several other members of the Spokane City Council on Tuesday. Stuckart called it a productive meeting.
"They've committed to a study session with all of the council," he said. "They'll bring their in-house experts to go over the process of what a bridge inspection is and what it does."
BNSF inspects its bridges at least twice annually, which is twice the federal requirement, said Wallace, the railroad spokeswoman. Divers are used for inspections of bridges that are partially underwater.
Inspectors also are on the bridges regularly for track inspections, she said. All of the railroad's mainline is inspected at least four times a week. The rail viaduct through downtown Spokane is considered a critical area, and it's walked daily by a track inspector, she said.
Union Pacific also said its bridge inspection programs exceed federal requirements.
Rail bridges tend to be high on a railroad's lists for regular maintenance, said Clarke, the University of Tennessee's transportation research director. When bridges are out of service, railroads lose money.
Key infrastructure – such as the elevated railway through downtown Spokane – is "babied," he said.
"I've been to Spokane," Clarke said. "If something happened to that bridge, you're shutting down the entire BNSF mainline between the Pacific and the Midwest. That's a national-level type issue."
But without independent verification, communities are stuck relying on the industry's word, said White, the Spokane Riverkeeper. Making the full records available to the public would help provide oversight, he said.
"The public should know how much oil is going over these bridges, and what kind of shape they're in," White said. "That's the only way you can have an informed community conversation about potential costs, risks and benefits."
This story was updated to include information about Canadian Pacific's eventual meeting with the city of Milwaukee's engineer.
Local journalism is essential.
Give directly to The Spokesman-Review's Northwest Passages community forums series -- which helps to offset the costs of several reporter and editor positions at the newspaper -- by using the easy options below. Gifts processed in this system are not tax deductible, but are predominately used to help meet the local financial requirements needed to receive national matching-grant funds.
Subscribe now to get breaking news alerts in your email inbox
Get breaking news delivered to your inbox as it happens.
---