News > Spokane
Spokane County Sheriff's Office: Don't point lasers at our helicopter
Tue., Sept. 20, 2016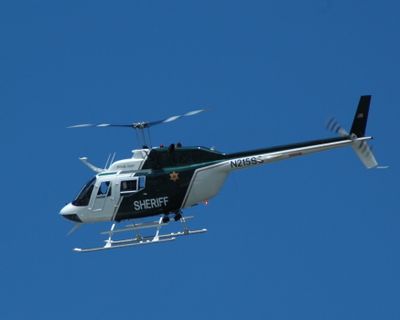 Here's a crime you may know not about: "unlawful of discharge of a laser in the first degree."
It's a class C felony in Washington with a maximum penalty of five years in prison and a $10,000 fine. It's illegal to point a laser light at on-duty firefighters, law enforcement officers, pilots and bus drivers because it could impair their vision or make them think they're being targeted with a gun.
On Saturday, Spokane County sheriff's deputies arrested a man on two counts of that crime.
The Sheriff's Office helicopter was patrolling over Spokane Valley when the flight crew spotted a red laser beaming up at them, according to a news release. Deputies later found Brandon J. Neeser, 32, at a home in the 800 block of North Van Marter Road.
When they confronted him, the news release said, Neeser "quickly pulled his hand out of his pocket and pointed a red laser at the deputies. Fortunately … the deputies recognized the laser was not attached to a firearm."
Neeser told deputies he "thought it would be funny" to point the laser at the helicopter and said he didn't know it was a crime, the news release said. He was booked and released from the Spokane County Jail.
Local journalism is essential.
Give directly to The Spokesman-Review's Northwest Passages community forums series -- which helps to offset the costs of several reporter and editor positions at the newspaper -- by using the easy options below. Gifts processed in this system are not tax deductible, but are predominately used to help meet the local financial requirements needed to receive national matching-grant funds.
Subscribe now to get breaking news alerts in your email inbox
Get breaking news delivered to your inbox as it happens.
---