As spring runoff subsides, mysterious flooding still plagues Spokane Valley neighborhood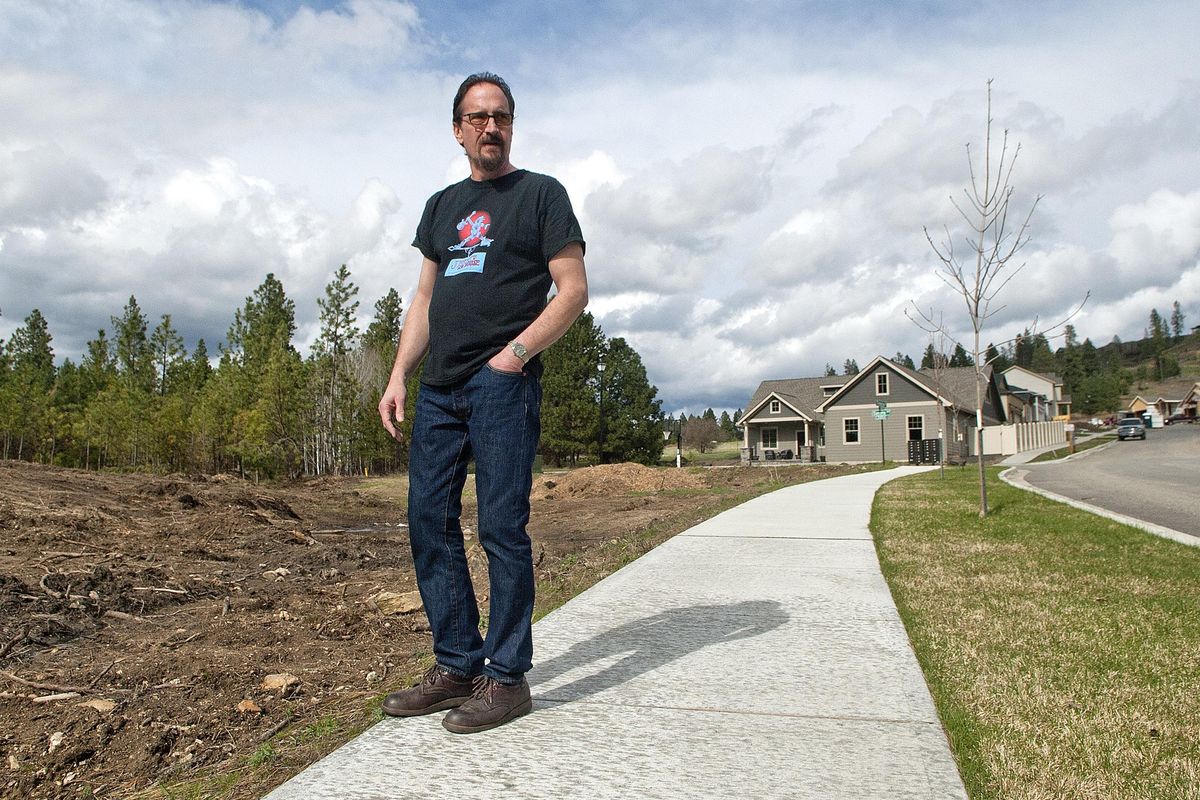 It's been weeks since the snow finished melting, but a few streets in a Spokane Valley neighborhood are still flooding.
And no one is sure why.
Greenish water has been gushing across South Timberlane Drive and nearby streets, creating a nuisance for residents. The gutters are now babbling brooks, making it hard for some residents to reach their mailboxes. One man dug a small trench along a sidewalk to stop mud from washing into the street.
The flooding started when crews began working on the underground stormwater system to accommodate a new housing project called Timberlane Terrace.
"The whole thing is going backwards," said Ben Smith, who lives right next to the development. "The water is coming out of the drains instead of going into them."
Smith said he doesn't mind the construction, but he's frustrated that no one has been able to fix the problem. He said it hasn't flooded so badly in the 14 years he's lived there.
"It's been running so long that we've got flora growing in it," LaWayna Smith, his wife, said while pointing to threads of algae in a gutter across from their house. "I'm not sure when the frogs and fish will move in."
The Timberlane Terrace homes are being built in a hilly area between East Saltese Road and East 24th Avenue. They will extend an existing neighborhood along Sullivan Road.
The developer behind the project, Jesse Fox, declined to discuss the situation at length but acknowledged that something went wrong.
"We're working with the county and the city and the neighbors to try to get this fixed," Fox said. "We wish we could find a solution, but we haven't yet."
Matt Zarecor, a Spokane County stormwater engineer, said the Timberlane Terrace project was properly vetted and met all county regulations. He said engineers surveyed the land underneath the development, but a challenge could have been overlooked.
"We have them go, say, 20 feet down. It's possible that 24 feet down there's a clay layer that stops the water from going down," Zarecor said. Or some part of the stormwater system became clogged with mud, he said.
Crews can't thoroughly inspect the flooding until the rain stops and the water subsides over the next few weeks, he said. Until then, the cause of the flooding remains a mystery.
"The bottom line is we need to get this fixed," Zarecor said. "We can't have a creek flowing down a street."
Bill Fuller lives a couple of blocks away from the development on Timberlane Drive and still sees a significant amount of water.
"It's been a pain in the butt," he said. "They keep saying it's just been a bad winter, but it's never, ever done this."
In some areas, the creeks formed by the flooding are several feet wide. Children have been leaping over them and some elderly residents can't get their mail, Fuller said.
"They've got to drive to get the mail, or I've got to go get it for them," he said.
---