Spokane residents face longer waiting times at driver licensing office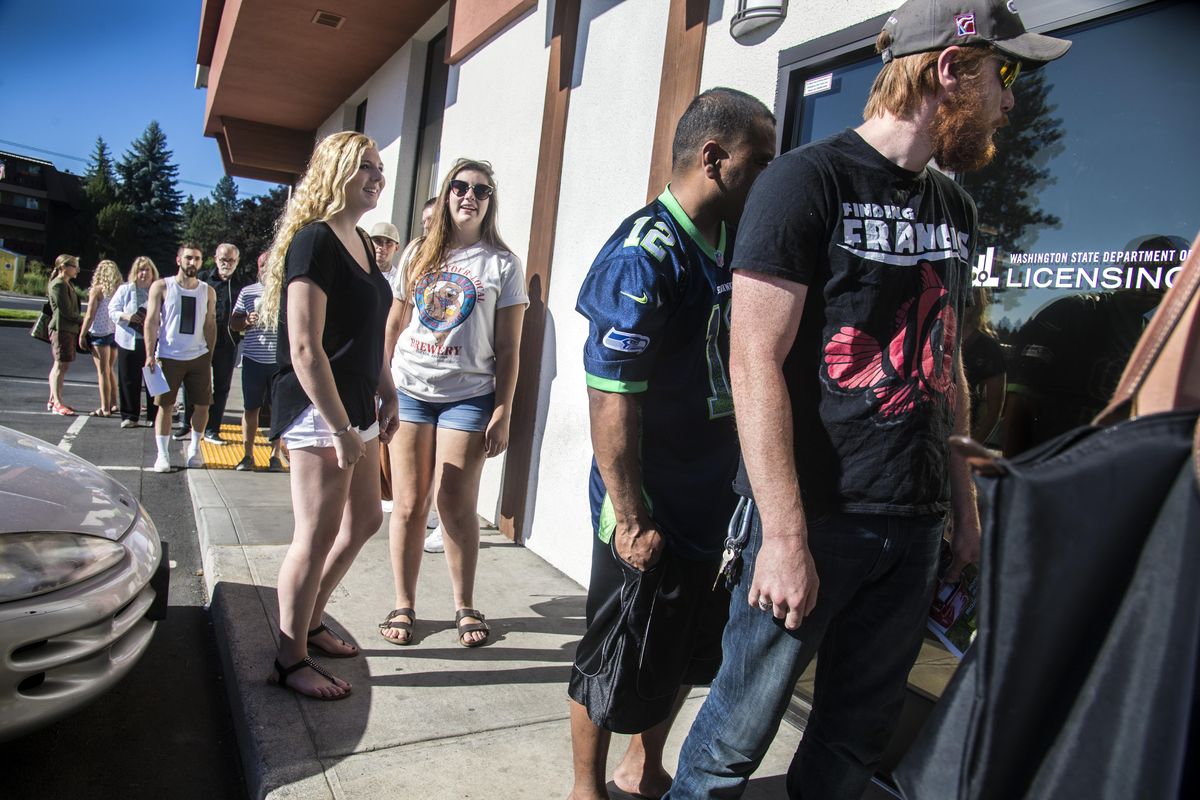 Almost every morning in recent weeks, the line outside the Spokane Driver Licensing Office stretches all the way to the back of the building as people wait for the doors to open.
Savvy license-seekers arrive two hours early to snag a spot in front.
When it's 9:30 a.m., a Washington State Department of Licensing worker goes through the line and asks people what they're there for to try and weed out those who need auto licenses or services they don't provide. No one wants to wait two hours to realize they're at the wrong office.
The state DOL recently made changes to its licensing operating system that have resulted in longer wait times for those using the department's driver licensing services, DOL spokeswoman Christine Anthony said.
The DOL needed to update its systems and chose a new system to provide better security, and to prevent fraud amid preparation to meet a REAL ID deadline next year, she said. The office is still working on streamlining the system.
The REAL ID Act, passed by Congress in 2005, enacted the 9/11 Commission's recommendation that the federal government "set standards for the issuance of sources of identification, such as driver's licenses." Washington state has received several extensions on implementing the law.
On top of the state's new system, Anthony said, summer is usually the busiest time of year for the DOL. New teenage drivers and people moving need licenses. Staff members like to go on vacation in the summer. There also have been people coming in to get enhanced licenses to be in compliance with REAL ID, though there are a number of documents residents may use in place of an enhanced license when REAL ID is implemented in 2018.
Sometimes the line outside DOL offices is only four or five people long, but other times it can stretch across the parking lot.
At the DOL office in north Spokane, people in their shorts, flip-flops and sunglasses shuffle over the hot pavement into the cool, air-conditioned offices as a man, squinting at the sun, monitors the doorway and taps at a counter on his phone. At 49, the DOL building's max occupancy, he stops the line.
Things aren't much different at the Spokane Valley Driver Licensing Office.
Belinda McCullough is disabled and has had injections in her knees. So she was sent to a line that she said was supposed to move faster. On Aug. 2, her birthday, it took her an hour and a half to get her license renewed.
"I think when you're older, to stand there that long really took its toll on me," she said. "It made my legs hurt really bad."
Jack Feher was outraged when he ended up spending four hours at the Spokane Valley Driver Licensing Office to try and get his commercial driver's license to drive truck. He got to the office at about 7:30 a.m. and spent about an hour and a half waiting in line. When he got to the front, he learned he needed his birth certificate to get his CDL. Then, he came back again, and there was another problem and he was told he would have to come back again later in the week.
Feher was completely dismayed.
"This place is ridiculous," he said. "I want to know who's running this incompetent place."
To avoid long wait times, Anthony recommends that people check to see if they can get what they need to have done online. She said the DOL serves about 33,000 people a day across the state, and data show that 2,000 of those people could have been served online.
She also suggested checking wait times, though the wait times listed online can be inaccurate, as they reflect projected wait times with the DOL's old system.
Cheryl Hawley was the first person in line on June 27 due to a mistake that ended up serving her well. She thought the office opened at 8:30, but it opens an hour later on Thursdays. Hawley came three months before her birthday to get her license renewed, just to be on the safe side.
Though everything went smoothly once she was inside, she said the wait outside was brutal.
"I think it's ridiculous," she said. "I'm just glad it's done."
Richard Oberdorf spent two and a half hours at the Spokane Valley office waiting to exchange his out-of-state license. He has had to exchange licenses four times over the past five years, and he said his wait time at the Spokane Valley office was three times longer than what he's experienced anywhere else. His interactions with the staff were fine, he said, but the wait time was incredible.
"Hopefully, they improve significantly," he said. "Right now, they're pretty bad."
---