A&E > Music
Singer Amy Holland makes touring with husband Michael McDonald a family affair
Thu., Aug. 10, 2017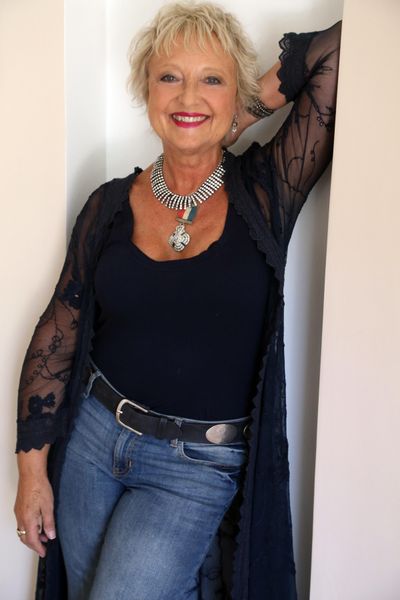 When singer Amy Holland steps on stage at Northern Quest Resort & Casino on Friday, she'll have her family's support behind her, literally, as son Dylan will be behind the scenes making sure the back line is running smoothly.
She'll have that support in front of her too, as she's singing backup for husband Michael McDonald, who is co-headlining this show with Boz Scaggs.
Holland has performed here and there with McDonald over the years, but she's really enjoying this longer run of tour dates.
"For now, I'm having a ball," she said. "Singing his stuff is a ball."
The daughter of opera singer Harry Boersma and country singer and all-around artist Esmereldy, Holland grew up surrounded by music.
During one of the many summer vacations she spent visiting her older sister in California, Holland had her first taste of the music industry.
Her sister's roommate was dating one of the Beach Boys, who, after hearing Holland sing, drove her to Brian Wilson's house so she could sing for him.
"I knew who they were, but I think I was a little too goofy to realize how huge that was, that I was sitting in his living room singing for him, just the two of us," she said.
The Beach Boys were interested in signing Holland to their Brother Records, but by the time Holland made the move to Los Angeles at the age of 15, the label had folded.
Using contacts her mother had at A&M Records, Holland eventually secured herself a manager, who got her a record deal with Capitol Records with a producer who happened to also be working with McDonald.
"He said 'I think you'd like this kid we signed. I think you'd hit it off,' " Holland said.
The pair hit it off but then lost touch for about five years. The pair reconnected when McDonald produced Holland's self-titled debut album and were in married in 1983.
"Two kids later, we've hit it off really well," Holland said with a laugh.
"Amy Holland" and the success of single "How Do I Survive" earned Holland a Grammy nomination for Best New Artist.
After releasing her second album, "On Your Every Word," in 1983, Holland took some time off to plan her wedding.
While pregnant, Holland began working on a project with producer Fred Mollin but had to put it on hold to take care of a problem with the pregnancy.
Two children (Holland and McDonald also have a daughter named Scarlett), a battle with cancer and a third album later, Holland and Mollin revisited many of the songs from that session for Holland's latest album, 2016's "Light On My Path."
"It was really fun," Holland said of working with Mollin after so many years. "It was like 30 years hadn't gone by."
Mollin and Holland recorded the album in Nashville in two days, a much faster pace than Holland was used to.
She was a little overwhelmed, but Mollin assured her that he already had the album mixed and produced in his head and knew exactly what needed to be done.
"I used to take a long time to do my vocals, but for some reason, it all clicked," Holland said. "It went really smoothly. I'm really happy with the job he did with the record."
Like this tour, "Light On My Path" is a family affair; both McDonald and Dylan sing on the album (on "Prove That By Me" and "Walking On a Wire," respectively), and McDonald and Spokane-born singer-songwriter Danny O'Keefe wrote "We're All Strangers Here," a song about a woman who is recognizing that she's aging.
"I couldn't believe no one had recorded it …," Holland said of the song, which was written more than a decade ago. "It was one of the reasons I wanted to do this record. I said 'This song has to get out there. Women need to hear this song because they'll relate to this.' "
Holland, McDonald and Dylan often throw around the idea of recording a family album or touring as a trio, but "family mode" usually pushes those plans to the side.
When not on the road with McDonald, Holland rehearses with two musicians she was in a trio with about 35 years ago and hopes to soon tour behind "Light On My Path."
McDonald mentions the album on stage every night, and for now, Holland is enjoying spending time with her husband and son while singing McDonald's tunes.
"It's not like his songs aren't fun to sing," she said. "I'm not missing anything, so it's pretty fun."
Local journalism is essential.
Give directly to The Spokesman-Review's Northwest Passages community forums series -- which helps to offset the costs of several reporter and editor positions at the newspaper -- by using the easy options below. Gifts processed in this system are not tax deductible, but are predominately used to help meet the local financial requirements needed to receive national matching-grant funds.
Subscribe to the Spokane7 email newsletter
Get the day's top entertainment headlines delivered to your inbox every morning.
---
Subscribe and log in to the Spokesman-Review to read and comment on this story