News > Business
Post Falls megachurch plans expansion
Sun., Aug. 20, 2017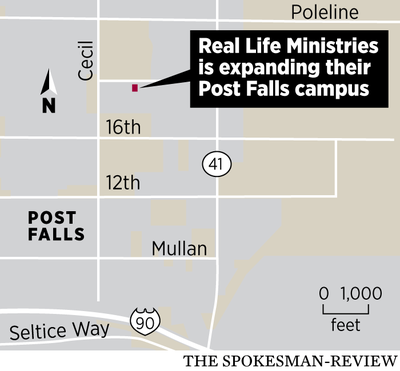 Real Life Ministries, a Post Falls-based evangelical megachurch, is planning a $9 million expansion, including the construction of a 41,000-square-foot field house with three basketball courts and two lighted outdoor artificial turf fields.
The megachurch, one of the largest in the region with roughly 5,000 attendees at its Sunday morning Post Falls worship service, is also adding a 25,000-square-foot children's ministry building, which will include a large indoor play structure, at its campus at 1860 N. Cecil Road.
The worship facility is also getting an upgrade. Currently, the facility is used as an auditorium and gymnasium. The update will improve the room's sound quality and allow for future entertainment programming.
The area for Genesis Prep Academy, a private school that leases space from the ministry, also will be expanded as a part of the improvements.
"Our desire is to be an asset to the community, and all of the sports programming we offer will be open to everyone," said Darin Blood, executive pastor with the church.
Kendall Yards winery pulls permit
In Spokane's Kendall Yards, interior work will begin on Maryhill Winery's first satellite tasting room, which is expected to open this fall.
According to city permit records, work on the 5,000-square-foot tasting room, 1309 W. Summit Parkway, is estimated to cost $300,000.
Maryhill Winery is headquartered in Goldendale, Washington, in the Columbia River Gorge. Its owners, Craig and Vicki Leuthold, are both from the Spokane area. The new tasting room is the winery's first location outside of central Washington.
Kilgore Construction, of Spokane, is the contractor. The architect is Spokane-based Professional Design Services.
Fast food chain to build on Northwest
Construction will begin on a $550,000 fast food restaurant in the parking lot of the old Albertsons in Spokane's Emerson-Garfield neighborhood.
Carl's Jr. will move into the strip mall's lot, which is now occupied by Planet Fitness and a Goodwill thrift store at 1617 W. Northwest Blvd., between Maple and Ash streets.
The restaurant will be 2,430 square feet and will include drive-through service.
Vandervert Construction is the contractor. The property is owned by BRNK Spokane, LLC, of Los Angeles.
New school district trailers
Spokane Public Schools is building two portable buildings, one at Regal Elementary School, 2707 E. Rich Ave., and one at Willard Elementary School, 500 W. Longfellow Ave.
The buildings cost $136,000 each, including a new foundation, stormwater drainage and sidewalks.
Burton Construction is the project's contractor.
Pullman heart center to open
The Palouse Heart Center will open in September as a new service from the Pullman Regional Hospital Clinic Network. The center will be at 825 SE Bishop Blvd., Suite 140, in Pullman.
Local journalism is essential.
Give directly to The Spokesman-Review's Northwest Passages community forums series -- which helps to offset the costs of several reporter and editor positions at the newspaper -- by using the easy options below. Gifts processed in this system are not tax deductible, but are predominately used to help meet the local financial requirements needed to receive national matching-grant funds.
Subscribe to the Coronavirus newsletter
Get the day's latest Coronavirus news delivered to your inbox by subscribing to our newsletter.
---