News > World
'Blurry image' was fishing vessel not missing Argentine sub
UPDATED: Sat., Dec. 2, 2017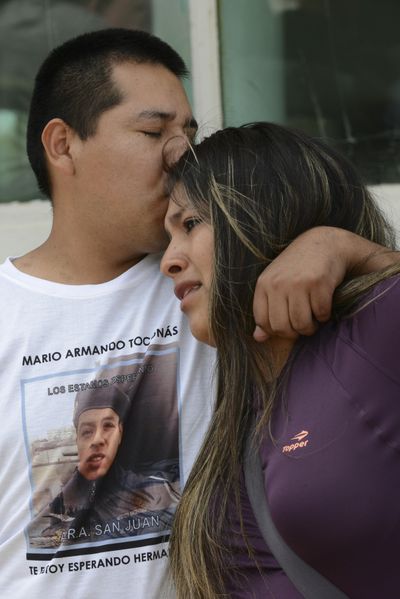 LA PAZ, Bolivia– The blurry sonar image of an object deep in the South Atlantic was a sunken fishing vessel not an Argentine submarine that went missing on Nov. 15 with 44 crew members, the country's navy said Saturday, ending hopes that the sub had been located.
Rescuers had sent an unmanned Russian submersible to review the 60-meter-long object located at 1,565 feet below sea level.
The missing submarine, the ARA San Juan, was roughly that length – 66 meters – and officials said the image was "unclear." They sent the submersible to "visually verify" if it was indeed the San Juan.
"It was confirmed that it wasn't the submarine's shell" but a sunken fishing vessel, Argentine navy spokesman Enrique Balbi said later Saturday.
The navy "regrets that without a rigorous analysis expectations were generated in the families and society, which must now face another frustration," Balbi said.
Before Balbi's announcement, authorities had said that if the image did not reveal any new clues, the search would focus on other signals of interest detected in parts of the South Atlantic where the vessel was last heard from.
Argentina's navy said on Thursday that it is no longer looking for survivors although a multinational operation will continue searching for the vessel.
"The extreme environment, the time elapsed and the lack of any evidence eliminates a scenario compatible with human life," Balbi said. "These are hours of intense pain and anguish (for relatives) in light of the loss of their loved ones, our 44 comrades."
The German-made submarine went missing as it was journeying from the extreme southern port of Ushuaia to the city of Mar del Plata, about 250 miles southeast of Buenos Aires.
The navy has said the vessel's captain reported that water entered the snorkel and caused one of the submarine's batteries to short circuit. An explosion was later detected around the time and place where the San Juan last made contact.
Local journalism is essential.
Give directly to The Spokesman-Review's Northwest Passages community forums series -- which helps to offset the costs of several reporter and editor positions at the newspaper -- by using the easy options below. Gifts processed in this system are not tax deductible, but are predominately used to help meet the local financial requirements needed to receive national matching-grant funds.
Subscribe now to get breaking news alerts in your email inbox
Get breaking news delivered to your inbox as it happens.
---