Sports > High school sports
Boys basketball preview: Anton Watson something special for Gonzaga Prep
Wed., Dec. 6, 2017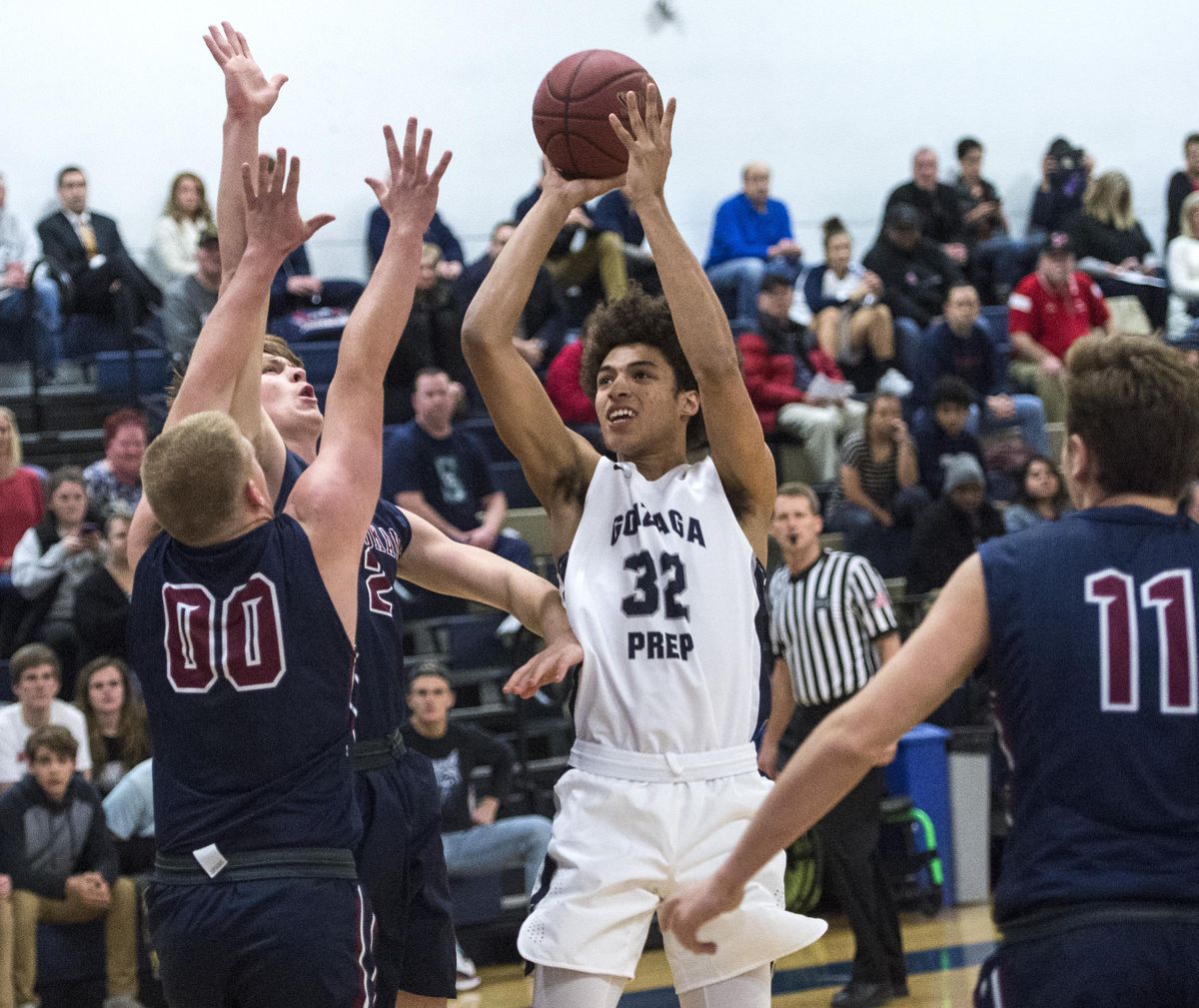 Anton Watson of Gonzaga Prep hits a jump shot against Mt. Spokane during Tuesday's Greater Spokane League opener. (Dan Pelle / The Spokesman-Review)
It doesn't take a scout with 30 years of experience to realize that Gonzaga Prep's Anton Watson is something special.
All you have to do is walk into a gym where he's playing and you can tell. Whether he's performing a physical act of dominance over another player or anticipates and steals a pass through the lane leading to a fast break, Watson is the complete package of athleticism, basketball IQ and instincts.
"That's how my dad taught me growing up ever since I was like 4 years old," Watson said after he scored 20 points and the Bullpups pulled away from Mt. Spokane 60-32 at home on Tuesday. "I've been around (the game) a long time."
His dad, of course, is Deon Watson, a standout forward for the Idaho Vandals from 1991-94 and is the program's leading rebounder. The athletic gene is strong in the Watson family. Sister Haile plays volleyball at Fresno State and older brother Deon Jr. played wide receiver/tight end for Idaho from 2013-16.
Asked who was the best athlete in the family, the 6-foot-7 Watson demurred.
"They'll probably get mad at me if I say me," he said. "My brother's pretty athletic, I'll give him that."
But he may have the final say in that too.
Watson was the Greater Spokane League MVP as a sophomore last season, when he averaged 19 points and led the Bullpups to the GSL title and a third-place finish at the State 4A tournament, falling to eventual champ Kentwood 56-53 in a semifinal. Watson had 10 points, seven rebounds and three assists in the game.
He orally committed to Gonzaga in June to become the first member of the Zags' 2019 recruiting class. He received Gonzaga's offer early in the summer and he said he didn't visit any other schools.
"I could see myself playing here and this is where I want to go," he told The Spokesman-Review in June.
Watson is still a work in progress, but it's evident the strides he's made over the most recent offseason.
"I feel a lot stronger, more athletic," Watson said of the difference between his sophomore year and this. "My (basketball) IQ, I feel like that's the best part of my game. I feel pretty strong out there."
Matty McIntyre, in his ninth season as head coach with G-Prep, was effusive with praise for his junior.
"Man, he makes up for a lot of mistakes," McIntyre said. "At times he can fix a lot of problems. It's definitely a luxury.
"I think he has a very good IQ, but his natural instincts, I think, you can't deny that. The game comes very simple to him and it seems like he sees the game maybe one play, one pass ahead of a normal high school kid. He's been that way since I first started coaching him."
Because of his size, McIntyre has to fight the urge to play Watson in the post all the time.
"We'll try to work him out on the wing a little bit as well and try to mix it up where he gets the ball," McIntyre said, acknowledging Watson will probably play at the '3' and '4' at the next level. "But he can lead us in transition. He can be down in the low block. Out job is to try to diversify where he's getting his looks, to put as much pressure on the defense as possible."
But McIntyre likes what Watson does on the defensive end just as much as with the ball.
"He's got a great feel for the game," McIntyre said of Watson's defensive instincts. "With his hands being so active, he can just get hands in so many steals and attack the dribbler and just put pressure on the offense in so many ways. And then, around the rim he can deter shots and change shot selection."
Of course, Watson isn't the only quality player in the Bullpups lineup.
Second-team all-league guard Sam Lockett and forward Devin Culp (6-4, 250) – an honorable mention basketball selection last season signed with Washington to play tight end – both return, as does guard Jamaari Jones to add experience.
Lockett is the type of player every coach wishes he had.
"He is kind of our defensive stopper," McIntyre said. "We're putting him on the best guys and asking him to lock this guy up. He accepts that challenge day in and day out. I think he loves that.
"It's never been about the points with Sam or the stat line. He just wants to do what the coaches ask him to do and whatever is going to put the team in the best position to be successful. He's a very unselfish, humble kid and just a joy to coach."
But McIntyre's depth will be tested until January, when Culp and fellow football players Sheadon Byrd and Jacob Parola – all starters – return from injury.
"We have some new kids getting into the mix for the first time at the varsity level so they've done a really nice job," McIntyre said.
Despite that, Gonzaga Prep has enough talent, experience and versatility to make another deep run at state. Some folks have even bandied about the idea of the Bullpups being No. 1 in state already.
"We really haven't even addressed it so far, it's so early in the season," McIntyre said. "I don't put a whole lot of stock into that stuff. We're just trying to take it one day at a time, get better every day. There's a long way to go before talking about No. 1 in state and that kind of business."
Watson echoed his coach on the No. 1 talk.
"It doesn't affect me at all," he said. "I just take one game at a time and run with the plan for whatever works."
Watson said he had only one goal this season.
"Get a state championship," he said. "It's been my personal goal since freshman year."
Greater Spokane League
Ferris: Coach Sean Mallon's squad finished 19-6, second in the GSL last season and returns two first-team all-league performers: point guard Shamrock Campbell and 6-4 forward Michael Ervin. Both are seniors who have played varsity since they were freshmen. The Saxons will benefit from team speed and outside shooting, while rebounding and size are weaknesses.
Lewis and Clark: All-league first-team 6-7 forward Naje Smith leads the Tigers as the only returning starter for coach Jim Redmon's team that went 15-9 last season. Jonny Love transferred from Gonzaga Prep and will contribute from the wing, while junior Griffin Effenberger will run the point. This is a talented but inexperienced group that can shoot and pass.
Central Valley: "Getting several of our players two weeks into the season due to our football team's success will present some challenges," coach Rick Sloan said. Once fully stocked, senior guards Jace Edwards, Grant Hannan and Zach Stocker should be leaders who are athletic and good shooters. Billy Ames, a 6-4 guard, was injured during football and Sloan hopes to add his size by midseason.
University: Garrick Phillips is back for his 25th year behind the bench, 12 with U-Hi. The venerable coach has 273 wins to his credit. Also returning is 6-10 honorable mention all-league Tanner Christensen and second-team all-league guard Boston Tacke. Six letterman return to form an experienced group. "We'll rely on Christensen," Phillips said, noting that his squad is close and team chemistry should be strong.
Mt. Spokane: The Wildcats look to be improved over last season's 10-14 squad, and third-year coach David Wagenblast thinks they can complete for the top 3A seed. Returning starters are JT Smith, an honorable mention all-league guard, and 6-3 guard Jerry Twenge. "We won't be the biggest team on most nights," Wagenblast said, "so we will have to have everyone commit to rebounding."
North Central: The Indians return all five starters and nine total lettermen from fifth-year coach Jase Wambold's team that went 4-19 last season. "We will be able to play deep in to our bench," Wambold said. Rashawn Lemery, a 6-6 post player, adds size to team with good overall athleticism. "Chemistry, confidence and toughness are our keys," Wambold said.
Mead: The Panthers graduated all the starters off a team that went 3-17 last year for veteran coach Glenn Williams, entering his 28th season as a head coach and 19th with Mead. Impact returners include forward Tyson Rogalette and 6-5, 240 post Orom Opiew, though the big guy – an honorable mention all-league offensive lineman for the football team – is out until after the holidays following a torn meniscus.
Rogers: Fifth-year coach Joel Soter has four starters returning from a 3-17 team last season, including 6-3 senior power forward Jahlil Frans and senior guard Cole Riblett. "We get up and down the floor very well," Soter said, noting that he'll have some players in new roles this season and there will be an adjustment period. Soter plans to play an up-tempo style. Sophomore Tyriq Jacobs, at 6-4, is an intriguing new player.
Shadle Park: New coach Elijah Gurash has his work cut out for him. All five starters from last season's 19-6 team that advanced to the regional round of State 3A playoffs have moved on and he has just three lettermen returning: guard Brock Leinweber and forwards Adrian Conway and Luke Krotzer. Junior Jake Groves (6-5), brother of 2016-17 all-state and all-league forward Tanner Groves (Eastern Washington), provides stability in the post.
Great Northern League
Pullman (20-7, 8-4) features first-team all-league junior guard Jake Wells and sophomore point guard Isaiah Strong, while boasting four seniors – three of which go 6-4 or better – including senior post Cole Hawes. The Panthers should contend for the league title. … West Valley (9-12, 4-8) returns two all-league players: first-team point guard Collin Sather and second-team wing Connor Whitney – who signed with Idaho on a football scholarship. … Last year's league champ Clarkston (17-4, 12-0) graduated nine seniors. The only players with experience returning are senior guard Nate Savolainen and sophomore guard Tru Allen, who is already being recruited and brother of CHS alum and Idaho forward Trevon Allen. … East Valley (11-11, 5-7) graduated eight lettermen and four starters. The Knights are led by returning starter senior Colton Sior and 6-4 senior Christian Johnston.
Northeast A
Freeman (24-2) finished first in league last season and second in State 1A for two years running. Four starters return, including first-team all-league guard Michael Coumont and second-team forward 6-5 Dylan Oja. Experience, athleticism and depth are strengths. … Newport bowed out in last year's state quarterfinals. The Grizzlies are led by senior point guard Koa Pancho and junior guard Danny Bradbury. … Lakeside (13-11) finished third in league and returns three starters: second-team all-league junior guard Tristan Cox, junior forward Micah Holmes and 6-4 junior forward Landon Harrington. The Eagles think they can grab one of three league postseason spots. … Medical Lake (16-9, 9-5) graduated three starters but returns six lettermen from a state regional team last season. Nick Mason (6-3 sophomore guard) is the lone returning starter. Not big, but aggressive on defense. … Deer Park (9-12) has one starter returning and graduated seven lettermen. The Stags will lean on seniors Mikal Palmer (6-3 post) and guard Hunter Dryden. … Riverside returns starters guard TJ Trepanier and 6-4 forward Kory Cross. Junior forward Dom Davis (6-6) adds size. .
Northeast 2B
St. George's (19-10) was fifth in the state last season and returns all five starters, including all-league junior point guard Erik Farias and 6-3 senior forward Cade Peplinski. Farias will miss the start of the season rehabbing an injury sustained in last year's state semifinal. Xander Werkman (6-6) provides size for an experienced, athletic squad which has state aspirations … Liberty (22-7) will contend for the league title and was second at state last season. The Lancers return eight players from last year's run, including senior guard Brandon Holling, senior post Thomas Redder and junior post Isaak Ottmar, in addition to leaders from their state runner-up football team James Heer, Jawuan Nave and Beau St. John. … Colfax (17-7) returns three starters, including all-league guard senior Jaydon Soncarty and junior guard Carson Cloaninger. The Bulldogs boast good team speed and chemistry. … Davenport (10-14) graduated one player and return six lettermen, including first-team all-league senior forward Jaden Flett and fellow starters Tanner Abbott (guard) and Peyton Buchanan (6-4 senior post). The Gorillas could contend for one of three berths to state from the league … Northwest Christian (27-2) graduated all five starters and 10 lettermen total from last season's team that finished fourth at state. Senior forward Josh Maynard was injured last season, and point guard Jake Gray comes from up from JV to start this season. The Crusaders will look to use pressure defense to generate offense. … Springdale (15-10) returns four starters and hopes to grab a playoff spot this season. The Chargers will be led by second-team all-league and three-year starter senior Austin Howder. He's joined by four-year varsity starter Enoch Clemmer and two-year starter Evan Kitt. Sophomore guard Wyatt Edwards also started as a freshman. … Lind-Ritzville/Sprague (10-14) is led by returning captain and leading scorer senior forward Camden Smith. He's joined by six returning lettermen and three fellow starters: guard Bryce Kelly, 6-3 senior post Easton Nelson and junior guard Shontz Yaeger, who started every game as a sophomore. … Reardan (4-17) has four starters coming back – none seniors. Cade Francis (6-5 junior center), Andrew Alsept (6-3 junior forward) and shooting guard James Barris are leaders.
Northeast 1B
Almira/Coulee-Hartline (24-3) was third in state last season and returns three starters, including league MVP and three-year all-league 6-4 forward Payton Nielsen. Junior guard Mac Isaak also earned all-league honors last season. … Odessa (competing with Harrington) lost in the quarterfinal round at state last season and returns three all-league starters: senior forward Colton Hunt and sophomore guards Ryan Moffat and Camden Weber. … Selkirk (18-6) was first in the North Division last season but graduated four starters. Junior 6-5 post Thomas Huttle is the lone returner. … Columbia has 10 lettermen returning and all five starters, inclining junior forward Corbin Nelson and sophomore guard Riley McLain. … Northport (6-14) improved after going 1-39 the previous two seasons. Senior 6-4 forward Kade Middlesworth and juniors Trent Baribault (point guard) and Zach Bruland (6-3 forward) return as starters.
Southeast 1B
Pomeroy (21-4) reached the semifinals last season and finished fifth at state. The Pirates return three starters for their senior seasons: all-league guard Ryan Wolf, all-league post Jacob Tewalt and honorable mention all-league post Oscar Morfin. … Oakesdale (9-14) returns three starters – all juniors – led by honorable mention all-league 6-3 forward Kieran Anderson, the team's rebounding leader. Guards Evan Henning and Matt Hockett join Anderson on a team that should improve as the season progresses and could challenge. … Colton (16-10) made the regional round of state last season but graduated three starters and four lettermen. Senior guard Matt Wolf and junior guard Luke Vining, Reece Chadwick (6-2 post) and junior guard Parker Druffell will lead.
Idaho
Inland Empire League 5A: Consensus first-place pick Post Falls (19-5) return five starters from its league champion team from last season, led by all-state and IEL MVP Jake Pfennigs, a 6-7 senior guard. He's joined by all-league guard Tanner McClimint-Call. The Trojans are skilled, deep and experienced and will contend at the state level. … Lewiston (15-9) will have to wait until after the holidays to get back 6-5 senior forward Braeden Wilson (ACL), who was first-team all-league as a sophomore. … Lake City (15-7) is led by 6-8 post James Carslon, who's being recruited. The Timberwolves will be without two-year starting point guard Kodie Kolden (shoulder). … Coeur d'Alene (11-11) loses Colson Yankoff to early graduation to play football at Washington. The Vikings are led by senior all-league guard Sam Matheson, while 6-4 junior forward Kale Edwards adds some size.
IEL 4A: Kaen Davis and Dylan Knight at Lakeland will present some scary matchups. They can take over a game in a hurry. … Moscow is athletic and works hard. The Bears are led by all-league senior guard Cooper Stephens and 6-4 junior guard Gabe Quinnett. … Sandpoint features Robbie Johnson and Alex Stockton and could give some teams fits.
Intermountain League 3A: Kellogg (20-3) finished third in state and returns four starters, including all-league senior guard Tyler Gibbons and second-team all-league senior guard Chase Jerome. … Timberlake (14-10) graduated all five starters, but has plenty to work with. Colton Counts, a 6-5 senior forward, was all-league, while sophomore wing Jacob James earned second-team all-state tournament honors and Jordan hardy won the state tourney sixth-man award. … Bonners Ferry (8-13) is led by all-league senior point guard Chris Sabin.
Others: St. Maries (14-5) has been third at state two of last three years and should earn Central Idaho League's berth to the postseason again despite losing all five starters to graduation. Senior post Glover Buell leads for the Lumberjacks. … Defending state 1ADII champ Genesis Prep (21-4) is loaded again with four returning starters, including league and state MVP junior guard Jonny Hillman, and adds 6-9 junior forward Kon Ajang from the JV squad. … Wallace (12-9) returns four all-league players, led by 6-4 forward senior Hunter Gust. … Four-year starter Bryar Sanchez paces Lakeside (9-12), which returns just two lettermen.
All records listed from last season.
Local journalism is essential.
Give directly to The Spokesman-Review's Northwest Passages community forums series -- which helps to offset the costs of several reporter and editor positions at the newspaper -- by using the easy options below. Gifts processed in this system are not tax deductible, but are predominately used to help meet the local financial requirements needed to receive national matching-grant funds.
Subscribe to the sports newsletter
Get the day's top sports headlines and breaking news delivered to your inbox by subscribing here.
---