Sports > Outdoors
372 bald eagles counted on Lake Coeur d'Alene setting new record
Dec. 7, 2017 Updated Sat., Dec. 9, 2017 at 5:49 p.m.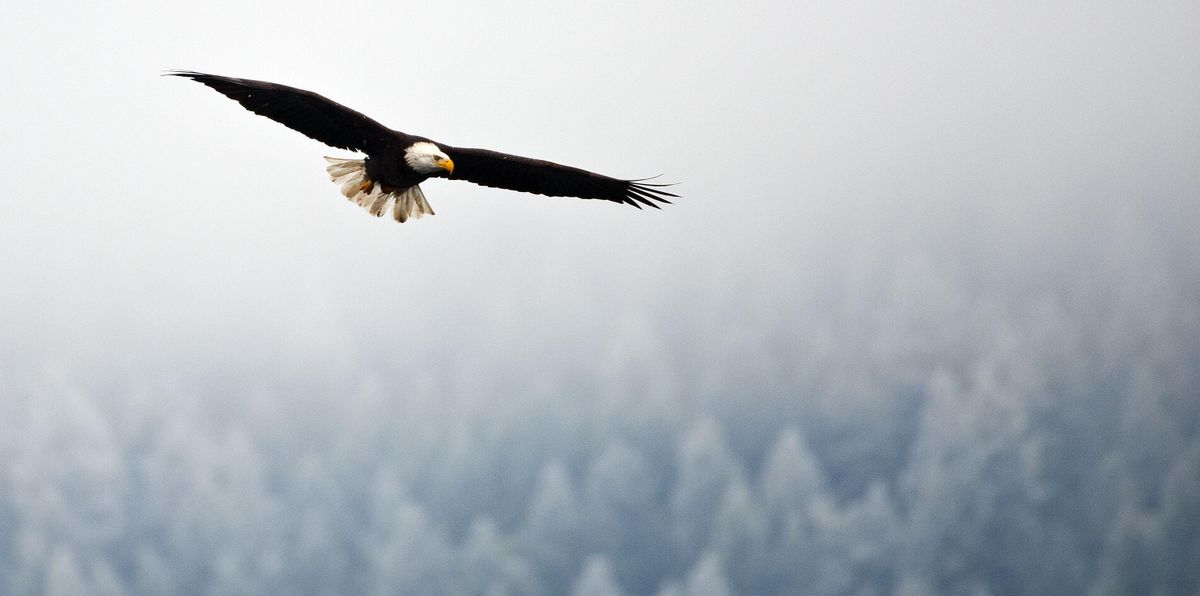 A bald eagle looks for fish along the shore of Lake Coeur d'Alene Friday, Dec. 8, 2017. The annual migration of bald eagles has begun, meaning that the south-bound birds are stopping in North Idaho where thousands of spawned-out kokanee provide a source of nutrition for the birds' long trip south. Normally the eagle population peaks around the third week of December. (Kathy Plonka / The Spokesman-Review)
It took only a week for a new record number of bald eagles to be counted on Lake Coeur d'Alene.
Carrie Hugo, a U.S. Bureau of Land Management wildlife biologist, counted 372 eagles (323 adults and 49 immature), Thursday.
That's 58 more than last week's record count and 99 more than the previous record of 273, set on Dec. 29, 2011.
Wildlife biologists don't know for sure why there are so many eagles this year. But early cold temperature in Canada may have pushed the bald eagles south sooner than normal, said Suzanne Endsley, a spokeswoman for the Bureau of Land Management Coeur d'Alene District.
Frozen lakes make it hard for bald eagles to hunt for fish.
"Also, the kokanee salmon population has (been) rebounding over the past several years creating an abundant food source. The kokanee are spawning and the eagles are taking full advantage," Endsley said in an email.
Normally the eagle population peaks around the third week of December, she said.
"It will be interesting to do a count that week and see if they have already moved on or if we have even more!! This is definitely a record migration year," she said.
The 49 immature eagles won't have the eye-catching "bald" head until about age 4. The eagles flock to the Wolf Lodge Bay area to hunt for spawning kokanee.
Last year's peak eagle congregation was 260.
There will be no shortage of targets for hopeful eagle watchers this year. Good eagle viewing points around Wolf Lodge Bay include Higgens Point and turnouts off Highway 97, including Mineral Ridge.
Eagle watching cruise boat tours can be booked at the Lake Coeur d'Alene Cruises website.
Local journalism is essential.
Give directly to The Spokesman-Review's Northwest Passages community forums series -- which helps to offset the costs of several reporter and editor positions at the newspaper -- by using the easy options below. Gifts processed in this system are not tax deductible, but are predominately used to help meet the local financial requirements needed to receive national matching-grant funds.
Subscribe to the sports newsletter
Get the day's top sports headlines and breaking news delivered to your inbox by subscribing here.
---