News > Spokane
Last minute volunteer training includes safety lesson at the Christmas Bureau
Fri., Dec. 8, 2017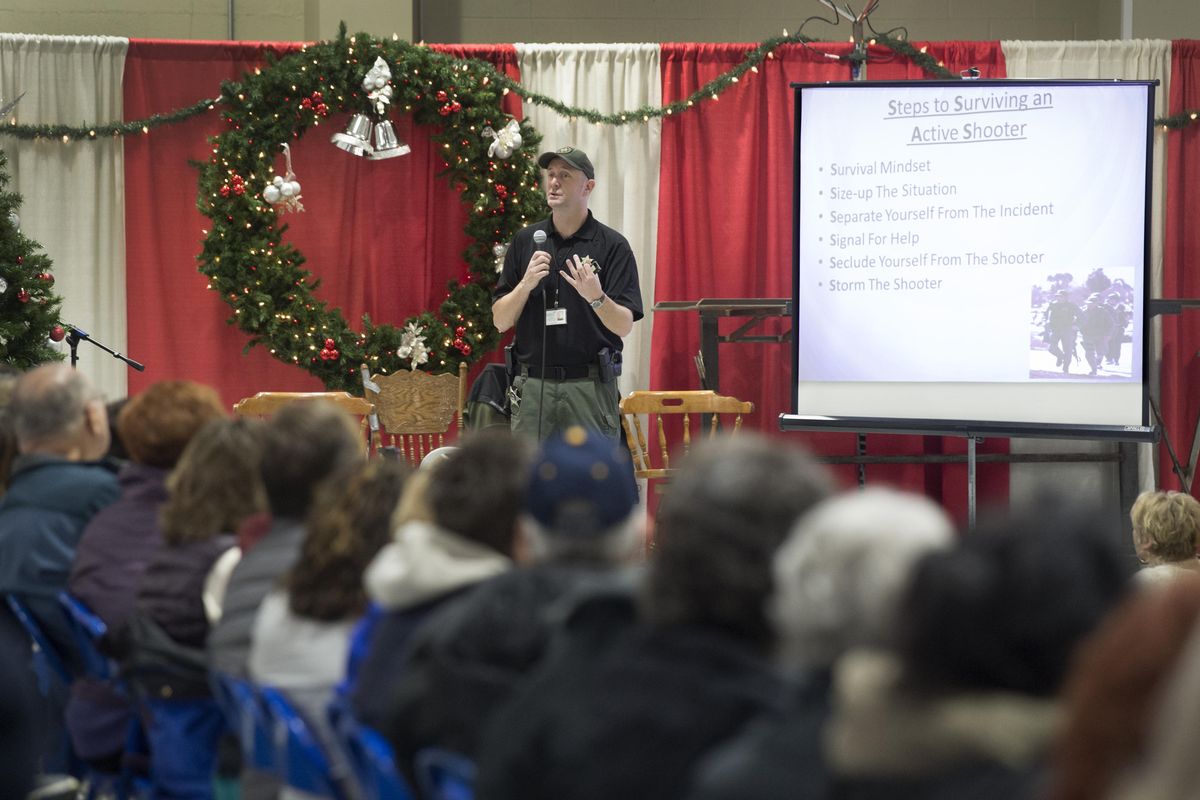 Spokane County Deputy Chris Johnston gives and talk, and showed a video, about surviving an active shooter situation, part of the training that the Christmas Bureau volunteers went through Thursday, Dec. 7, 2017 at the Spokane County Fair and Expo Center. (Jesse Tinsley / The Spokesman-Review)
It's time for the doors to open.
The 2017 Christmas Bureau opens Friday morning at 10 a.m. at the Spokane County Fairgrounds for people looking for a little help at Christmas in the form of food vouchers and a toy and book for each child.
Though the maximum food voucher is $30 for a family of four or more, it can provide enough of a boost for families to a put something special on the table Christmas day.
And the volunteers will be ready. Hundreds of them gathered Thursday for training on how to guide clients through the toys, books and pajamas. They learned how to check people in on the computers and what to do if problems come up.
For the first time, the volunteers also listened to nearly an hour of active shooter training led by Spokane County Sheriff's Deputy Chris Johnston. He reviewed when to run, how to hide and what to do if you have to fight.
Catholic Charities director Rob McCann said organizers have been discussing active shooter training for years and decided now was the time. "Freeman had a lot to do with it, honestly," he said, referring to a shooting at Freeman High School earlier this year.
There has never been any violence at the Christmas Bureau, but McCann said he wants to be prepared. Simply making volunteers learn where the nearest exits are and consider what they might do in a situation like that made the training worth it, he said.
"We know it's kind of a Debbie-downer at Christmas," he said. "That's the world we live in. We can't control what people do, but we can be prepared."
The Bureau will be open daily from 10 a.m. to 2:30 p.m. Dec. 8-18, excluding Sundays. All adults must provide photo identification and proof of address. Parents must provide the name, date of birth and proof of address for all children in the home. A letter from a daycare, school or social service agency will work, as will a WIC folder. Single adults are also welcome to receive a voucher and small items such as a toiletry bag and a new pair of gloves.
New donations of $11,634.09 have pushed the amount collected so far to $145,480.95. The goal is to raise $525,000 to pay for food vouchers, toys and books.
Testcomm LLC sent a donation of $5,750. "We are proud to continue our participation in this annual tradition and do our small part to help with its success," manager Jerry Ensminger wrote in a short letter. "Thank you to all the volunteers who give their time so that others may celebrate the season."
Georgene Patten of Spokane donated $1,000 in memory of her husband, Les Patten. "It's that time of year when my husband Les Patten would look at gifting in the spirit of Christmas and your Christmas Bureau always topped the list," she wrote. "Thanks to all your volunteers who do so much to brighten holidays for the families in the community as well as thanks to your associates - Catholic Charities and Volunteers of America."
Ken and Vicky Moland of Valleyford gave $500 in memory of their loved ones. "We thank all you volunteers for the incredible work you do to help the less fortunate have a nice Christmas," they wrote.
Cyrus and Janet Vaughn of Spokane gave $500, as did an anonymous Otis Orchards donor. The Laborers Local No. 238 donated $500. The Maverick Yacht Club donated $350. An anonymous Spokane donor contributed $310. Dennis and Patricia Doyle contributed $300. An anonymous Spokane donor gave $300 in memory of Margaret McGlothlin Petcher, Virginia Bailey and Roger Rosenberger. "Thank you for continuing this Christmas tradition," the donor wrote.
An anonymous Spokane donor gave $250. Peggy and James Ellingson of Colbert gave $200, as did Bruce Rogers of Spokane. The Spokane Branch of the American Association of University Women donated $119.09. The group "have again chosen to donate to the S-R Christmas Fund, as we have for several years, especially since so many of our members volunteer at the Christmas Bureau."
Alan and Deanna Eppingers of Spokane donated $100. Leona and Harold Dexter of Spokane sent $100 with a note that said: "Thanks for your work helping children at Christmas. We're glad to help a little bit."An anonymous couple donated $100 in memory of their parents, Karl and Marcia and Masaru and Evelyn.
Gary and Judy Spangelo of Cheney contributed $100, as did Joyce Stefanoff of Spokane. George and Barbara Stevens of Spokane gave $100.
Susan Moyer of Spokane gave $70. Frances and Richard Mann of Liberty Lake donated $50. Mary Peer of Spokane donated $50 in memory of her husband, Dennis Peer. "Thank you for all you do for those in need," she wrote. William and Gelene Griffiths of Nine Mile Falls contributed $30.
An anonymous donor sent $25 along with a note that read: "For all the volunteer helpers: may you all have a very Merry Christmas and a Happy New Year. God's blessings to you." Tracy Howe of Spokane gave $20. Alan and Carolyn Fisher of Cheney donated $10.
Local journalism is essential.
Give directly to The Spokesman-Review's Northwest Passages community forums series -- which helps to offset the costs of several reporter and editor positions at the newspaper -- by using the easy options below. Gifts processed in this system are not tax deductible, but are predominately used to help meet the local financial requirements needed to receive national matching-grant funds.
Subscribe now to get breaking news alerts in your email inbox
Get breaking news delivered to your inbox as it happens.
---