Sports > High school sports
Central Valley withstands comeback attempt to edge University
UPDATED: Tue., Dec. 12, 2017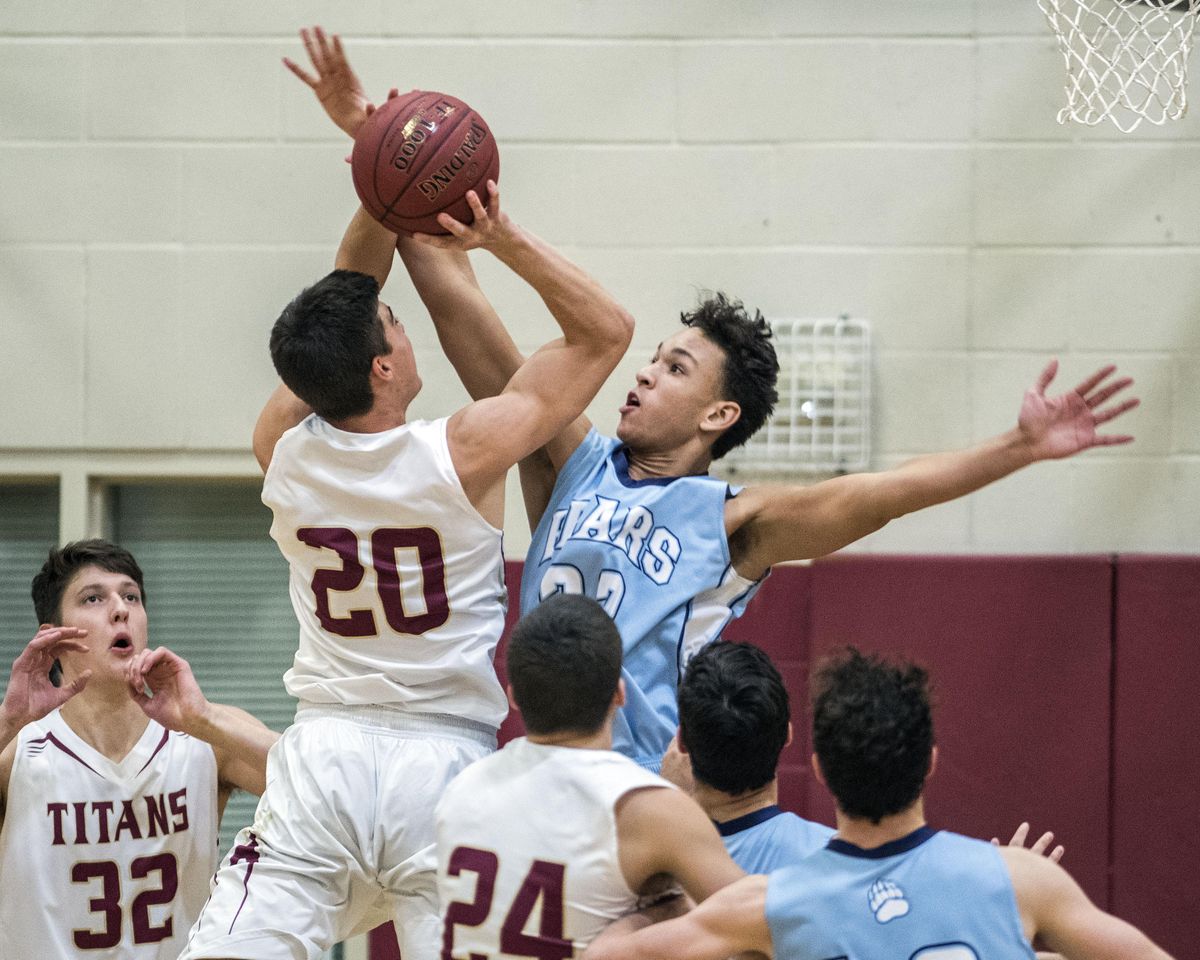 Central Valley forward Quinn Johnson pressures University forward Marcus Lenker (20) on a shot, Tuesday, Dec. 12, 2017. (Dan Pelle / The Spokesman-Review)
Tanner Christensen is going to make a lot of baskets this season, but it's tough to score falling backwards with less than 1 second left on the clock.
His last-gasp shot – more like a volleyball set – banged of the backboard no good following a fullcourt inbound pass and Central Valley clung to a hard-earned 68-66 road win over University on Tuesday.
"He's a load," CV coach Rick Sloan said of Christensen. "He's tall and gotten a lot better (around the basket). He is a tough matchup."
The 6-foot-9 senior Christensen, committed to Idaho next season, ended up with 25 points. CV countered with 25 points from Jase Edwards – 19 in the first half – and 21 from Zach Stocker.
"Jase, he's a pretty good athlete," Sloan said of his senior guard. "He saw some openings in the lane and he took them and kind of carried us that first half."
"Our bigs did a great job setting screens," Edwards said. "They had to guard someone and I just had an open lane."
At the start of the fourth quarter, Stocker was fouled taking a 3 and made all three free throws, making it a 10-point game at 56-46.
"He's the guy we want shooting (free throws) down the stretch," Sloan said.
Christensen threw one down and teammate Boston Tacke gathered an offensive board and inside basket to bring it back to six.
Cam Cavanaugh (nine points) nailed a 3-pointer while falling down with 57.3 seconds left to cut CV's lead to three. The Bears held the ball and worked it inside to Quinn Johnson, who laid it in for his only bucket of the game with 15 seconds to go to put it back to five.
Cavanaugh made a pair at the line, and Stocker responded with a pair to put CV up 68-63 with 14 seconds left.
U-Hi's Logan Phillips drained a 3 with 2.8 seconds left to make it a two-point game.
"They're a good team," Edwards said. "They made some big shots and it got a little tense at the end."
Stocker was fouled on the inbound play and missed the front of the one-and-one. The officials allowed a time-out on the rebound with 1.0 second left and University had one last play.
Tacke's long pass ended up with Christensen around the elbow, but Christensen didn't have time to turn with two defenders on him.
"They hit some big shots to make it close. I think that's kind of the way the year's gonna go for us. We've got to find a way to win those close ones," Sloan said. "I'm pretty pleased with the effort."
Central Valley led 20-14 after one behind nine points from Edwards.
Christensen picked up a couple of early fouls and went scoreless in the first, but the Titans turned to him in the second quarter. Working the ball low at every chance, Christensen scored on a couple of layups but did most of his work at the line, where he hit 6 of 8 and the Titans made it a two-point game at intermission 32-30.
Christensen went back to work with 10 more points in the third, but CV answered with Stocker getting hot from the outside, drilling three 3-pointers and the Bears led 53-46 after three quarters.
Local journalism is essential.
Give directly to The Spokesman-Review's Northwest Passages community forums series -- which helps to offset the costs of several reporter and editor positions at the newspaper -- by using the easy options below. Gifts processed in this system are not tax deductible, but are predominately used to help meet the local financial requirements needed to receive national matching-grant funds.
Subscribe to the sports newsletter
Get the day's top sports headlines and breaking news delivered to your inbox by subscribing here.
---