News > Military
Navy apologies to Okanogan County School District for skydrawing phallus
UPDATED: Wed., Dec. 13, 2017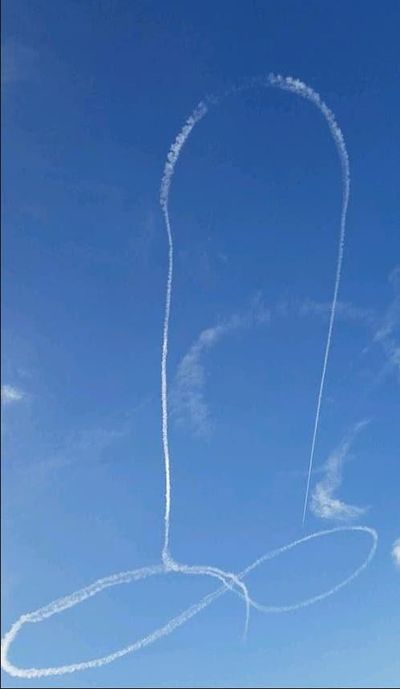 When the contrails of a U.S. Navy jet were intentionally used to draw a phallic symbol in the skies of Okanogan County last month, many residents laughed.
Richard Johnson, superintendent of the Okanogan School District, wasn't one of them.
"It was during recess time here for the elementary kids," Johnson said. "Some of the older ones were inside, younger outside. And yes, they saw it."
The U.S. Navy issued an apology letter to the district Tuesday.
The letter, written by Vice Admiral T.M. Shoemaker, is an apology to students, school faculty and parents. It describes the Nov. 16 drawing by two airmen as "unacceptable."
"I want to reassure you that this behavior is antiethical to our Navy's core values," Shoemaker wrote. "It's not who we are and we absolutely do not condone this uncharacteristic behavior."
The unnamed pilot, along with his unnamed backseat aviator, were given six months probation and must present a series of "Change the Culture" briefs to fellow crews and students. Both men were given their punishments Nov. 22.
Both are members of the "Zappers" Electronic Attack Squadron 130 at Naval Air Station Whidbey Island. The pilot was identified as a male lieutenant and used a EA-18G Growler's contrails to draw the obscene image during a routine training course.
Johnson said the phallus drawing, which brought international attention to the rural north-central county, is a "touchy situation," and it's time to move forward.
"I find that it's always encouraging when one's concerns have been listened to and actions taken when situations happen like this," Johnson said. "The Navy's apology is fully accepted. I've talked to other people who have seen the apology letter. It's so very sincere and they feel exactly the same as I did."
Local journalism is essential.
Give directly to The Spokesman-Review's Northwest Passages community forums series -- which helps to offset the costs of several reporter and editor positions at the newspaper -- by using the easy options below. Gifts processed in this system are not tax deductible, but are predominately used to help meet the local financial requirements needed to receive national matching-grant funds.
Subscribe now to get breaking news alerts in your email inbox
Get breaking news delivered to your inbox as it happens.
---