Sports > UW basketball
Washington Huskies will retire Isaiah Thomas' No. 2 jersey
Thu., Dec. 14, 2017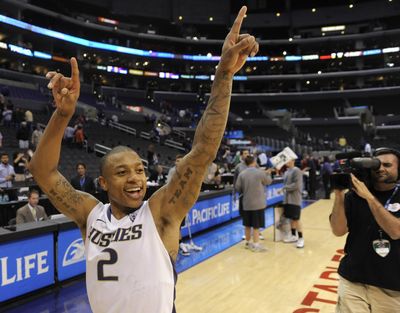 SEATTLE – Isaiah Thomas, the little guy who made a big impact on the Washington men's basketball team, will have his No. 2 jersey retired, the school announced Thursday.
"Isaiah's heart, competitiveness, grit, determination and perseverance through challenges define what it means to be a Husky," athletic director Jen Cohen said in a statement released by UW. "He has faced obstacles at every stage of his journey, and it is my hope that his jersey in the rafters will serve as an inspiration to many more young men and women throughout the state, to know that anything is possible."
During a Feb. 15 game against Utah, Thomas will become the fifth Husky athlete and third men's basketball player to have his jersey hang in the Alaska Airlines Arena rafters.
"Words can't describe how grateful I am to receive this honor," Thomas said. "The University of Washington provided me the opportunity and support to pursue my dream of playing professional basketball, but it has also shaped who I am as a person. I always dreamed of becoming a Husky, playing in Hec Ed and earning my degree from Washington, and to know that my name will live there forever means the world to me."
Thomas, a 5-foot-9 guard, averaged 16.4 points, 3.5 rebounds, 4.0 assists and 1.2 steals during during his three-year (2008-11) career. He ranks eighth on UW's all-time scoring list and fourth in assists.
The Huskies won three consecutive conference championships (one regular-season title and two conference tournament titles) and made three trips to the NCAA Tournament with Thomas at the helm. During his tenure, UW was 76-30 (.717) – the best three-year stretch in school history.
The dynamic guard provided perhaps the most memorable play in UW history when he sank a step-back, buzzer-beating, shot in a 77-75 win over Arizona that gave the Huskies the the 2011 Pac-10 Tournament title.
Thomas was the last (60th) pick of the NBA Draft in 2011 and spent three seasons (2011-14) with the Sacramento Kings before he was traded to Phoenix. He spent half of the 2014-15 season with the Suns, who dealt him to Boston.
During a 2 1/2-year tenure with the Celtics, Thomas rose to NBA stardom. He was the third-leading scorer in the NBA during the 2016-17 season and his 28.9 points per game marked the second-highest scorer in Celtics history, trailing only Larry Bird's 1987-88 mark of 29.9.
Before the 2017-18 season, Boston traded Thomas to Cleveland, but he has not played this season because of a hip injury.
Thomas, a Tacoma native, averaged 31.6 points a game as a junior during the 2005-06 season at Curtis High in University Place. He set a State 4A tournament record with 51 points and was the state's player of the year that season.
Thomas played at South Kent School in South Kent, Connecticut, as a senior. Other UW athletes with retired jerseys at Alaska Airlines Arena include: Bob Houbregs (25) and Brandon Roy (3) in basketball and volleyball players Krista Vansant (16) and Courtney Thompson (3).
Local journalism is essential.
Give directly to The Spokesman-Review's Northwest Passages community forums series -- which helps to offset the costs of several reporter and editor positions at the newspaper -- by using the easy options below. Gifts processed in this system are not tax deductible, but are predominately used to help meet the local financial requirements needed to receive national matching-grant funds.
Subscribe to the sports newsletter
Get the day's top sports headlines and breaking news delivered to your inbox by subscribing here.
---