News > Spokane
Friday's snowfall breaks daily record at airport; streets remain icy as full-city plow continues
UPDATED: Sat., Dec. 16, 2017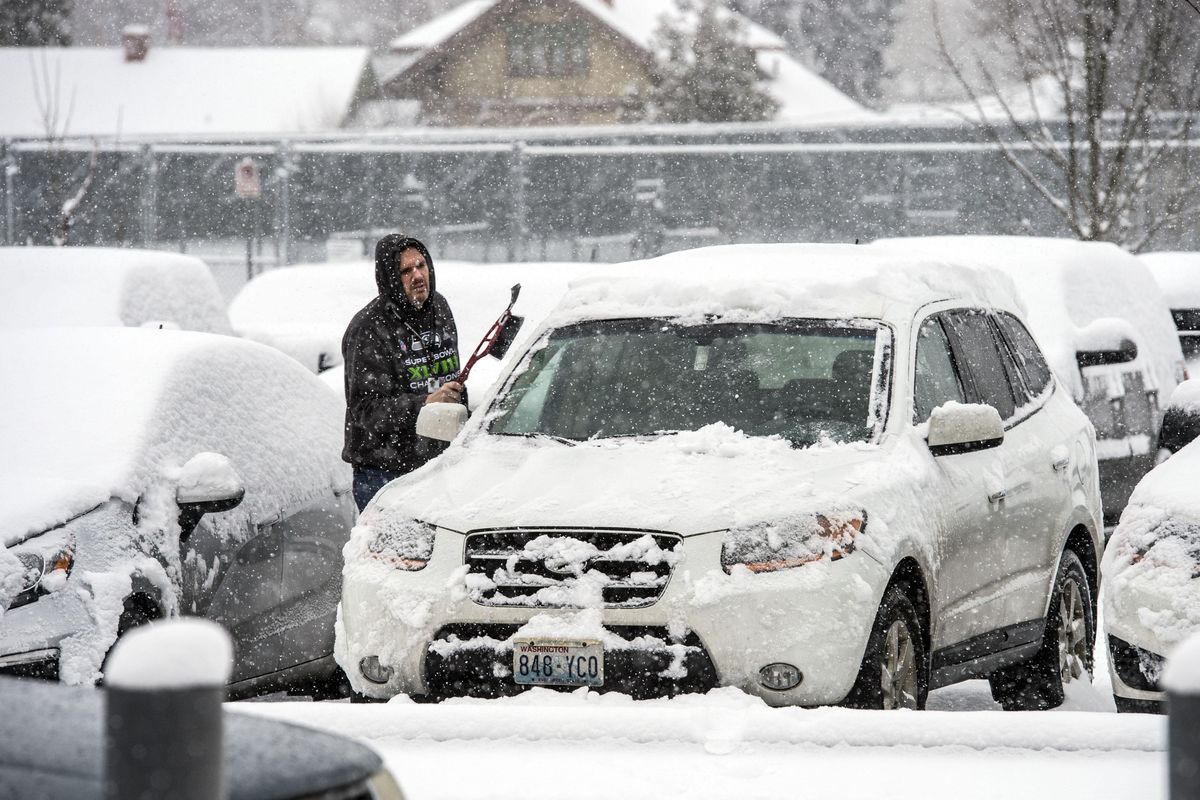 Joe Phipps. assistant principal at John Rogers High School, brushes off over 3 inches of snow from his SUV as he tries to get home for his wife's birthday, Friday, Dec. 15, 2017, in Spokane, Wash. (Dan Pelle / The Spokesman-Review)
Friday's wintry weather broke the daily record for maximum snowfall, according to the National Weather Service of Spokane.
On Friday, 7.1 inches fell, as measured at Spokane International Airport, crushing the record of 4.8 inches set on the same date in 1963.
The record for heaviest snowfall on any single day in Spokane still stands at 19.4 inches, which fell during a 24-hour period ending at 10 a.m. Dec. 18, 2008. Coeur d'Alene set a daily record during the same storm, clocking 25 inches. Services were stalled and much of the city shut down, according to a Spokesman-Review article at the time.
Light snow is expected today, with temperatures in the mid-30s.
This week is expected to be rainier and warmer, with showers expected Monday and Tuesday and a high of 42 degrees Tuesday, according to the weather service. The end of the week will be drier and cooler, with temperatures in the mid-20s.
Roads remained slick Saturday, with multiple sliding accidents reported around the city. Public safety officials repeated their request to motorists to drive with care.
On Friday, 418 vehicle crashes were reported by the Spokane Police Department, Spokane County Sheriff's Office and Washington State Patrol before 7 p.m.
The city announced in a news release Saturday that it is continuing with its full-city plow, with snow removal crews working around the clock to clear every street and roadway. Barring new snowfall, the process should take about three days, according to the release.
As of early Saturday afternoon, major arterials were bare and wet, according to the city. Readers can find a full map of plow routes and updated information on the effort's progress on the city's website.
The city continues to ask that vehicles park on the odd side of streets in residential areas to speed the effort.
No parking restrictions will be imposed on downtown.
Local journalism is essential.
Give directly to The Spokesman-Review's Northwest Passages community forums series -- which helps to offset the costs of several reporter and editor positions at the newspaper -- by using the easy options below. Gifts processed in this system are not tax deductible, but are predominately used to help meet the local financial requirements needed to receive national matching-grant funds.
Subscribe now to get breaking news alerts in your email inbox
Get breaking news delivered to your inbox as it happens.
---