News > Spokane
Respite on the way – temporarily – as temperatures rise, roads clear
UPDATED: Sun., Dec. 17, 2017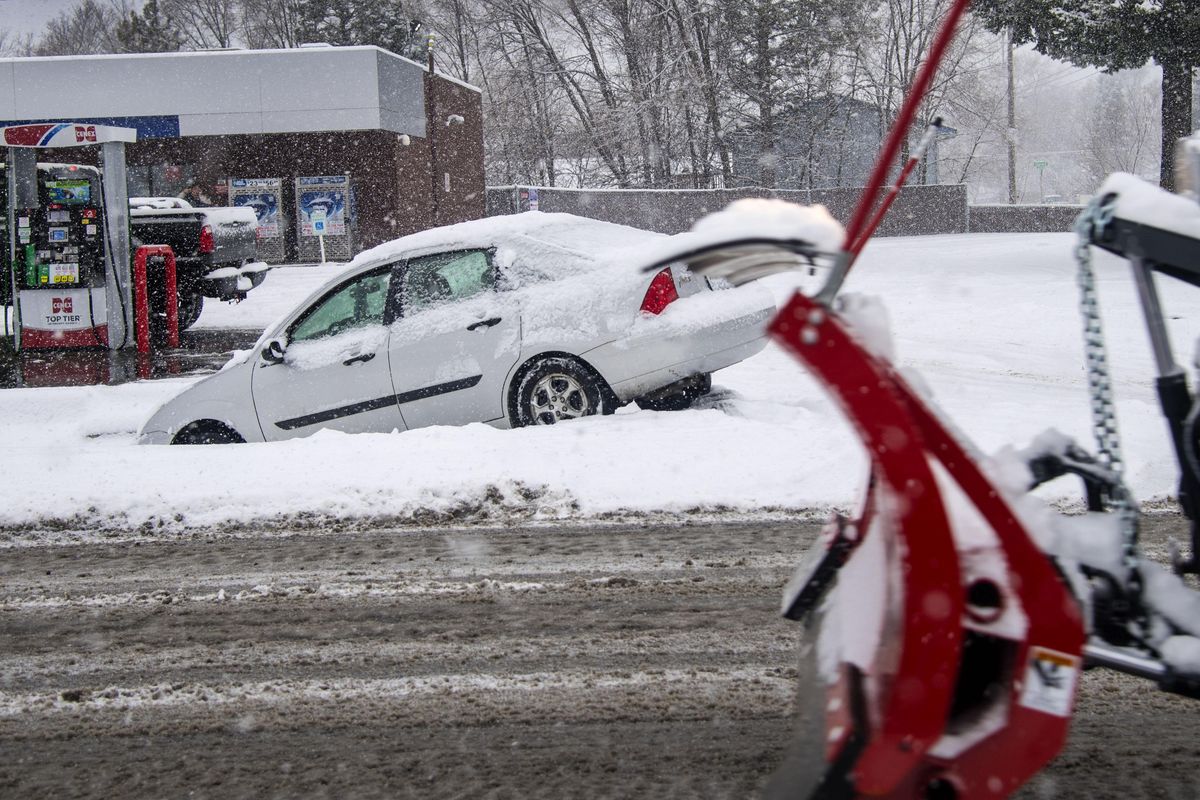 A snowplow passes a Ford Focus that slid off the road at the corner of Euclid and Market during Friday's snowstorm, Dec. 15, 2017, in Spokane, Wash. (Dan Pelle / The Spokesman-Review)
It came, it saw, it conquered, and it stuck around.
This weekend's flurry of snowstorms contributed to several hundred crashes and even more headaches as Inland Northwest residents navigated the often treacherous roads. Luckily, respite is on the horizon.
Light snow drizzles fell in the area Sunday afternoon and evening, but the National Weather Service predicted warmer weather come Monday and Tuesday, as well as some rain.
The relief will be brief, as snow will likely return late Thursday and continue heading into the weekend.
"We'll be on the colder backside of a larger system," weather service meteorologist Joey Clevenger said. "Not looking to be a lot of snow, mostly the extreme eastern portions of Washington."
The beginning of the work week will also see a lingering cold front move aside, causing temperatures to rise, which could melt some of the more than 7 inches of snow that fell Friday. Clevenger said temperatures could hit the upper 30s and lower 40s.
Meanwhile in Spokane, road crews continued to work around the clock on a full-city plow that started Saturday after record-breaking amounts of snow hit the region.
By Sunday afternoon, most of the city was scheduled to see snow removal, or was already plowed, according to the city's online map. Only pockets of unplowed roads remain in north and west Spokane. Officials continue to ask that vehicles park on the odd side of streets in residential areas to speed the effort. No parking restrictions were imposed downtown.
The City of Spokane Valley reported that a full residential plow was in effect Sunday afternoon.
Hills, arterials and roads near schools were mostly bare and wet Sunday morning. I-90 in both directions was the same.
No serious collisions or injuries were reported Sunday. On Friday, at least 418 vehicle crashes were reported by the Spokane Police Department, Spokane County Sheriff's Office and Washington State Patrol.
Local journalism is essential.
Give directly to The Spokesman-Review's Northwest Passages community forums series -- which helps to offset the costs of several reporter and editor positions at the newspaper -- by using the easy options below. Gifts processed in this system are not tax deductible, but are predominately used to help meet the local financial requirements needed to receive national matching-grant funds.
Subscribe now to get breaking news alerts in your email inbox
Get breaking news delivered to your inbox as it happens.
---