Sports > Outdoors
Running twins race to the mountains after learning basics from Spokane Mountaineers
Thu., Dec. 21, 2017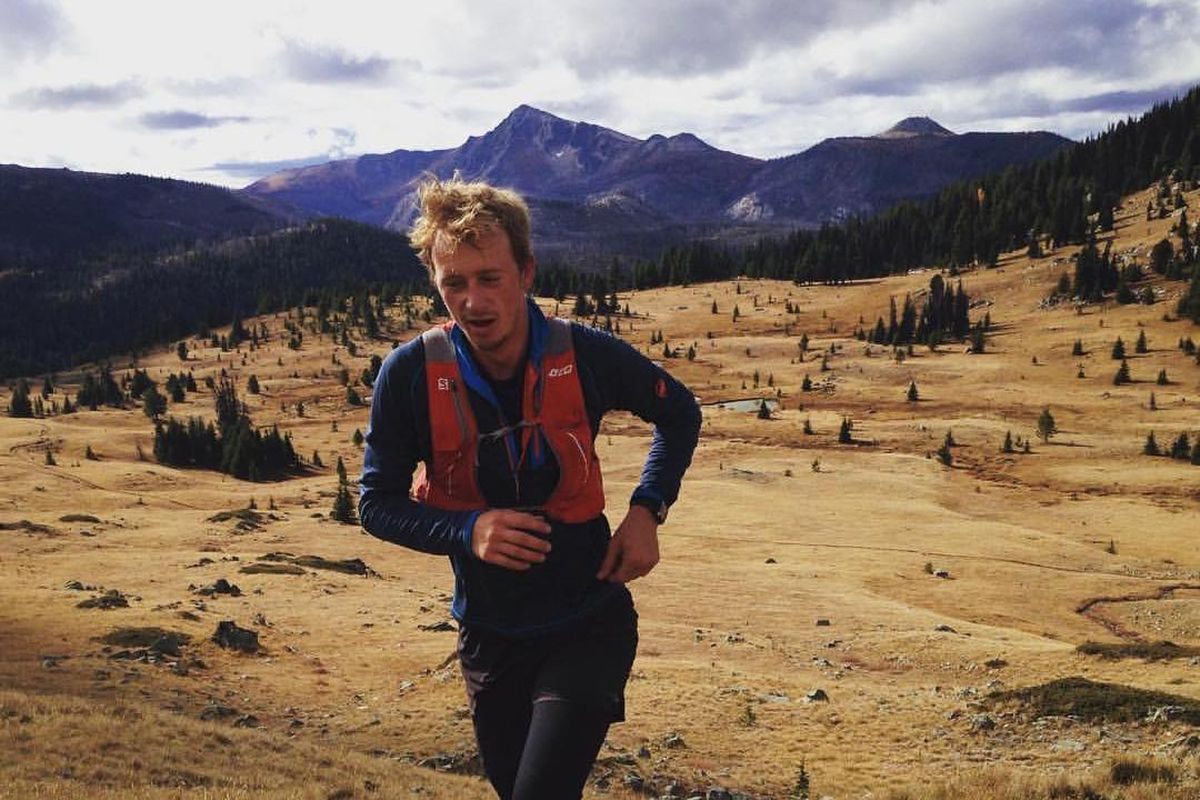 After learning the basics of mountaineering from the Spokane Mountaineers while at college in Spokane, Cyrus and Niles Desmarais have embraced mountain running. The twins often spend hours ascending and descending imposing peaks that might take other climbers a day or more. (Courtesy)
It started with a failure, a bit of boredom and some mountaineering skills.
Niles and Cyrus Desmarais planned to run the Washington portion of the Pacific Coast Trail in mid-October, 2016. The running twins gathered support. A sponsorship from their hometown running store in Wenatchee. Free running shoes from various companies.
They quit their seasonal jobs in Wenatchee. They packed up and drove to Rainy Pass, near Highway 20.
Four days in to the run they gave up, thwarted by snow.
"We kind of let people down," said Cyrus Desmarais "We kind of let the sponsor down."
And then, they found themselves with nothing to do. Both Niles and Cyrus studied biology at Gonzaga. The twin brothers knew they didn't want to work in a lab doing research. Neither was ready to go back to school, nearly a prerequisite for biology majors. Neither had a job, a girlfriend or, at that point, even an apartment.
But, they loved to run. And they loved the mountains. So, Cyrus, who took the Spokane Mountaineers Mountain School class while living in Spokane, convinced his brother to start a new hobby. Speed mountaineering and long-distance trail running.
"I just got tired of doing multiday mountain trips," Cyrus said. "And I was like, 'what if we become better runners and I teach Niles some of these mountain skills he needs to learn.' We could have a lot of fun."
Since then the two brothers have gone beyond traditional mountaineering, instead ascending and descending imposing peaks with minimal gear. As quickly as possible. They now live in Crested Butte, Colorado.
"We like to use running as a medium to explore mountains," Niles said in an email.
That focus on speed and lightness means the brothers spend half-a-day doing what traditional mountaineers may take a full day, or more, to complete.
Cyrus Desmarais / The Spokesman-Review
Niles and Cyrus Desmaraisnavigate Capitol Peak in Colorado. The technical peak is a 14er and has become increasingly popular. Unfortunately, Niles Desmarais said, the increasing popularity means people who may not have the necessary skills and fitness attempt dangerous climbs. In 2017 there were at least five deaths on Capitol Peak.
But, speed comes with its own dangers – of which the twins have first-hand experience.
In early October the two ran a familiar class 4 route on Mount Crested Butte in Colorado known as Guides Ridge. A class 4 route is usually steeper and more exposed but is still manageable without a rope. They ran the route, on average, two times per week. But on this particular trip a boulder Niles was climbing over rolled, pinning his legs.
"Where Niles fell was just kind of in a scree area. It was kind of just a 'no-fall zone,' " said Cyrus. "The rock was, dude, it was like half the size of his leg. And of course he was freaking out. It must have been 200 or 300 pounds."
Niles fell about 15 feet.
"It was pretty scary at the time," Niles said. "Accidents like that can happen. It was a good wake up call."
Luckily the rock didn't break Niles' leg and Cyrus was able to roll the boulder off his brother.
"It's not like he made a bad decision," Cyrus said. "It just so happened that while he was up there on that exposure he just happened to grab a boulder that looked sturdy but wasn't."
"There is always going to be more of an element of risk with the less stuff that you carry," Niles said.
Knowing and understanding these risks is important, said Matt Jeffries, the president of the Spokane Mountaineers. Jeffries, who was the Mountain School director when Cyrus took the course, said it's easy to look at people like Cyrus and Niles – strong, fit and competent – and not see the countless hours of work they've invested.
"Those guys are animals," Jeffries said of the twins. "They're crushing it. But at the same time you don't see all of the time they spend on fitness on the back end."
In addition to fitness, knowledge and experience are important.
"As you spend more time slowly progressing outside doing more climbs and more outings you build an experience and a knowledge and a reference base that enables you to make better decisions," Jeffries said.
And while fast and light mountain travel is in vogue, made more accessible by new technologies and mass media, it's hardly new. In Washington the fast and light approach was pioneered by legendary mountaineer Fred Beckey in the 1940s. Jeffries said fast and light travel is really a natural evolution of mountaineering.
"It's kind of just the outcome of getting more efficient," he said. "Hey, I've done this hike a half-dozen times with a 60-pound pack. I'm sick and tired of carrying of it. Let's try and do it with a 40-pound pack."
Which doesn't mean it's not riskier.
"Fast and light reduces safety margins and does increase the chance for error and you have to really think through that," Jeffries said.
The Desmaries brothers have.
They bring a cellphone, a Spot GPS and a medical kit. On longer expeditions they may bring a change of clothes and some food. But, for them the rewards of moving quickly outweigh the risks.
"When you go lighter, it's definitely a bit more risky," Cyrus said. "But the other side of the coin is you spend a lot less time in those risky situations."
While the two may be twins, they're have different strengths, interests and goals.
"He's a little bit more like he could run every day for the rest of his life and he'd probably be happy," Cyrus said of his brother.
During the summer of 2016 the twins increased their training regime running upward of 20 hours per week. Then they moved to Colorado. Living and training at high altitude super-charged their abilities and they embraced a strict training regimen based off other endurance sports, like running and Nordic skiing.
While visiting Washington in September the twins said they logged roughly 100,000 feet of vertical running and climbing.
"When we came back (to Washington) in 2017 we realized we were almost twice as strong as last year," Cyrus said.
During that month the two raced up 9,000-foot Mount Shuksan in Washington in 3 hours, 58 minutes. Then, later in the month the twins broke four hours on the 19-mile Enchantment Traverse. That's a record, they think.
Next, Cyrus hopes to break the round-trip record on Mt. Rainier of 4 hours, 24 minutes and 30 seconds.
"It's a pretty solid record, but it's definitely beatable," Cyrus said.
Now, the two spend roughly 25 hours per week training, carefully watching their diet, recovery times and the intensity of their training. They also compete in long-distance races, as well as some shorter ones. In addition to running they ice climb and ski.
"It's a pretty integral part of our lives," Niles said.
And, it's allowed the twins to continue to train and live together
"We really have combined our interests and I really like that," Niles said. "It seems somewhat pedestrian to go on a run on the road now after running through mountains."
Local journalism is essential.
Give directly to The Spokesman-Review's Northwest Passages community forums series -- which helps to offset the costs of several reporter and editor positions at the newspaper -- by using the easy options below. Gifts processed in this system are not tax deductible, but are predominately used to help meet the local financial requirements needed to receive national matching-grant funds.
Subscribe to the sports newsletter
Get the day's top sports headlines and breaking news delivered to your inbox by subscribing here.
---