Spokane County marijuana farmers say pollution controls, regulations and low prices threaten their business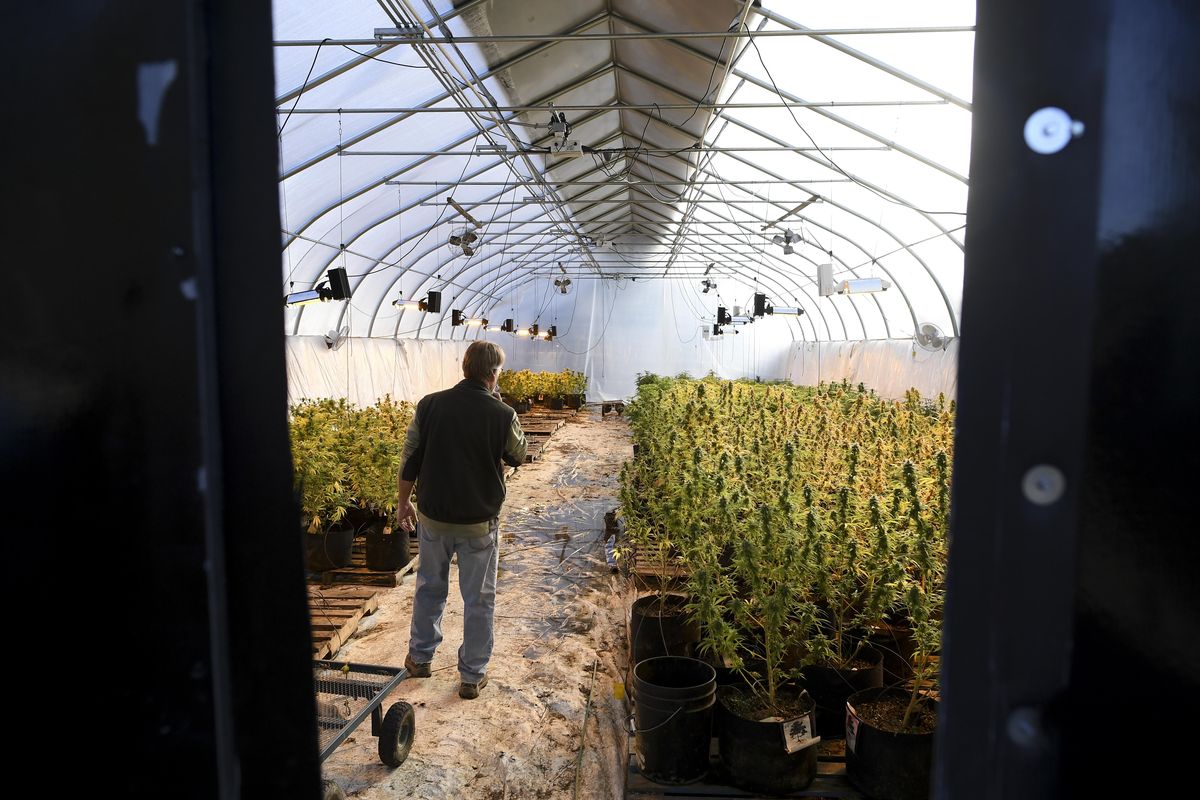 David Taylor's business card carries the title "plant whisperer."
"I talk to them every day," Taylor said earlier this month, outside the four greenhouses in rural Medical Lake where he operates his marijuana business, the Joint Venture. "I talk sweet to them. They're all females. I try to be nice."
Taylor came to the West Plains by way of Hawaii, where he said he spent years growing the drug. Lately, he's been coaxing his plants a little more emphatically as he tries to stay afloat in an industry still in its infancy, with business owners, neighbors and regulators all trying to get along.
That's become harder for small outfits like the Joint Venture, Taylor said. Though he's licensed through the state to grow the maximum amount of marijuana allowed under state law, tumbling wholesale prices brought on by a glut of product in the market and ongoing maintenance and personnel costs have Taylor worried about his bottom line. Taylor cut his staff, stopped heating one of his greenhouses for the winter to save on energy costs and ramped up his harvesting schedule to ensure a steady stream of revenue, he said.
"Money trickles in, and it jets out," Taylor said.
Taylor's not the only one feeling the pinch, as seen in the dozens of local producers who have banded together to contest new regulations coming from the Spokane Regional Clean Air Agency. The Cannabis Farmers Council, an industry group representing the interests of producers and processors statewide, issued a report critical of the regulations, which would require farmers to pay registration fees totaling up to $5,000 based on the method of growing and provide pollution regulators with a harvest schedule to ensure compliance with nuisance odor laws.
"Most Spokane County farmers will not be able to financially support these proposed fees," the report, authored by Cannabis Farmers Council member and local farmer Crystal Oliver, said. "These fees will lead to loss of jobs in the cannabis industry, closure of farms and loss of farmers' livelihoods."
Data available from the state make it difficult to show definitively that farmers are turning away from the industry due to the increased costs and rules. Once a business obtains a license from the state, it can remain active even though the farm is no longer producing a crop.
"It is hard to put a finger on, because you have the license and that essentially never goes away," said Gene Flynn, a board member of the farmers council, attorney and owner of an outdoor farm in Ford, Washington.
The pollution agency's board of directors, made up of representatives of local municipal governments including Spokane, Spokane Valley and Spokane County, tabled a vote on the new fees after an outpouring of testimony from small-batch farmers earlier this month. The panel is scheduled to vote Jan. 4.
Spokane County Commissioner Al French, who serves as the board's chair and also oversees the planning rules for the more than 160 marijuana producers and processors operating in the county, said he empathized with the industry, but his responsibility as an elected official isn't to ensure its future.
"My first duty is to protect the constitutional rights of the residents within this county, and that is the right of quiet enjoyment of their property," French told the assembled group of farmers who testified about the rules. "And when that right is violated, I have a duty to protect them."
Odor issues
The stench forced 67-year-old Bob Ruhl and his dog, Buddy, out their front door.
"I spent the night at Walmart in my truck, the smell was that strong in here," Ruhl said.
The 11-year resident of a ranch off Rambo Road north of Airway Heights filed dozens of complaints against his across-the-street neighbor, a producer and processor called Mr. Wholesale, beginning in October 2016, according to Clean Air Agency records. An agency representative investigated the claim, and the business was eventually fined $2,000 after it was determined the odor of marijuana was "distinct and definite" at the property line, a determination made by the investigator.
Max Johnston, the owner of Mr. Wholesale who dealt with the Clean Air Agency's regulators, did not respond to multiple requests for comment for this story. But in a letter to the agency protesting the fine, Johnston said the business had invested in clean air filters and other improvements on the site to tamp down the odor and offered to help Ruhl with his home HVAC system to reduce the prevalence of the smell.
"I have spent over $20,000 on equipment alone, plus hundreds of man-hours to control odor for an operation that barely makes payroll," Johnston wrote in the letter to the agency.
A settlement agreement eventually reduced the amount of the fine to $1,000, which was paid in September. But Ruhl said odors are still a problem on his property, which he purchased through foreclosure and built up over several years, including an old-style Western ranch gate with a sign Ruhl insists is a joke, reading, "No trespassing. I own firearms and a backhoe."
"I didn't work all my life to get a place that I want, and then put up with all this crap," Ruhl said.
In pitching the regulations, members of the Clean Air Agency have pointed to the explosion of odor complaints that occurred after the legal marijuana industry launched in July 2014. In the three years since then, those reports more than doubled from the three years prior, from 178 to 485. Investigating them has cost the agency $299,000 over the past two years.
But the farmers council combed through those records and found that three out of four claims made against licensed marijuana businesses were directed at just three farms, including Mr. Wholesale and Bang's Cannabis.
Chris Marr, a former state legislator who served on the Liquor and Cannabis Board during the initial rule-making process for the industry and now consults with entrepreneurs, said there's still a stigma around the crop that produces a lot of the land-use complaints, despite the drug being heavily regulated by the state. While Marr applauded Spokane farmers for banding together against the odor regulations, he said that stigma likely couldn't be erased by grassroots organizing alone.
"My hat's off to them," Marr said. "It doesn't solve the underlying problem of it still being illegal on a federal level. It's still being associated with reefer madness. I think it may address the concerns of rational elected leaders, who say I need to solve a tangible problem. It won't remove this bias and desire of a lot of neighbors not to live near a legal grow."
Ruhl saw his first wife move from marijuana use to harder drugs. She eventually died from an overdose, he said. But his concerns about the crop across the street aren't motivated by the past, just the present use of his property, he said.
"It's more than just involving you," Ruhl said. "It's invading your way of life. But I don't want to put them out of business."
While business owners are worried about the effects of the new odor registration system, most – like Taylor – say it's just one of many hindrances in an industry that continues to see overall growth three years on.
'Fixing the leaks'
All Aaron Juhl wants to do is grow his weed outdoors.
"I just want to keep up with the trend," said Juhl, who operates a small indoor operation called Funky Farms in Deer Park. "Grow a higher quantity, that's a little bit more affordable."
There is increasing pressure to cut the costs of production as prices for the drug drop and more producers and processors enter the market. The average retail price for a gram of marijuana has dropped from more than $9 in summer 2015 to $5.20 in September, the most recent month for which the Washington Liquor and Cannabis Board has figures available.
Wholesale prices, from growers and processors to retail stores, also have plummeted from $4 to $2.40 in that same time period.
The numbers indicate a glut of product in the market, but the Liquor and Cannabis Board hasn't reported the amount of flower harvested statewide since May as the state switches its system tracing marijuana from farmer to retail stores, said Mikhail Carpenter, a spokesman for the agency.
That's driving growers like Juhl to consider expansion to compete with other businesses. While growing outdoors cuts the costs of production, those operations also will be subject to the highest fees under the proposed rules by the Clean Air Agency. That's on top of the expense of obtaining a permit for a facility under new Spokane County rules, which prospective producer Craig Neilsen said has already cost him $5,400.
"They're trying to introduce a bunch of these rules at a point in time where the county had already introduced new rules," Neilsen said of the pollution agency's proposal.
French said the county's decision to require what's known as a conditional use permit, which includes extra notification to surrounding property owners among other requirements, was meant as a way to "stop the bleeding" on land-use disputes prompted by farms.
"You don't want to wait until the dam is broken to start fixing the leaks," French said.
Juhl, whose business has never prompted an odor complaint, estimated complying with the new fees would cost him an entire crop, which he harvests every 90 days.
"I've got the best pot in town," Juhl said, chuckling. "That's the only reason I've been able to survive."
Taylor shares that confidence, saying it's the quality of his crop that is allowing him to continue to operate in spite of the mounting costs. But the future of his business is far from certain, he said.
"I'm a fly fisher. It's like fishing, it's that next cast," Taylor said. "It's that next season. You tried it, but you can't do it forever for nothing."
---