A&E
Stream on demand: Nolan takes on WWII in Dunkirk
UPDATED: Thu., Dec. 21, 2017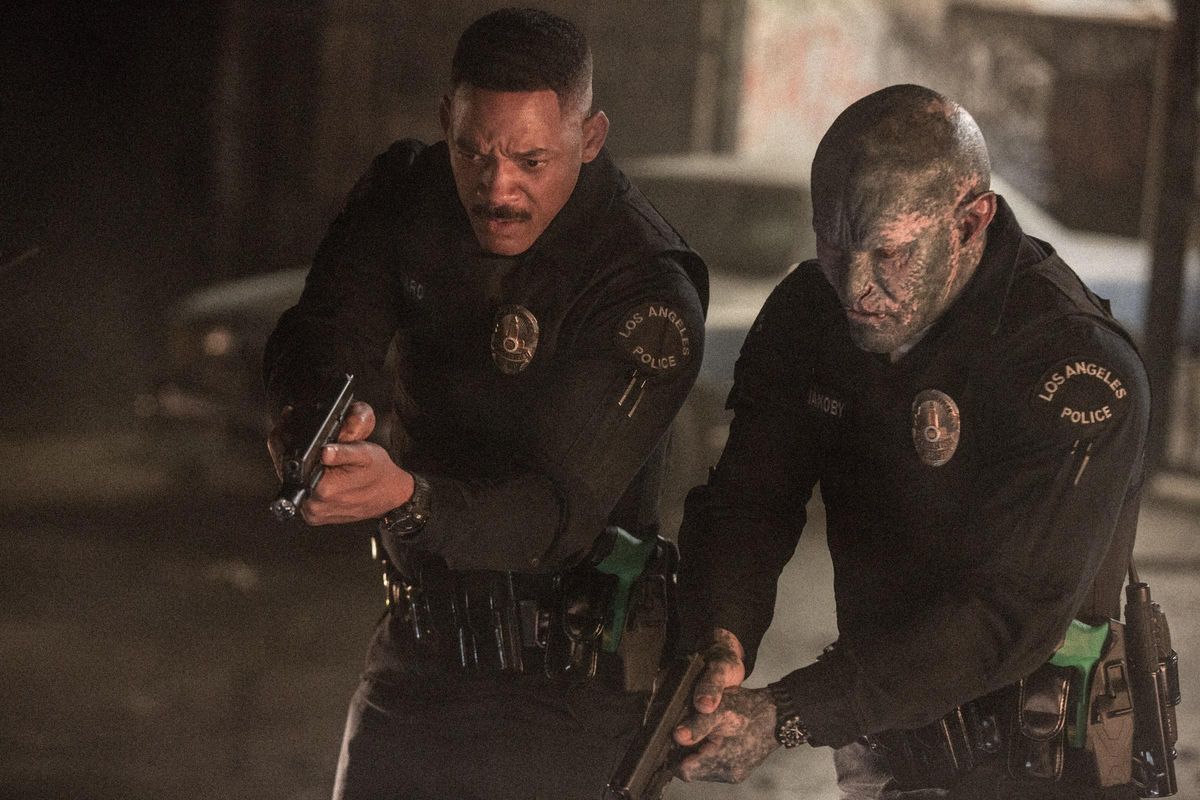 Will Smith and Joel Edgerton in "Bright." (Matt Kennedy / Netflix)
What's new for home viewing on video-on-demand and Netflix, Amazon Prime, and other streaming services.
Top streams for the week
Christopher Nolan's "Dunkirk" (2017, PG) is a dramatization of the British army's evacuation of Dunkirk in 1940, with the help of civilian ships ferrying soldiers across the English Channel, as an epic experimental film with minimal dialogue, juggled timelines and intimate scenes that share the experience of the soldiers and civilians. It's unique and immediate and striking. On Cable On Demand and video-on-demand, plus DVD and Blu-ray.
Netflix debuts its most ambitious original feature yet: the cop thriller "Bright" (2017, not rated) set in an alternate universe Los Angeles. Will Smith is a cop who teams up with the first Orc patrolman (Joel Edgerton) on the force to track down a deadly new weapon. David Ayer ("Suicide Squad") directs from an original script by Max Landis ("American Ultra"), and Noomi Rapace and Edgar Ramírez co-star. Now streaming on Netflix.
Kit Harrington, Liv Tyler and Tom Cullen star in the four-part miniseries "Gunpowder," the lavish HBO dramatization of the real-life 17th century plot by Guy Fawkes to blow up the House of Lords. All four episodes on HBO Now and HBO On Demand.
Pay-Per-View / Video-On-Demand
Dame Judi Dench plays Queen Victoria once again in "Victoria and Abdul" (2017, PG-13), based on the true story of the monarch's friendship with a young Indian clerk (Ali Fazal).
Also new: the animated "The LEGO Ninjago Movie" (2017, PG) with the voices of Jackie Chan and Dave Franco, "Stronger" (2017, R) starring Jake Gyllenhaal as a civilian who lost both legs in the Boston Marathon bombing on 2013, acclaimed World War II drama "The King's Choice" (Norway, 2017, not rated, with subtitles), and "mother!" (2017, R) with Jennifer Lawrence and Javier Bardem, a passionate but polarizing allegory that appeared on many "worst of the year" lists.
Netflix
From Canada comes "The Indian Detective," a 4-part miniseries about a Canadian cop in Mumbai to visit family who stumbles upon a criminal conspiracy, and Spain delivers "La Casa de Papel" (Spain, with subtitles), also known as "Money Heist," about a criminal genius who takes over the Royal Mint hostage with a loyal crew (15 episodes).
Three nonfiction shows debut also debut this week: "Dope," which looks at the war on drugs; "The Toys That Made Us," a historical journey through the toys that helped shape American culture; "72 Dangerous Animals: Latin America," a natural history series on the deadliest creatures living in Latin America.
Streaming TV: New episodes of the hit family comedy "Fuller House: Season 3"; "Peaky Blinders: Season 4," the British crime drama set in 1920s Birmingham; "The Windsors," a British comedy satirizing the royal family (2 seasons); drug cartel dramas "El Señor de los Cielos: Season 5" and "El Chapo: Season 2" from Mexico.
Christmas movies: "Miss Me This Christmas" (2017, not rated) and "You Can't Fight Christmas" (2017, not rated) offer holiday romantic dramas with African-American casts.
Foreign affairs: "The Women's Balcony" (Israel, 2016, not rated, with subtitles), a comedy about a revolt against a conservative rabbi; historical action thriller "God of War" (China, 2017, not rated, with subtitles) with Vincent Zhao and Sammo Hung; romantic drama "Fiore" (Italy, 2016, not rated, with subtitles) set in a juvenile prison; biographical drama "Leopardi" (aka "Il giovane favoloso") (Italy, 2014, not rated, with subtitles) about the Italian poet and philosopher Giacomo Leopardi.
Stand-up: "Russell Howard: Recalibrate."
Amazon Prime Video
"The Last Post" (2016), a BBC mini-series about British soldiers in 1965 defending the last outposts of the colonial empire in the Middle East, makes its U.S. debut on Amazon Prime.
Streaming TV: the evolution of artificial intelligence continues in "Humans: Season 2," and, in the holiday spirit, "Doctor Who Christmas Special" (2016) teams the Doctor (Peter Capaldi) up with a superhero (Justin Chatwin) to save Manhattan.
The complete series: the 2003 reboot "Battlestar Galactica: The Miniseries" and the four-season "Battlestar Galactica" (2004-2009), perhaps the best science fiction TV series of the 21st century so far, are now streaming for Amazon Prime members (except for the first episode of season one). Also newly arrived are the complete runs of the comic detective shows "Monk" (2002-2009) with Tony Shalhoub as an OCD detective (8 seasons) and "Psych" with James Roday as a fake psychic and Dulé Hill as his best friend and partner.
True stories: "Milius" (2013, not rated) profiles the life and career of the influential filmmaker John Milius.
Hulu
"Adventureland" (2009, R), a smart, observant coming-of-age drama set in a cheap theme park, stars in Jesse Eisenberg and Kristen Stewart in their first big screen collaboration.
Also new: family adventure comedy "Monster Trucks" (2017, PG) with Lucas Till and Jane Levy, offbeat comedy "Lemon" (2017, not rated) with Brett Gelman and Judy Greer, and fraternity drama "Goat" (2016, R) with Nick Jonas and James Franco.
Streaming TV: Nick Nolte is "Graves," a former U.S. president who wants to right the wrongs of his administration, in the debut season of the political satire, and for kids is the Cartoon Network animated adventure "Mighty Magiswords: Season 1, Part 1."
Foreign affairs: a team of archeologists rouse an ancient monster in "Ragnarok" (Norway, 2013, PG-13, with subtitles), and "Vengeance of an Assassin" (Thailand, 2014, not rated, with subtitles) is a martial arts thriller from Panna Rittikrai, the action director of the hit "Ong Bak" films.
HBO Now
Morgan Freeman, Michael Caine and Alan Arkin are retired buddies who plot a bank robbery in the comedy "Going in Style" (2017, PG-13).
The documentary "Agnelli" (2017) profiles Gianni Agnelli, the playboy head of Fiat in Italy, and "15: A Quinceanera Story" profiles five Latina girls coming of age in four short documentaries.
Arriving Saturday night is "The Zookeeper's Wife" (2017, PG-13) with Jessica Chastain.
FilmStruck / Criterion Channel
Directors of the Week are Michael Powell and Emerich Pressburger, and 12 films are added to the streaming service, including Powell's breakthrough feature "The Edge of the World" (1937), magnificent romantic dramas "I Know Where I'm Going!" (1945) and "A Matter of Life and Death" (1946) and Powell's controversial thriller "Peeping Tom" (1960).
Also new on FilmStruck: "Pandora and the Flying Dutchman" (1951) with James Mason and Ava Gardner, Elaine May's "Mikey and Nicky" (1976, R) with Peter Falk and John Cassavetes, and the complete, restored silent movie classic "Metropolis" (Germany, 1926).
New on Criterion Channel is Werner Herzog's "Fitzcarraldo" (Germany, 1982, PG, with subtitles) with Klaus Kinski and Nagisa Oshima's "Merry Christmas Mr. Lawrence" (UK/Japan, 1983, R, with subtitles) with David Bowie.
Acorn TV
"L'Accident" (France, with subtitles) is a six-episode miniseries about a widower who investigates a seemingly simple traffic accident that killed his wife and uncovers a web of lies.
From Australia comes "East of Everything," a drama with Richard Roxburgh from the creators of "Miss Fisher's Murder Mysteries." All 13 episodes now streaming.
Redbox
"Kingsmen: The Golden Circle," "Detroit," "Stronger," "mother!," "Paddington"
Sean Axmaker is a Seattle film critic and writer. His reviews of streaming movies and TV can be found at http://streamondemandathome.com.
Local journalism is essential.
Give directly to The Spokesman-Review's Northwest Passages community forums series -- which helps to offset the costs of several reporter and editor positions at the newspaper -- by using the easy options below. Gifts processed in this system are not tax deductible, but are predominately used to help meet the local financial requirements needed to receive national matching-grant funds.
Subscribe to the Spokane7 email newsletter
Get the day's top entertainment headlines delivered to your inbox every morning.
---