Sports
NBA Capsules: Clippers overcome James Harden's second straight 51-point game
Fri., Dec. 22, 2017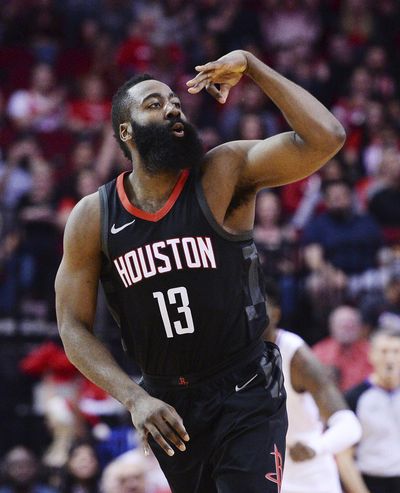 HOUSTON – Austin Rivers scored a career-high 36 points and made six 3-pointers, and the short-handed Los Angeles Clippers withstood James Harden's second straight 51-point performance to beat the Houston Rockets 128-118 on Friday night.
The Rockets had a 14-game winning streak snapped by the Los Angeles Lakers on Wednesday night, and lost consecutive games for just the second time this season and the first since Oct. 28 and 30.
Rivers made a 3-pointer with just under three minutes to play that pushed the lead to 117-111. Ryan Anderson made two free throws for Houston before C.J. Williams added a layup for the Clippers.
Former Rocket Lou Williams, who had 32 points, then made his fourth 3-pointer of the quarter after that to make it 122-113 before a turnover by Harden spurred coach Mike D'Antoni to call a timeout.
Rivers made another 3-pointer after the timeout and Harden made a layup before fouling out a few seconds later. He received a technical for arguing about the call and was ejected from the game.
The game lacked much of the intrigue it could have had with Chris Paul sitting out in the first meeting with his former team because of a groin injury. The nine-time All-Star spent the last six seasons with the Clippers before a blockbuster trade brought him to the Rockets this summer.
Patrick Beverley, who was the highest-profile Rocket involved in the trade, also missed the game while recovering from knee surgery.
Warriors 113, Lakers 106
OAKLAND, Calif. – Kevin Durant had 33 points, seven rebounds, seven assists and four blocks, and Golden State held off Los Angeles for its 11th straight victory.
Rookie Jordan Bell recorded his first career double-double with season bests of 20 points and 10 rebounds, making a key layup with 2:45 to go and dunking a minute later. Klay Thompson scored 16 points and Draymond Green added 13 points, 11 rebounds and seven assists as he came back from a shoulder injury for the defending champs.
Kyle Kuzma scored 27 points and fellow rookie Lonzo Ball had 24 points with five 3-pointers in his first visit to Oracle Arena. Julius Randle added 21 points off the bench for Los Angeles, which snapped the Rockets' 14-game winning streak Wednesday night in Houston.
Thunder 120, Hawks 117
OKLAHOMA CITY – Russell Westbrook hit a 3-pointer with 1.7 seconds left to cap a 30-point, 15-assist outing, and Oklahoma City held off Atlanta.
Carmelo Anthony added 24 points on 7-of-12 3-point shooting, and Paul George scored 17 points for the Thunder. They have won five of their last six after an 11-14 start.
Marco Belinelli scored 30 points for Atlanta.
Bucks 109, Hornets 104
MILWAUKEE – Khris Middleton scored 28 points, Giannis Antetokounmpo had 26 and Milwaukee overcame a late deficit to beat Charlotte.
After Kemba Walker gave Charlotte a 104-100 lead with 2:24 remaining, Milwaukee closed on a 9-0 run, the Bucks tied it on dunks by Antetokounmpo and Middleton and took the lead on Eric Bledsoe's layup.
Bledsoe had 24 points and 10 assists in the first game of the home-and-home set.
Walker had 32 points before leaving with an apparent injury after losing the ball and falling to the floor with the game tied at 104 with 1:42 to play. Former University of Wisconsin star Frank Kaminsky added 16 points, and Marvin Williams had 15 points and 10 rebounds.
Pistons 104, Knicks 101
DETROIT – Andre Drummond had 18 points and 15 rebounds and Deroit rallied to beat New York.
Tobias Harris scored 24 points to help the Pistons win for the fourth time in five games.
Kristaps Porzingis had with 29 points for New York, and Enes Kanter added 22 points and 16 rebounds. Porzingis missed a desperation 3-pointer at the buzzer.
New York had won five of six, including a victory Thursday night over the Boston Celtics.
Nuggets 102, Trail Blazers 85
PORTLAND, Ore. – Nikola Jokic scored 27 points and Denver won for the first time in Portland since 2013.
Jokic hit 12 of 21 shots and grabbed eight rebounds as the Nuggets ended a nine-game losing streak to the Blazers in Portland. Wilson Chandler scored a season-high 21 points and grabbed 11 rebounds.
Gary Harris scored 17 points for Denver.
C.J. McCollum led Portland with 15 points, while Shabazz Napier had 14. Portland played without leading scorer Damian Lillard, who strained a hamstring strain in Wednesday's game against San Antonio.
Heat 113, Mavericks 101
MIAMI – Wayne Ellington tied a career high with 28 points, Josh Richardson had 24 and injury-ravaged Miami never trailed against Dallas,
Tyler Johnson added 19 points for Miami, which shot 64 percent – second-best in franchise history. The Heat started both halves with 12-0 runs and went 16 for 25 from 3-point range.
Richardson made 11 of 14 shots for Miami, which has won four of its last five.
Yogi Ferrell scored a season-high 23 for the Mavericks.
Nets 119, Wizards 84
NEW YORK – Rondae Hollis-Jefferson had 21 points and 11 rebounds in Brooklyn's victory over Washington.
Caris LeVert added 17 points, and DeMarre Carroll, Spencer Dinwiddie and Nik Stauskas added 15 apiece to help the Nets snap a four-game losing streak. Kelly Oubre Jr. had 13 points for the Wizards.
Pelicans 111, Magic 97
ORLANDO, Fla. – DeMarcus Cousins had 26 points, 11 rebounds and six assists and New Orleans never trailed against Orlando.
Anthony Davis added 20 points and 11 rebounds, and Jrue Holiday had 24 points for New Orleans. Jonathon Simmons led the Magic with 22 points. They have lost seven straight.
Local journalism is essential.
Give directly to The Spokesman-Review's Northwest Passages community forums series -- which helps to offset the costs of several reporter and editor positions at the newspaper -- by using the easy options below. Gifts processed in this system are not tax deductible, but are predominately used to help meet the local financial requirements needed to receive national matching-grant funds.
Subscribe to the sports newsletter
Get the day's top sports headlines and breaking news delivered to your inbox by subscribing here.
---