News > Spokane
Freeman High School teen Sam Strahan summoned courage when it mattered most
Wed., Dec. 27, 2017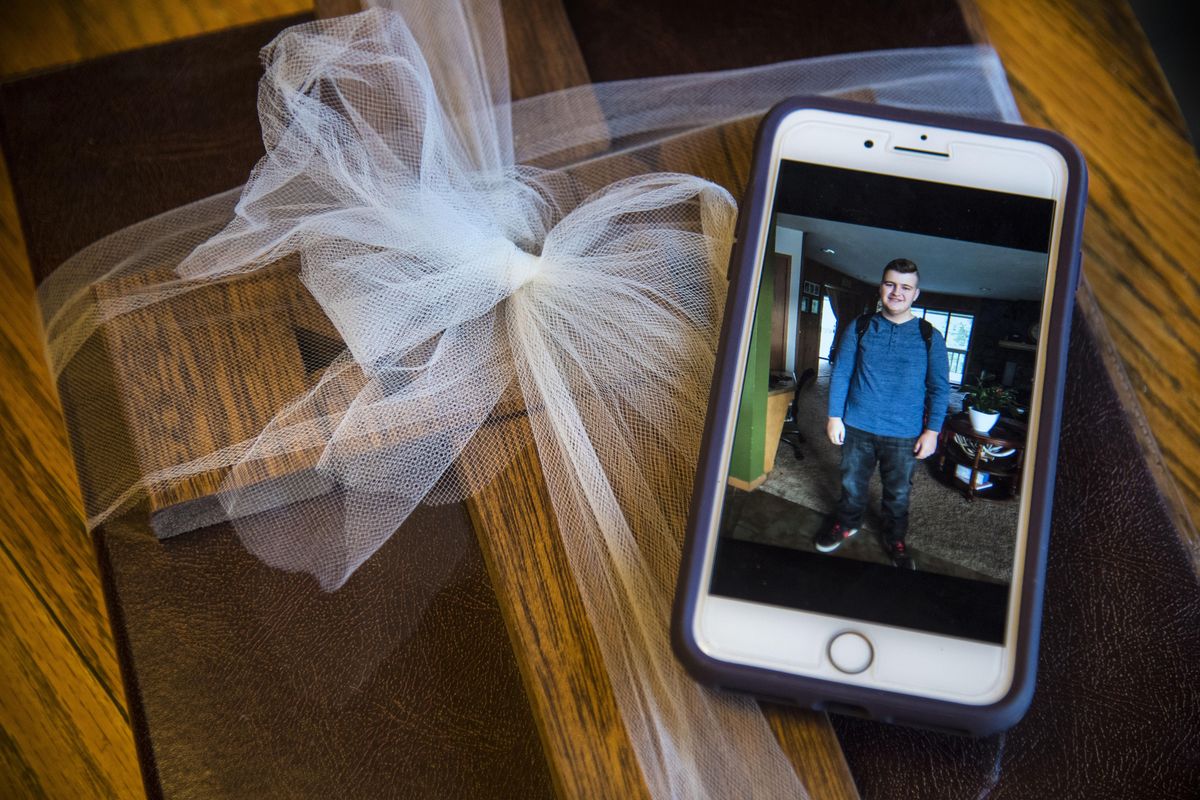 An image of Sam Strahan on his mother's phone sits atop a a scrapbook of remembrances and a wooden cross from his friends. The picture was taken on the first day of school, Wednesday, Aug. 30, 2017. (Dan Pelle / The Spokesman-Review)
Sam Strahan had a signature pose: Head cocked to one side. A comically forced-looking smile. A thumbs-up sign for the camera.
It was mostly just Sam being Sam, but also a sly way to test his mother's patience.
On family vacations, "he would do that for every single photo, with that silly face," Ami Strahan said, with loving exasperation. "That was part of his goofiness."
Sam was brave, too.
The 15-year-old was a sophomore at Freeman High School when he confronted a fellow student in a school hallway on the morning of Sept. 13. The other boy had two guns. Sam was shot and killed, and three girls were seriously injured.
No one can say what motivated Sam to face the shooter, rather than flee into a classroom as bullets whizzed down the hallway. While the carnage still is hard to fathom, it might have been worse if it weren't for Sam's final courageous act.
"Sam was just a super nice, polite, quiet young man, and I know that he had a huge impact on a lot of people in our community," said Randy Russell, the Freeman schools superintendent. "A lot of the students who were friends with Sam have a great memory of him. His teachers have a great memory of him. And to us, Sam is a hero."
One parent who felt a debt of gratitude toward Sam wrote a message during his memorial service in September: "Thank you for protecting my kids."
Sam died just three months after losing his father in a tragic accident. Scott Strahan was working on a motor home in the family's driveway when it fell, crushing him, on Father's Day, the day before Sam's birthday.
Scott Strahan was 49. He had been an engineer, an avid outdoorsman, a volunteer firefighter and, most recently, the manager of two sober-living houses in Spokane.
The two unthinkable tragedies, and the wave of attention that followed the shooting, have been overwhelming for Ami Strahan, who recently returned part-time to her job as a social worker. But she said she cherishes opportunities to talk about her son.
"He would have loved all the attention," she said, allowing a faint smile. "He would have loved to have a highway named after him."
Sam's parents moved to Spokane from Southern California when he was 2. His obituary says he was "a cute little boy full of mischief. At age four, he would ride his battery-powered Harley to get ice cream and had a habit of collecting the neighbors' mail and redistributing their letters to different mailboxes along the way."
The Strahans also had a daughter, Emily, a Freeman grad who now attends the University of Washington.
Ami Strahan said Sam became interested in bodybuilding about a year ago, following the lead of his older sister. When she came home during one break from college, the siblings worked out together at the high school gym. Sam asked his mom to get him chicken, oatmeal and a giant tub of protein powder.
"He was pumped that he got into strength training (class) this year," she said.
Sam once took cooking classes, and his parents bought him a deep-fryer so he could perfect his crispy chicken recipe. His homemade mac and cheese was a hit, too. Ami Strahan, who often worked late, said she started paying him an allowance to have dinner ready by the time she got home.
Sam was socially awkward and diagnosed with Asperger's syndrome in the third grade, and although he was often misunderstood, he had little trouble making friends, his mother said. He spent a lot of time with them in the virtual worlds of online video games, chatting through a headset, and had logged more than 1,000 hours on Minecraft, she said.
Sam was also "super, super smart," even though he needed a little prodding to get his homework done, his mother said. He mastered the Rubik's Cube years ago and could solve the puzzle in under 30 seconds, she said, adding that it was more than just a hobby for him.
"That was his way to connect with people, I think. If he was feeling awkward and didn't know how to start a conversation, he'd pull out the Rubik's Cube because people are always like, 'Ooh, wow.'"
Ami Strahan returned often to one word when describing her son: "goofy."
Sam once accompanied his parents to the grocery store in a Chewbacca onesie – not as a toddler but as a shameless 14-year-old. He had a collection of onesies, in fact. His mother got him one each Christmas.
Ami Strahan said that in the months since his death, photos and letters from his classmates have revealed a cheerier, more sociable side of Sam that she rarely saw at home.
While flipping through a scrapbook at her kitchen table last week, she paused when she found a photo of Sam, seated in a computer lab at Freeman High, peering toward the camera.
She rested a finger on the glossy page and admired her son's features.
"Look at that face," she said, her voice trailing into a whisper. "It just makes me want to hug him."
Local journalism is essential.
Give directly to The Spokesman-Review's Northwest Passages community forums series -- which helps to offset the costs of several reporter and editor positions at the newspaper -- by using the easy options below. Gifts processed in this system are not tax deductible, but are predominately used to help meet the local financial requirements needed to receive national matching-grant funds.
Subscribe now to get breaking news alerts in your email inbox
Get breaking news delivered to your inbox as it happens.
---