News > Spokane
It's twice as nice when Eagles party: West Valley, Lakeside hosting 72 games over 3 days in state's biggest tourney
UPDATED: Wed., Dec. 27, 2017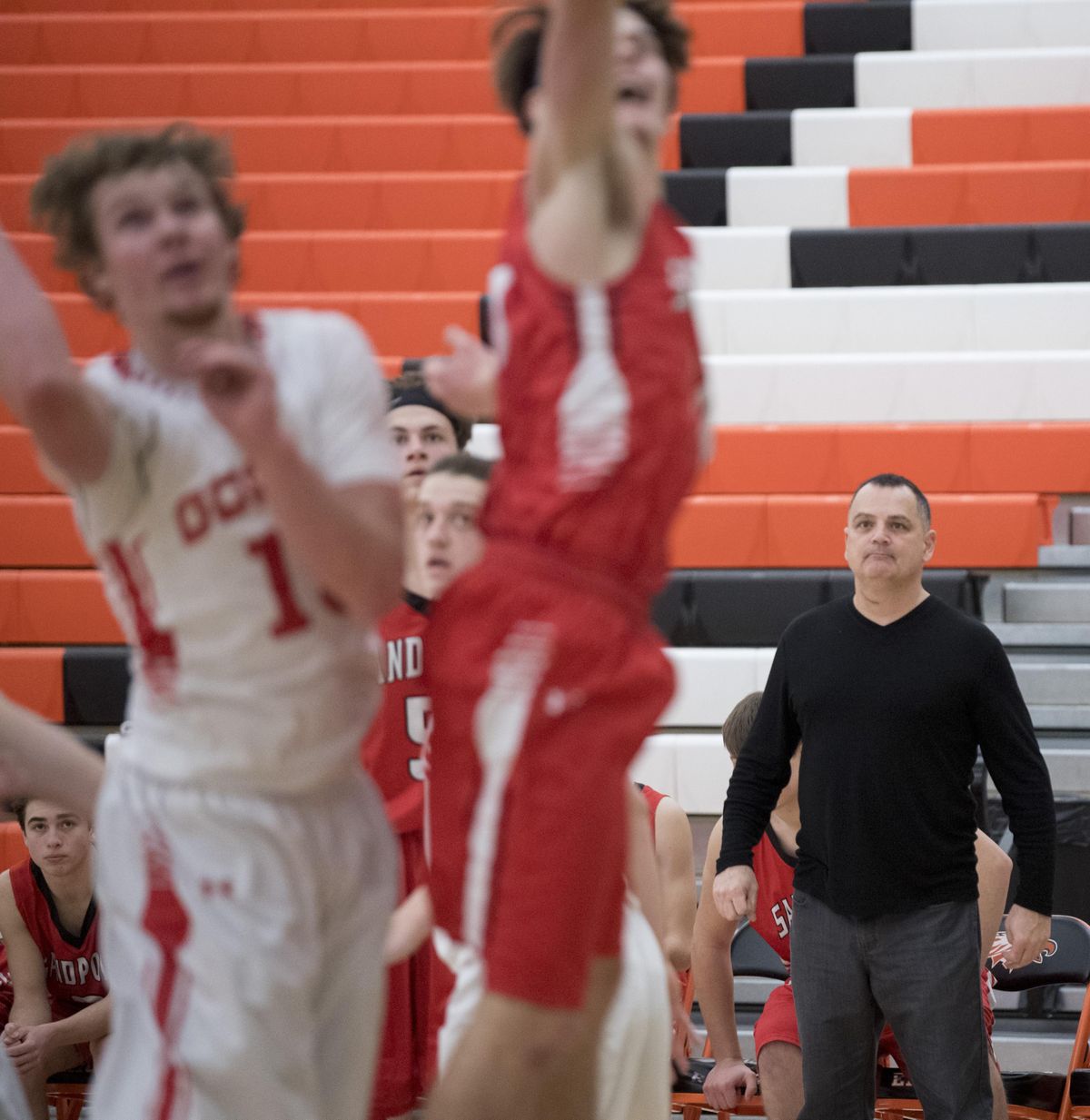 Coach Kent Leiss, right, watches his Sandpoint Bulldogs boys basketball team take on the Davenport Gorillas in the first game of the Eagle Holiday Classic, a basketball tournament for many smaller high schools around the region, Wednesday, Dec. 27, 2017 at West Valley High School. Sandpoint won the shortened game 48-45. The games continue through Friday. (Jesse Tinsley / The Spokesman-Review)
New Year's Eve has the reputation for being the time for parties. Lots of music. There's that big, lighted ball getting dropped in Times Square in New York.
But Jeff Pietz and Jamie Nilles know how to throw a party and there's not a shred of confetti in sight.
Pietz, the athletic director for the Eagles at Lakeside High, and Nilles, his counterpart for the Eagles at West Valley, are in the fourth year hosting the Eagle Holiday Classic basketball tournament, which now has a three-day annual run at West Valley.
"It's the biggest tournament in the state," Nilles said.
With 72 total games over three days, 48 featuring varsity teams and another 24 with junior varsities, there's no room to argue over size. Teams coming to the tournament have varied schedules. Some teams come looking to play all three days. Most will play two games and a few come for just one game. It's a good opportunity to flesh out a team's non-league schedule.
It started first-thing Wednesday morning, when Sandpoint faced off against Davenport in a boys game and Deer Park faced Lakeland in a girls contest. It finishes Friday night when Colfax faces off against West Valley in a girls contest and the St. George's boys battle Timberlake.
"This tournament started out as a tournament in the (Yakima) Sun Dome for smaller schools," Nilles said. "It was a girls tournament for a lot of Class 1B and 2B schools, but they lost their funding. We took a look at it and thought it was a good time to get something going here so we brought the tournament here."
The concept expanded to include boys teams since West Valley has two main gyms for simultaneous games.
Nilles said the scheduling for the tournament has grown into a two-year cycle, with this year's tournament being the second year. Next year will likely bring in some new faces.
"We already have a pretty good-sized waiting list," Nilles said. "We'd like to get to a point where we can bring in quality teams and give them really good games. It may get to a point where we can't offer teams three games. Maybe they only get one or two games so that we can accommodate more teams and better games."
Nilles said his Lakeside counterpart handles the scheduling while he manages logistics. Much of the manpower is provided by the Lakeside and West Valley basketball teams and booster clubs.
The tournament has attracted some quality sponsors. Longhorn Barbecue caters one day, Buffalo Wild Wings does another.
The schools split the profits down the middle after expenses are paid. And the primary expense with a tournament this size is officiating.
Area officiating groups like to use the tournament as a way to get younger officials plenty of games – scheduling two games back-to-back for crews while older, more experienced officials watch in order to offer a helpful critique.
"They're saying they have started to get in some new, younger officials," Nilles said. "They like having some younger people coming in and this gives them a chance to get them some games and help them improve."
Operating an athletic program at a high school is not something that gets less expensive as time goes by. The cost of hiring officials is just one expense. There's the cost of travel that never seems to go down.
"Some programs have a no-cut policy, so there's the cost of trying to find games for three or four teams per sport," Nilles said. "West Valley has been really good about things like that.
"One of the great things about this tournament is that our booster club has the concessions going for three days. They raise some good money and that gets put right back into the athletic budget."
Local journalism is essential.
Give directly to The Spokesman-Review's Northwest Passages community forums series -- which helps to offset the costs of several reporter and editor positions at the newspaper -- by using the easy options below. Gifts processed in this system are not tax deductible, but are predominately used to help meet the local financial requirements needed to receive national matching-grant funds.
Subscribe now to get breaking news alerts in your email inbox
Get breaking news delivered to your inbox as it happens.
---