News > Spokane
Plumbers help holidays flow smoothly: North Spokane family gets the gift of home repairs in time for Christmas
Wed., Dec. 27, 2017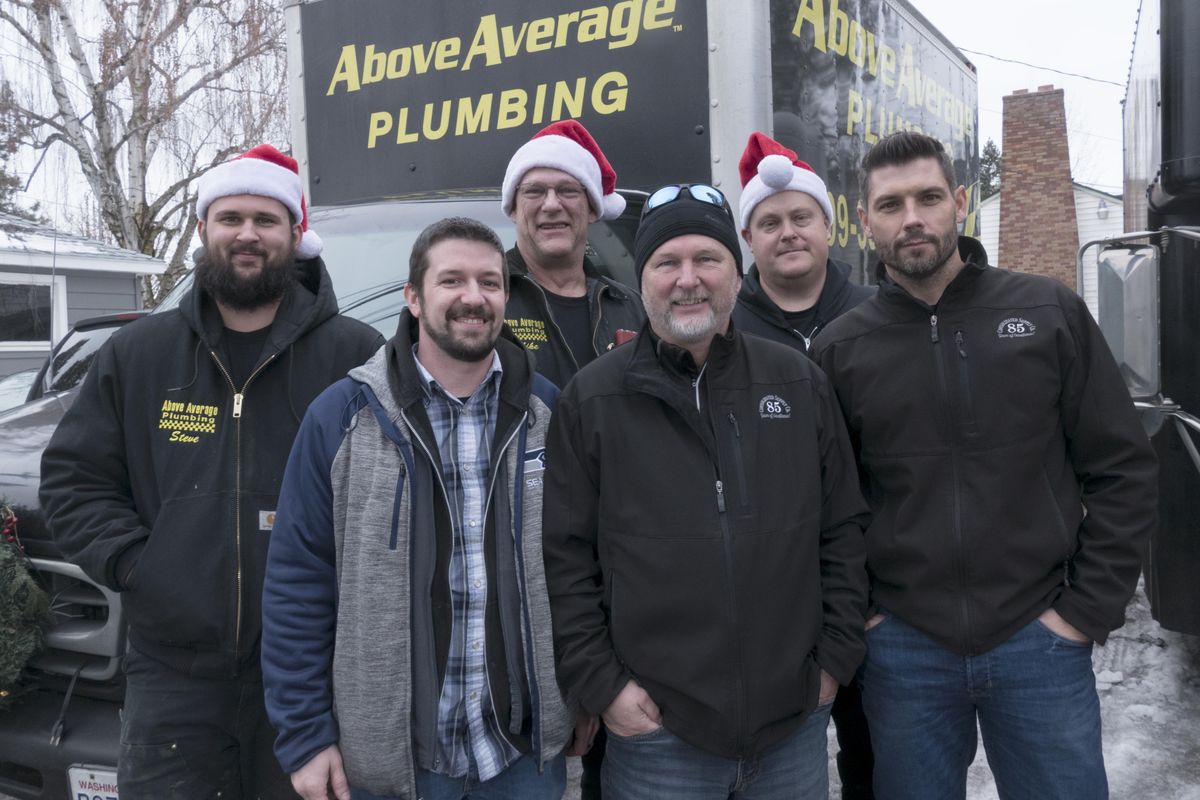 In the back row, plumbers Steve Amo, Mike Amo and Patrick Green performed the work while, in the front row, Justin Hooper of the South Hill Grill and Duane Franklin and Wade Potter of Consolidated Supply donated to the work at the North Spokane home of Heather and Wes Twitchell, who received major plumbing repairs and updates from Above Average Plumbing as a donation to the family. Photographed Thursday, Dec. 21, 2017. (Jesse Tinsley / The Spokesman-Review)
Christmas flowed a bit more smoothly for Wes Twitchell and his household thanks to the generosity of the folks at Above Average Plumbing and Rooter.
Two new toilets, a garbage disposal and a new faucet for the kitchen sink were installed just before the holidays.
Above Average, owned by Pat Green, Mike Amo and Steve Amo opened in April. Recently, while enjoying a meal at South Hill Grill (formerly Maggie's South Hill Grill), Green broached the idea of giving the gift of plumbing to someone in need.
"For so many people this season is either great or it's horrible – it's make it or break it," said Green. "I've always wanted to do this – give someone something they need, but can't afford."
His partners loved the idea.
"You don't have to look very hard to see a lot of need," said Mike Amo.
They hammered out the details. Whether it was fixing a dripping faucet, a toilet that wouldn't flush or a broken hot water heater, they knew they had the ability to make someone's Christmas just a bit better.
South Hill Grill general manager, Justin Hooper, jumped in to help. He posted flyers in the restaurant that read "Santa's Above Average Plumbing Giveaway."
The flyers spelled out the details: "Do you know a deserving family that is in need of a plumbing/makeover/repair? If you would like to nominate someone, just fill out an entry at the South Hill Grill."
Hooper placed an entry box for the nominations in the restaurant and then offered to throw in a free meal for the winners.
"It's a great time of year and a great way to give back to people," he said.
Emily Burris saw the posters and thought of her friends, the Twitchells. Wes and his wife, Heather, have two children and their roommate has two children.
"They are great people who work really hard and are always trying to better themselves," Burris said.
When the Twitchells were selected, Burris got to make the call to tell them.
She laughed.
"They were really excited and very surprised," she said.
Four days before Christmas, the team from Above Average (wearing Santa hats, of course) arrived at the family's north Spokane home and got to work.
The folks at Consolidated Supply agreed to donate the fixtures and showed up to help with the project.
"It's a no-brainer," said Duane Franklin of Consolidated Supply. "We wanted to be part of this – part of giving back to the community.
The company's branch manager, Wade Potter, joined him.
"We've been in business for 90 years," he said. "We give stuff away to the right people, for the right cause."
In no time, the team finished the job.
Twitchell was amazed.
"We've got four kids in the home, 9, 8, 7 and 5," he said. "The house was built, I believe in 1940, and I do my best to keep up."
He turned on the new kitchen faucet and flicked a nearby switch. The garbage disposal hummed and Twitchell grinned.
"My wife always wanted a garbage disposal," he said.
Mike Amo said they plan to do the giveaway again next year.
"We tried to pick only one family – that didn't work out so well."
Indeed, the team has already agreed to help another nominee – a widow on the South Hill, who's been diagnosed with multiple sclerosis. They couldn't get to the job before Christmas, but by New Year's they hope to have installed a high-rise toilet and shower grab bars.
"We see the need out there all the time," said Steve Amo. "It feels good to at least be helping somebody."
Local journalism is essential.
Give directly to The Spokesman-Review's Northwest Passages community forums series -- which helps to offset the costs of several reporter and editor positions at the newspaper -- by using the easy options below. Gifts processed in this system are not tax deductible, but are predominately used to help meet the local financial requirements needed to receive national matching-grant funds.
Subscribe now to get breaking news alerts in your email inbox
Get breaking news delivered to your inbox as it happens.
---