Sports > Seattle Seahawks
John Blanchette: Seahawks kicking themselves after playoff hopes sail wide of the uprights
UPDATED: Sun., Dec. 31, 2017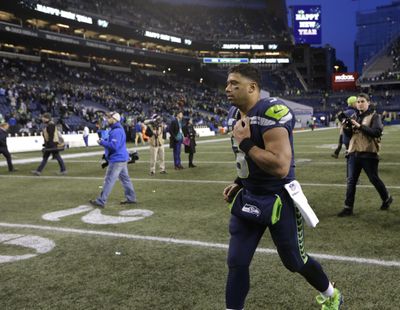 SEATTLE – Just remember: With a different kicker, the Seattle Seahawks are 12-4 and champions of the NFC West.
Or no worse than 11-5 and in the playoffs.
It's undeniable.
Never mind all the injuries, no running game, Darrell Bevell's purported shortcomings as a play-caller. Never mind Germain Ifedi and the Penalties, Seattle's hottest new group. Never mind that they turned the three-and-out into an art form. Never mind that the defense isn't as badass as it once was, that Earl Thomas seems to be shopping himself out of town, that Jimmy Graham could catch four touchdown passes a game and still seem to be a maddening disappointment.
Never mind that the Seahawks missed the NFL playoffs for the first time since 2011 and given the aesthetics of some of their performances, the playoffs are probably grateful.
If the Seahawks have a kicker – a kicker – they aren't just in, they have a bye next week. It truly boggles the mind.
So when the Blair Walsh Project saw his 48-yard field-goal attempt to beat Arizona sail wide right on Sunday afternoon at CenturyLink Field, finalizing a 26-24 loss, it was virtually a storybook ending.
Not that it truly mattered in the end.
Beating Arizona was only going to be half the equation. When the Seahawks were driving to what they presumed would be the winning field goal and reached the two-minute warning, word came from Atlanta that the Falcons had beaten Carolina and closed out Seattle regardless – not that word had filtered down to the field.
"Didn't know," said Seahawks linebacker Bobby Wagner. "Didn't want to know."
A player always wants to keep it narrowed down to what he can control, though what the Seahawks often have the most trouble with is getting out of their own way. And this was again the case Sunday.
"A microcosm of the season," coach Pete Carroll called it. "It's disappointing that we weren't able to change the narrative of the way the games went."
Here's how it went Sunday: 99-yard kickoff return by Tyler Lockett to turbocharge the 69,078 12s on hand, then 24 offensive yards to have them booing their heroes off the field at halftime. The fairly typical roaring second-half comeback, including a dazzling Russell Wilson-to-Doug Baldwin touchdown, and then two jaw-dropping penalties – an unsportsmanlike conduct call on Thomas Rawls that killed a promising drive, and Wagner's roughing-the-passer on an incomplete third-down pass that jump-started Arizona's deciding march.
This is how the Seahawks have rolled in this their first year out of the playoffs and without double-digit wins since 2011.
"It's not easy to be great," said Wilson, whose arrival in Seattle coincided with that run. "You have to do all the little things perfectly right and let them add up. A couple times here and there, we missed the mark. But I also think we've overcome a lot."
All those injuries – season-enders to All-Pros like Richard Sherman, Kam Chancellor, Cliff Avril, season-interrupters to Wagner and K.J. Wright and others. More hapless offensive line play and indifferent running. Walsh's misses that cost them a win over humdrum Washington and overtime life against Atlanta. The usual locker room sturm und drang. Penalties – 1,342 yards worth, second-most in NFL history.
"I got to get that changed," Carroll said.
Can he? A tight ship has not been Carroll's trademark, and the Seahawks no longer have the margin of error to overcome their foolishness. But after hearing there was speculation about a possible retirement, Carroll took to Twitter about three hours before kickoff to announce, "I ain't old enough to think about retiring."
Yet there will be changes. The age, the roster's economic imbalance, the uncertainty of those injuries, the areas of weakness all demand it.
"When you lose," said defensive end Michael Bennett, "there's always changes."
Will Sherman and Chancellor be back? Will Avril? Graham will surely have a new address, but how do the Seahawks make more cap space to allow for necessary upgrades? And what about Thomas?
"I have no clue," he said when asked if he expected to be back. "I know for sure that I'm going to win in the end regardless."
OK, then.
And yet with all the intrigue, no one in the Seahawks' locker room seemed ready to call it an era, even if it has the feel of it. Maybe it's so many strong personalities who just can't come to grips with the idea.
"We have so much talent … for it to end this way is really just disappointing," Baldwin said. "Don't get me wrong. I'm grateful for all the years that we have played in the playoffs, for getting nine wins. I'm grateful for that.
"There's more out there. There's definitely more out there for us."
Hmm. That notion sure looks to be sailing wide right, too.
Local journalism is essential.
Give directly to The Spokesman-Review's Northwest Passages community forums series -- which helps to offset the costs of several reporter and editor positions at the newspaper -- by using the easy options below. Gifts processed in this system are not tax deductible, but are predominately used to help meet the local financial requirements needed to receive national matching-grant funds.
Subscribe to the sports newsletter
Get the day's top sports headlines and breaking news delivered to your inbox by subscribing here.
---